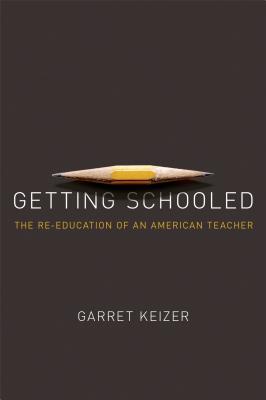 Getting Schooled (Hardcover)
The Reeducation of an American Teacher
Metropolitan Books, 9780805096439, 320pp.
Publication Date: August 5, 2014
Other Editions of This Title:
Paperback (7/28/2015)
* Individual store prices may vary.
Description
In this powerful, eloquent story of his return to the classroom, a former teacher offers a rousing defense of his beleaguered vocation
Perhaps no profession is so constantly discussed, regulated, and maligned by non-practitioners as teaching. The voices of the teachers themselves are conspicuously missing. Defying this trend, teacher and writer Garret Keizer takes us to school—literally—in this arresting account of his return to the same rural Vermont high school where he taught fourteen years ago.
Much has changed since then—a former student is his principal, standardized testing is the reigning god, and smoking in the boys' room has been supplanted by texting in the boys' room. More familiar are the effects of poverty, the exuberance of youth, and the staggering workload that technology has done as much to increase as to lighten. Telling the story of Keizer's year in the classroom, Getting Schooled takes us everywhere a teacher might go: from field trips to school plays to town meetings, from a kid's eureka moment to a parent's dark night of the soul.
At once fiercely critical and deeply contemplative, Keizer exposes the obstacles that teachers face daily—and along the way takes aim at some cherished cant: that public education is doomed, that the heroic teacher is the cure for all that ails education, that educational reform can serve as a cheap substitute for societal reformation.
Angry, humorous, and always hopeful, Getting Schooled is as good an argument as we are likely to hear for a substantive reassessment of our schools and those who struggle in them.
About the Author
Garret Keizer is the author, most recently, of Privacy and The Unwanted Sound of Everything We Want. A contributing editor at Harper's magazine and a former Guggenheim Fellow, he has written for Lapham's Quarterly, The Los Angeles Times, Mother Jones, The New Yorker, The New York Times, and The Washington Post, among other publications. He lives in Vermont.
Praise For Getting Schooled: The Reeducation of an American Teacher…
"Keizer writes eloquently and perceptively . . . a wonderful book . . . More than just thoughtful, reasonable, carefully observed, elegantly written and deeply humane--and it is all of these--it is also that rare thing, a work of genuine wisdom." —Chicago Tribune
"A graceful essayist . . . Keizer deflates the absurd assumption of the accountability movement, which is that any student--like any teacher--can succeed, if the correct incentives are in place . . . a fine book." —New York Review of Books
"A wise and brilliantly observed testimony to the peaks and valleys of this underappreciated profession . . . an insider's view infused with equal parts affection and cynicism; it is so readable, so spot-on, that everyone who's been to school, teaches or has taught school should read it." —Minneapolis Star-Tribune
"So much of what Keizer experienced in rural Vermont resonated with my own urban experiences. Every teacher will immediately recognize and enjoy his story. And all who wonder what reforms are needed should start by reading this book." —Deborah Meier, author of The Power of Their Ideas and In Schools We Trust
"Keizer's method is anecdotal and narrative, but this gives it a subtlety and texture that data often lack. . . . With humor and justified outrage, he reveals a powerful truth that often slips unnoticed through the increasingly tight nets of school reformers obsessed with technology and data collection. Sometimes old-fashioned conversation with a thoughtful and caring teacher--hard to quantify, impossible to automate--is the only thing that motivates students and teachers to keep going." —The Daily Beast
"[Keizer] is one curmudgeon who can't be easily written off. . . . Getting Schooled is one of those books in which you find yourself underlining something on nearly every page . . . and prickles with many sharp-toothed observations." —Salon
"Beautiful." —The New York Times Book Review
"Keizer is a first-rate stylist and a keen observer . . . he offers insights galore about the changing state of K-12 schooling." —Seattle Times
"Keizer's writing is finely observed, with no detail too trivial for subjection to his eloquent analysis . . . by intimately immersing readers in his daily defeats and victories, no matter how slight, he produces a critique of our educational system as worthwhile and persuasive as any broad treatise" —Christian Science Monitor
"Written in wonderful, accessible, incisive prose, where nothing goes uninterrogated. Keizer's best trait as a writer and a teacher is to question everything." —Inside Higher Ed
"As thoughtful, honest, eloquent, humane, entertaining and useful an account of the complexities of teaching as anything I have seen in years. Though Garret Keizer has wowed us in the past, this is, for my money, his best book. It deserves to become a classic in the literature of American education." —Phillip Lopate, author of Being With Children
"One of the most vital, beautiful, and human documents I have come across in years, from the finest essayist writing today--a book about the true depths of ordinary days and all that is at stake within our schools. But also about work and youth and advancing age, about resistance and pride and defeat and wit and good intentions. In short, everything, brilliantly knitted into the diary of a schoolteacher in a small northern town." —Jeff Sharlet, author of Sweet Heaven When I Die
"While many books about education hover in the safe realm of ideals and abstractions, Keizer details his war stories with fierce candor -- and thus does an invaluable service to anyone who wants to know what American public school teaching is like today." —Seven Days
"At once a sympathetic portrait of a school, a searing indictment of a culture that uses working-class children as cannon fodder, and, unexpectedly, a page-turner . . . Jonathan Kozol fans will have a new favorite." —Publishers Weekly, (starred review)
"Keizer is a sometimes-sardonic, sometimes-maudlin, always entertaining guide to contemporary high school atmospherics . . . A well-written, yearlong chronicle packed with humor, pathos and valued insights on nearly every page." —Kirkus Reviews, (starred review)
"Magnificent . . . The book's chief appeal is an overarching surfeit of wisdom and keen perspective . . . Required reading for anyone even remotely involved in education and those who love them." —Library Journal, (starred review)
"Keizer's brilliant writing and insights on much-needed educational reforms should attract the attention of parents, teachers, and school administrators and boards across the country." —Booklist
or
Not Currently Available for Direct Purchase