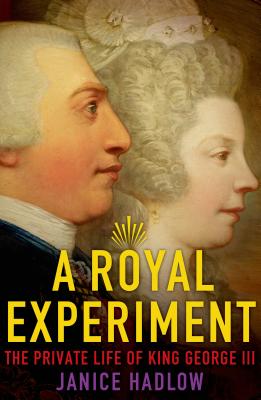 A Royal Experiment
The Private Life of King George III
Hardcover

* Individual store prices may vary.
Other Editions of This Title:
Paperback (11/10/2015)
Description
The Times Best Books of the Year • The Sunday Times Best Books of the Year
The New Statesman Book of the Year selection by Lucy Hughes-Hallett
BBC History Magazine Book of the Year selection by Helen Rappaport
"A masterpiece . . . . [T]his heartbreaking narrative of family dysfunction and royal sacrifice is an absolute page-turner." —Amanda Foreman, author of Georgiana: Duchess of Devonshire
"[A] fascinating, story-filled account . . . . Each story is a revelation." —Jenny Uglow, The Guardian
The surprising, deliciously dramatic, and ultimately heartbreaking story of King George III's radical pursuit of happiness in his private life with Queen Charlotte and their 15 children
In the U.S., Britain's George III, the protagonist of A Royal Experiment, is known as the king from whom Americans won their independence and as "the mad king," but in Janice Hadlow's groundbreaking and entertaining new biography, he is another character altogether—compelling and relatable.
He was the first of Britain's three Hanoverian kings to be born in England, the first to identify as native of the nation he ruled. But this was far from the only difference between him and his predecessors. Neither of the previous Georges was faithful to his wife, nor to his mistresses. Both hated their own sons. And, overall, their children were angry, jealous, and disaffected schemers, whose palace shenanigans kick off Hadlow's juicy narrative and also made their lives unhappy ones.
Pained by his childhood amid this cruel and feuding family, George came to the throne aspiring to be a new kind of king—a force for moral good. And to be that new kind of king, he had to be a new kind of man. Against his irresistibly awful family background—of brutal royal intrigue, infidelity, and betrayal—George fervently pursued a radical domestic dream: he would have a faithful marriage and raise loving, educated, and resilient children.
The struggle of King George—along with his wife, Queen Charlotte, and their 15 children—to pursue a passion for family will surprise history buffs and delight a broad swath of biography readers and royal watchers.
Praise For A Royal Experiment: The Private Life of King George III…
"Fascinating . . . . Hadlow paints subtle psychological portraits . . . . [She] has extensively researched this story, never rushing through the 'highlights' and giving a full picture of the family members in all their facets. She even dares to touch on the endless boredom of life at court . . . without ever becoming boring herself." —The New York Times Book Review
"Janice Hadlow's A Royal Experiment is a masterpiece. Beautifully written, impeccably researched, this heartbreaking narrative of family dysfunction and royal sacrifice is an absolute page-turner." —Amanda Foreman, author of Georgiana: Duchess of Devonshire and A World on Fire
"From the first pages of Janice Hadlow's enthralling A Royal Experiment you know you are in the hands of a master narrator as well as a profoundly perceptive historian. And like all great historical writing, the book transcends its immediate story--gripping and moving though that is--to be a timeless reflection on the human condition." —Simon Schama, whose works include The Embarrassment of Riches and The Story of the Jews
"Hadlow presents a richer portrait of the regent, showing him as son, husband and father as well as ruler. . . . A Royal Experiment will appeal to lovers of biography, Georgian England or royal scandal." —Shelf Awareness
"Particularly incisive--and, it should be stressed, completely accessible." —Booklist (Starred review)
"[A] fascinating, story-filled account. . . . In this densely detailed yet fast-paced book, as drama follows drama, the interest never flags. Each story is a revelation. . . . [George III and his family's] experience prefigures an enduring royal dilemma--how to live a private life in the glare of publicity." —The Guardian
"Positive and poignant . . . . Lovers of biography and those intrigued by dynastic and royal life should enjoy it." —Library Journal
"In this engrossing and thorough portrait . . . . Hadlow provides a critical, yet compassionate and intimate account of George III's trials and tribulations in undertaking to create the ideal family." —Publishers Weekly
"Hadlow debuts with a new take on England's King George III . . . . a better parent than his great-grandfather George I, who had his own son arrested, and a better husband than his flagrantly philandering grandfather George II . . . . [He] aimed to make the royal family a moral example to the nation . . . . Enjoyable for its vivid depiction of several varieties of royal lifestyles--and plenty of royal gossip." —Kirkus Reviews
"Truly engrossing. George III and his relatives give us the ultimate family saga; it almost defies belief that these events really happened. A real-life period drama to lose yourself in." —Lucy Worsley, Chief Curator at Historic Royal Palaces
"In readable prose, with a welter of detail, Hadlow succeeds in her considerable task . . . . enlivened by Hadlow's infectious enthusiasm." —The Telegraph
"[A] colorful and brilliantly narrated royal chronicle . . . . Excellent both in her narrative skill and her scholarship, Hadlow . . . . has produced a perceptive, lively and wonderfully enjoyable book." —The Sunday Times
"Engrossing . . . . Hadlow, an accomplished storyteller, assembles . . . a picture full of emotional colour and drama, which still resonates today." —The Times
"Republicans and royalists alike will enjoy Janice Hadlow's authoritative debut, which looks at the strange world of the Hanoverian court . . . with wit and compassion . . . . A book that has all the flair and engaging storytelling as the documentaries that Hadlow was responsible for commissioning in her former roles in broadcasting [at the BBC]." —The Observer
"In Janice Hadlow, George III and Queen Charlotte have a sympathetic yet scrupulous biographer who has spent years studying their court. The tale she tells is . . . engaging, written with verve and supported by a narrative eye doubtless honed during her years as a BBC controller." —The Times Literary Supplement
"Utterly engrossing . . . . Narrative history at its best from an impressive new talent in the genre." —BBC History Magazine
"A page turner . . . . [Hadlow has] handled the story with detailed scholarship and fun. There are intensely vivid insights . . . . [An] enthralling book." —Country Life
"[One of the season's] biographies to watch out for." —Vogue Fall 2014 Books Guide
Henry Holt and Co., 9780805096569, 704pp.
Publication Date: November 18, 2014
About the Author

Janice Hadlow has been responsible for the direction of BBC Two since 2008. She was educated at comprehensive school in Swanley, in north Kent, and graduated with a BA in History from King's College London in 1978. A Royal Experiment is her first book. She currently lives in Watlington, Oxfordshire.
or
Not Currently Available for Direct Purchase