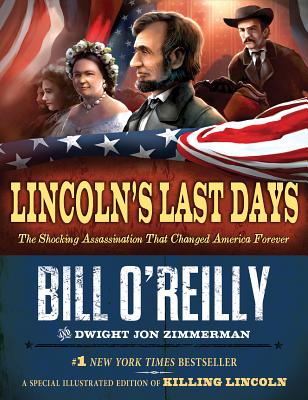 Lincoln's Last Days (Hardcover)
The Shocking Assassination that Changed America Forever
Henry Holt and Co. (BYR), 9780805096750, 336pp.
Publication Date: August 21, 2012
* Individual store prices may vary.
Description
Lincoln's Last Days is a gripping account of one of the most dramatic nights in American history—of how one gunshot changed the country forever. Adapted from Bill O'Reilly's bestselling historical thriller, Killing Lincoln, this book will have young readers—and grown-ups too—hooked on history.
In the spring of 1865, President Abraham Lincoln travels through Washington, D.C., after finally winning America's bloody Civil War. In the midst of celebrations, Lincoln is assassinated at Ford's Theatre by a famous actor named John Wilkes Booth. What follows is a thrilling chase, ending with a fiery shoot-out and swift justice for the perpetrators.
With an unforgettable cast of characters, page-turning action, vivid detail, and art on every spread, Lincoln's Last Days is history that reads like a thriller. This is a very special book, irresistible on its own or as a compelling companion to Killing Lincoln.
About the Author
Bill O'Reilly's success in broadcasting and publishing is unmatched. The iconic anchor of The O'Reilly Factor led the program to the status of the highest rated cable news broadcast in the nation for sixteen consecutive years. His website BillOReilly.com is followed by millions all over the world.
In addition, he has authored an astonishing 12 number one ranked non-fiction books including the historical "Killing" series. Mr. O'Reilly currently has 17 million books in print.
Bill O'Reilly has been a broadcaster for 42 years. He has been awarded three Emmy's and a number of other journalism accolades. He was a national correspondent for CBS News and ABC News as well as a reporter-anchor for WCBS-TV in New York City among other high profile jobs.
Mr. O'Reilly received two other Emmy nominations for the movies "Killing Kennedy" and "Killing Jesus."
He holds a history degree from Marist College, a masters degree in Broadcast Journalism from Boston University, and another masters degree from Harvard's John F. Kennedy School of Government.
Bill O'Reilly lives on Long Island where he was raised. His philanthropic enterprises have raised tens of millions for people in need and wounded American veterans.
DWIGHT JON ZIMMERMAN has written extensively on military-history subjects for
American Heritage
, the
Naval Institute Press
,
Vietnam Magazine
, and numerous military-themed publications. His books include
The Hammer and the Anvil
and
The Vietnam War: A Graphic History
. He lives in Brooklyn, New York.
Praise For Lincoln's Last Days: The Shocking Assassination that Changed America Forever…
"This thrillerlike adaptation captures the excitement of the Union victory in the Civil War and the shock and horror that quickly followed as the country learned of Lincoln's death and sought revenge on his assassins. The popularity of O'Reilly's adult title will drive interest in this version, but it definitely stands alone and will find an audience among general readers and report writers." —School Library Journal
"...accessible to younger readers." —Booklist
"As a history major, I wish my required reading had been as well written as this truly vivid and emotionally engaging account of Lincoln's assassination. And as a former combat infantry officer, I found myself running for cover at the Civil War battle scenes. This is the story of an American tragedy that changed the course of history. If you think you know this story, you don't until you've read Killing Lincoln. Add historian to Bill O'Reilly's already impressive résumé." —Nelson DeMille, author of The Lion and The Gold Coast on Killing Lincoln
"Killing Lincoln is a must read historical thriller. Bill O'Reilly recounts the dramatic events of the spring of 1865 with such exhilarating immediacy that you will feel like you are walking the streets of Washington DC on the night that John Wilkes Booth shot Abraham Lincoln. This is a hugely entertaining, heart-stopping read." —Vince Flynn, author of American Assassin on Killing Lincoln
"If Grisham wrote a novel about April 1865 . . . it might well read like Killing Lincoln." —Peter J. Boyer, Newsweek on Killing Lincoln
"[Killing Lincoln] delivers a taut, action-packed narrative with cliff-hangers aplenty." —The Christian Science Monitor on Killing Lincoln
"[Killing Lincoln] is nonfiction, albeit told in white-knuckled, John Grisham-like style." —New York Post on Killing Lincoln