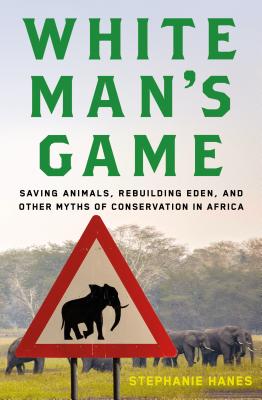 White Man's Game (Hardcover)
Saving Animals, Rebuilding Eden, and Other Myths of Conservation in Africa
Metropolitan Books, 9780805097160, 304pp.
Publication Date: July 11, 2017
* Individual store prices may vary.
Description
A probing examination of Western conservation efforts in Africa, where our feel-good stories belie a troubling reality
The stunningly beautiful Gorongosa National Park, once the crown jewel of Mozambique, was nearly destroyed by decades of civil war. It looked like a perfect place for Western philanthropy: revive the park and tourists would return, a win-win outcome for the environment and the impoverished villagers living in the area. So why did some researchers find the local communities actually getting hungrier, sicker, and poorer as the project went on? And why did efforts to bring back wildlife become far more difficult than expected?
In pursuit of answers, Stephanie Hanes takes readers on a vivid safari across southern Africa, from the shark-filled waters off Cape Agulhas to a reserve trying to save endangered wild dogs. She traces the tangled history of Western missionaries, explorers, and do-gooders in Africa, from Stanley and Livingstone to Teddy Roosevelt, from Bono and the Live Aid festivals to Greg Carr, the American benefactor of Gorongosa. And she examines the larger problems that arise when Westerners try to "fix" complex, messy situations in the developing world, acting with best intentions yet potentially overlooking the wishes of the people who live there. Beneath the uplifting stories we tell ourselves about helping Africans, she shows, often lies a dramatic misunderstanding of what the locals actually need and want.
A gripping narrative of environmentalists and insurgents, poachers and tycoons, elephants and angry spirits, White Man's Game profoundly challenges the way we think about philanthropy and conservation.
About the Author
Stephanie Hanes is a regular correspondent for The Christian Science Monitor and an award-winning journalist whose stories have appeared in The Washington Post, USA Today, The Baltimore Sun, Smithsonian, and PBS NewsHour. Her work has been supported by the Pulitzer Center on Crisis Reporting and by a fellowship from the Alicia Patterson Foundation. White Man's Game is Hanes's first book. She lives in Western Massachusetts.
Praise For White Man's Game: Saving Animals, Rebuilding Eden, and Other Myths of Conservation in Africa…
"Powerful... A magnificent book."
—The Wall Street Journal
"Brilliant… A page-turner rooted in investigative journalism.… Hanes resists cynicism throughout, sticking to her central question: Why do Western efforts to help the environment and Africa so often fail?"
—In These Times
"Necessary reading... White Man's Game serves a vital purpose by strenuously and intelligently trying to uncouple the public relations campaigns of conservation organizations from their day-to-day effects on the lives of the people who actually live in the affected areas.... Hanes expertly surveys some of the long history of 'do-gooder' humanitarian interventions in Africa, from the days of Theodore Roosevelt to stories of Bono and LiveAid concerts, and she draws a tight web of connections between such condescending efforts and the modern multi-pronged struggle."
—The Christian Science Monitor
"Hanes's skepticism comes from deep research and far-ranging interviews. She writes gracefully and sympathetically, and regardless of whatever campaign emerges to discredit this book, a disquieting but hardly hostile work, she is fair and convincing. As this fine book shows, when it comes to Western interactions with Africa, meaning well is a necessary but far from sufficient condition."
—Kirkus Reviews
"Listening—carefully—to the stories others have to tell about their own lives is the key to working together. This book usefully reminds us how easily we can get caught up in our own narratives instead."
—Bill McKibben, author of Eaarth

"Casting a skeptical eye on environmental pieties and plaster saints, Stephanie Hanes shows us the tragic quandary of conservation up close—that there are few solutions without vexing consequences, few plans that come without a price to be paid by those least able to afford it. The people directly affected by these grand schemes deserve to have their stories told in all their illuminating specificity, and White Man's Game does a masterly job of it. Probing the often troubling implications of well-meaning Western aid projects, this lively and searching narrative exposes the weirdly messianic zeal of what is—or should be—a scientific discipline."
—Caroline Fraser, author of Rewilding the World

"A fascinating look at the promise and perils of conservation efforts carried out by Westerners abroad. Stephanie Hanes makes a compelling case that the 'real' story of a project such as the restoration of Gorongosa National Park can only be told by including all narratives from all perspectives. With the background context filled in, it is clear that nothing, from the color of a helicopter to a gun salute for a dead elephant, is without multiple meanings. Hanes's unusual ability to fully understand and empathize with varied viewpoints, plus her obvious love for nature and Gorongosa, elevate this history to a wonderful page-turner with deep insights for conservationists."
—Emma Marris, author of Rambunctious Garden