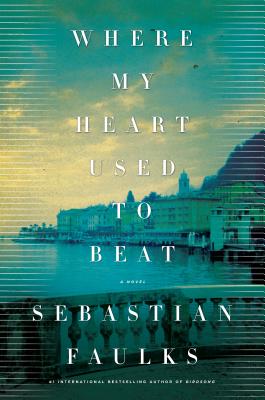 Where My Heart Used to Beat
A Novel
Hardcover

* Individual store prices may vary.
Other Editions of This Title:
Paperback (2/7/2017)
Description
A sweeping drama about the madness of war and the power of love that marks acclaimed novelist Sebastian Faulks's return, after twenty years, to the fictional territory of his #1 international bestseller Birdsong

London, 1980. Robert Hendricks, an established psychiatrist and author, has so bottled up memories of his own wartime past that he is nearly sunk into a life of aloneness and depression. Out of the blue, a baffling letter arrives from one Dr. Alexander Pereira, a neurologist and a World War I veteran who claims to be an admirer of Robert's published work. The letter brings Robert to the older man's home on a rocky, secluded island off the south of France, and into tempests of memories--his childhood as a fatherless English boy, the carnage he witnessed and the wound he can't remember receiving as a young officer in World War II, and, above all, the great, devastating love of his life, an Italian woman, "L," whom he met during the war. As Robert's recollections pour forth, he's unsure whether they will lead to psychosis--or redemption. But Dr. Pereira knows. Profoundly affecting and masterfully told, Where My Heart Used to Beat sweeps through the 20th century, brilliantly interrogating the darkest corners of the human mind and bearing tender witness to the abiding strength of love.
Praise For Where My Heart Used to Beat: A Novel…
"An absorbing look at the intimate connection between love, war, and memory."—Kirkus (starred review)

"Faulks examines the vagaries of human nature when under siege, primarily through the eyes of Robert Hendricks . . . . whose experiences were harrowing on the one hand and joyous on the other—he met his one true love in Italy. Faulks is renowned and respected for his fresh approach to . . .combat's assault on the human psyche. Here. . .[d]espite everything he's experienced, [Hendricks] will not give up on the human race." —Publishers Weekly

"Faulks expertly crafts a harrowing portrait of Hendricks as a man defined by loss. . . . We hope for at least a measure of happiness for this man of sorrows, because Faulks has drawn us so persuasively and passionately into his struggles."—The Boston Globe

"The passages set in the trenches of Anzio in 1944 are as compelling and alive as anything he has written since Birdsong, his huge-selling 1993 novel about British tunnel-diggers at the Somme. The intricacies of war suit Faulks's love of research and his mastery of it – how to layer and find ornament in it, what German tanks to mention, what level of ignorance to assume on the part of his reader. And there's something about the everyday nearness of men being ripped apart by flying metal that raises Faulks's officer-class prose to its sharpest pitch." —The Guardian

"This is a profoundly moving novel. One of its themes is that man prides him/herself on being cerebrally more highly evolved than other animals, and yet even as recently as the 20th century, history has been strewn with man-made atrocities. In Hendricks, Faulks has created a man whose laudable aim to help others contrasts with his inability to take the action needed to help himself." —The Independent

"The work of a man ith an eerie mastery of the form in its modern, popular incarnation . . . This is a terrific novel, humming with ideas, knowing asides, shafts of sunlight, shouts of laughter and moments of almost unbearable tragedy."—The Telegraph

"It's in his . . . evocations of World War II that Faulks's writing is especially moving and exciting, thanks to a sure combination of historical description . . . and dialogue-rich camaraderie."—The New York Times Book Review

"Wise and readable. . . . filled with scenes of genuine power."—Charles Finch, USA Today

"Sebastian Faulks writes like a modern-day Hemingway. . . . [he] manages the amazing --- he takes this story and infuses a level of humor, romance and drama into it that transcends other such tales. . . . [Where My Heart Used to Beat] could be one of the best of all the lost-romance-of-the-war stories of all time, taking its place amidst Casablanca and The Sun Also Rises." —BookReporter

"Heartfelt and heartbreaking, insightful and inventive this is Sebastian Faulks at his best." —Bite the Book

"Beneath the beautifully depicted landscapes, the vivid images of war and the detailed research on psychiatry, underneath the layered characters, the exquisite turns of phrase and the engaging, rewarding plot, Faulks seems able to touch a core that very few authors can – studying, detailing and celebrating the human condition and relating that to the reader in a completely unique way." —The Bookbag
Henry Holt and Co., 9780805097320, 352pp.
Publication Date: January 26, 2016
About the Author
Sebastian Faulks is the internationally bestselling author of several novels, including Charlotte Gray, which was made into a film starring Cate Blanchett, and the #1 international bestseller and classic Birdsong, which has sold more than 3 million copies and has been adapted for the stage, for television (starring Eddie Redmayne), and is now in development as a feature film. He lives in London.
or
Not Currently Available for Direct Purchase