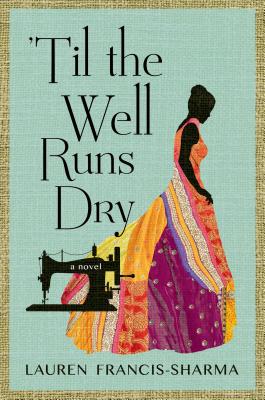 'Til the Well Runs Dry (Hardcover)
A Novel
Henry Holt and Co., 9780805098037, 400pp.
Publication Date: April 22, 2014
Other Editions of This Title:
Digital Audiobook (3/16/2015)
Paperback (9/15/2015)
Compact Disc (3/17/2015)
MP3 CD (3/17/2015)
* Individual store prices may vary.
Description
"As universally touching as it is original." -The New York Times

Black Caucus of the American Library Association 2015 Honor Book in Fiction
Booklist Starred Review
O, The Oprah Magazine "10 Titles to Pick Up Now"
A glorious and moving multigenerational, multicultural saga that sweeps from the 1940s through the 1960s in Trinidad and the United States.
In a seaside village in the north of Trinidad, young Marcia Garcia, a gifted and smart-mouthed sixteen-year-old seamstress, lives alone, raising two small boys and guarding a family secret. When she meets Farouk Karam, an ambitious young policeman (so taken with Marcia that he elicits help from a tea-brewing obeah woman to guarantee her ardor), the rewards and risks in Marcia's life amplify forever.
'Til the Well Runs Dry sees Marcia and Farouk from their sassy and passionate courtship through personal and historical events that threaten Marcia's secret, entangle the couple and their children in a tumultuous scandal, and put the future in doubt for all of them.
With this deeply human novel, Lauren Francis-Sharma gives us an unforgettable story about a woman's love for a man, a mother's love for her children, and a people's love for an island rich with calypso and Carnival, cricket and salty air, sweet fruits and spicy stews-a story of grit, imperfection, steadfast love and of Trinidad that has never been told before.
About the Author
Lauren Francis-Sharma, a child of Trinidadian immigrants, was born in New York City and raised in Baltimore, Maryland. She holds a bachelor's degree in English literature with a minor in African-American Studies from the University of Pennsylvania and a J.D. from the University of Michigan Law School. She lives in the Washington, D.C., area with her husband and two children. 'Til the Well Runs Dry is her first novel.
Praise For 'Til the Well Runs Dry: A Novel…
"Marcia's story, told lovingly in this, Francis-Sharma's debut novel, is as universally touching as it is original." —The New York Times
"[A] remarkably accomplished first-time novelist. . . .Francis-Sharma's spellbinding, intimately detailed, psychologically lush, and suspenseful tale of racial and sexual trauma, hard work, love, and family devotion makes personal the injustice people endured in the years leading up to the civil rights movement in both multicultural Trinidad and segregated America." —Booklist (Starred Review)
"You'll hear the calypso music in this vivid debut about a spirited seamstress and devoted mother with a family secret." —People
"A saga ripe with heartbreak and joy . . . Francis-Sharma delivers a rich and satisfying debut on the ties of family, love, and culture." —Kirkus Reviews
"Have you ever met a family whose every tear, every triumph, every heartbreak made your heart leap? I could not put this book down. An unforgettable journey. " —Dolen Perkins-Valdez, author of the New York Times bestseller Wench
"Lauren Francis-Sharma takes us to the island of Trinidad, the 'Land of the hummingbird,' in a story that feels like a song, with a chorus of voices across generations, revealing a culture as vibrant and enriching as it is overlooked by those on the mainland." —Henry Louis Gates, Jr., Alphonse Fletcher University Professor, Harvard University
"Lauren Francis-Sharma is a true story-teller.'Til the Well Runs Dry burns through its telling like the best gossip, but has the controlled mystery of a fairytale. This narrative is surprising, winding and always gratifying." —Tiphanie Yanique, author of Land of Love and Drowning
"10 Titles to Pick Up Now" —O, The Oprah Magazine
"'Til The Well Runs Dry is unforgettable. Like the best poetry, it has all the high notes: a beautiful girl, a spell that leads to love and death, and a terrible secret -- in language pierced with the cries and colors of the West Indies. But this is not just a story; it's the author's retelling of her own origins. Sweet, brutal, and unsparing, this is Lauren Francis-Sharma's first book, yet she commands the page." —Jacquelyn Mitchard, author of the #1 New York Times bestseller The Deep End of the Ocean
"An evocative and emotionally resonant family saga with one of the most compelling heroines I've met in a long time. A story of love, loss, and triumph set in a world of secret and moral consequence. Like the Obeah woman in her story, Lauren Francis-Sharma has cast a spell that refuses to release me. I won't forget this story or the voice of this wonderful new writer any time soon." —Brunonia Barry, New York Times bestselling author of The Lace Reader
"'Alone, I sat on the sand and took in the beauty of my grandmother's land' was the reason Lauren Francis-Sharma gave for writing her remarkable debut 'Til The Well Runs Dry. I was swept away by this thunderous, witty, and deeply soulful novel about family, Trinidad, secrets, porch sitters, dirt roads and passion. And so satisfying, like the first time I read my aunt's novel, Their Eyes Were Watching God." —Lucy Anne Hurston
"A first novel, yes. But balanced with experiences, imagery, and characters that linger on the flesh. Eyes. In the heart. And as I read the last paragraph and closed the book, I knew that I had experienced an amazing journey of light. Thank you my dear sister for this wonderful book." —Sonia Sanchez, poet and writer
"I devoured 'Til the Well Runs Dry in three short nights. I couldn't wait to get back to the stories and the characters who I almost didn't want to be fiction, because I cared so much about their ever-after. I found Lauren Francis-Sharma's world, so familiar to me, a place with hidden corners hiding deep secrets I couldn't wait to unravel and then to have my breath pause as they revealed themselves in ways I couldn't imagine. Her story might be about a girl from Blanchisseuse, but above that it is an extraordinary story about a misunderstood girl who knows how to stand her ground." —Victoria Brown, author of Minding Ben
"With an intense voice, Lauren Francis-Sharma draws us into old Trinidad, weaving a classic immigrant's tale, punctuated with the heady scents and rhythms of a bygone time, carrying us to the new world." —Cheryl Lu-Lien Tan, author of A Tiger in the Kitchen
"Lauren Francis-Sharma's debut novel, 'Til the Well Runs Dry, illuminates a complex and beautiful Trinidad… [And] at the heart of 'Til the Well Runs Dry is Marcia Garcia's delightful, eccentric story of several decades, several children, much resilience, many secrets, romance, and harrowing immigration. In 'Til the Well Runs Dry, Lauren Francis-Sharma has gone looking for her own personal history and has written as well an important narrative celebrating the African and South Asian people who created Caribbean culture." —Breena Clarke, bestselling author of River, Cross My Heart and Angels Make Their Hope Here
"Francis-Sharma's breathtaking debut . . . is as stunning as the artwork on the cover. She creates a heroine in Garcia that readers will root for--and remember fondly. This story of one woman's journey of womanhood and discernment is not to be missed." —Sergie Willoughby, The Network Journal
or
Not Currently Available for Direct Purchase