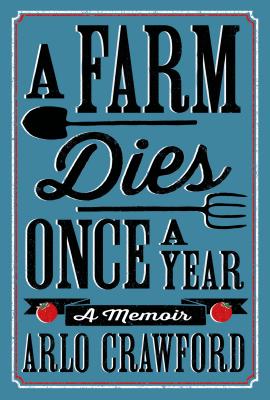 A Farm Dies Once a Year (Hardcover)
Henry Holt & Company, 9780805098167, 258pp.
Publication Date: April 1, 2014
* Individual store prices may vary.
or
Not Currently Available for Direct Purchase
Description
A Book of the Month for "GQ," "The New Yorker," and "Flavorwire"
"Beautifully told In this one season of life, Crawford's writing about the work, people, nature and his family legacy reveals much about a simple life, and reminds us all to appreciate life's riches." "Seattle Post Intelligencer"
"A must-read " "Washington Independent Review of Books"
An intimate, gorgeously observed memoir about family and farming that forms a powerful lesson in the hard-earned risks that make life worth living
The summer he was thirty-one, Arlo Crawford returned home for the summer harvest at New Morning Farm seventy-five acres tucked in a hollow in south-central Pennsylvania where his parents had been growing organic vegetables for almost forty years.
Like many summers before, Arlo returned to the family farm's familiar rhythms rise, eat, bend, pick, sort, sweat, sleep. But this time he was also there to change his direction, like his father years ago. In the 1970s, well before the explosion of the farm-to-table and slow food movement, Arlo's father, Jim, left behind law school and Vietnam, and decided to give farming a try. Arlo's return also prompts a reexamination of a past tragedy: the murder of a neighboring farmer twenty years before. A chronicle of one full season on a farm, with all its small triumphs and inevitable setbacks, "A Farm Dies Once a Year" is a meditation on work the true nature of it, and on taking pride in it and a son's reckoning with a father's legacy. Above all, it is a striking portrait of how one man builds, sows, and harvests his way into a new understanding of the risks necessary to a life well-lived.
About the Author
Arlo Crawford grew up on New Morning Farm, his family's organic vegetable farm in rural Pennsylvania. He has written for The New York Times Magazine and Gastronomica and has worked in book publishing, at art museums, and as a vegetable seller. He lives in San Francisco with his wife.
Praise For A Farm Dies Once a Year…
A New Yorker "Page-Turner" Book of the Month
A Flavorwire "Must-Read Book for April"
"[Crawford] writes about that season [when he returned to his family's farm], which unexpectedly became a time of reconnecting with the rhythms of farming, investigating the twenty-year-old murder of a local farmer, and coming to understand the hard, unpredictable life his parents chose. He provides an unembellished but evocative account of the romantic myths, harsh realities, and genuine allure of American rural life." —
The New Yorker "Page-Turner" blog
"
A Farm Dies Once a Year
, is a must-read… It is in fact the vividness and economy of the author's narration — his attention to detail in a language that is lean and colorful — that makes this book, along with the subject itself, such compelling reading. Often earnest, A Farm Dies Once a Year is punctuated with a wry humor directed sometimes at Crawford, sometimes at his parents or others, but always good-natured."—
Washington Independent Review of Books
"Terrific stuff—a great setting, a motley set of characters…We come to admire Crawford's hardworking father and mother, who are the kind of farmers who have trained hundreds of farm apprentices and have fans at the farmers' market who will stand in line 20 deep for the chance to buy some of the farm's corn or green beans."—
San Francisco Chronicle
"In straightforward language as honest as an apple [Crawford] describes the life his parents chose…The ups and downs of one summer, reflected off the ups and downs of one man's life, make for a story that has stayed with me longer than most novels. I even found myself getting teary near its end, when an unexpected bounty of raspberries redeems New Morning Farm."
—Minneapolis Star Tribune
"[
A Farm Dies Once a Year
] is less about the intricacies of farm life (though it does have many delightful details) and more about Crawford's relationship with his home…a meditation on the patience and will it takes to live off the land…If there's a simple truth at the center of Crawford's memoir, it's that some years are better than others. Accepting that fact is harder than it seems."—
Grantland
"After finishing Arlo Crawford's memoir
A Farm Dies Once a Year
, I found myself wanting to quit my desk job and do something that involves working with my hands…the narrative is as much a curious look at the intricacies of organic farming as it is a rich, poignant portrait of Crawford's family and their relationship to the land and their neighbors."—
Amazon's Omnivoracious
"Locally sourced, organic, farm-to-table foods might be popular now, but Arlo Crawford returns to the Pennsylvania farm he grew up on to tell a story that will give you a whole different point of view about life on the farm."
—Jason Diamond, Flavorwire
"From the moment he straps on his Red Wings and returns to the soil, Arlo tends to the details of the story with the same tenacity that his father dedicates to his tomatoes. A book that will briefly make you reconsider a life behind a desk."—
The World's Best Ever
"Arlo Crawford's memoir is flat-out beautiful. His account of his hard-working, eccentric, lovely parents and their Appalachian farm and its amazing vegetables is more riveting and moving than I would have thought possible. I've never seen the American farming life described with such passion and honesty.
A Farm Dies Once A Year
is about more than one small family farm: it's about what makes a meaningful life. I loved it."
—Kate Christensen, author of The Great Man and Blue Plate Special
"
A Farm Dies Once A Year
is both a quietly powerful chronicle of work and a subtle, considered meditation on what it means to belong. It's a
testimony to the strength of dreams and the devotion required to carry them out; to the eternal negotiations necessary between a place's storied past, its insistent present, and its possible future. Arlo Crawford's utter faith in the world he describes and his exacting, vivid prose make this book a treasure. "—
Jane Brox, award-winning author of Five Thousand Days Like This One and Brilliant
"Anyone who has ever wondered about the origin of organic produce will get the inside story in this beautifully written and intimate portrait of life on a modern family farm."
—Booklist
"Bewitching… Each chapter is a swift read, and Crawford writes sparsely while still including photo-quality descriptions (his use of color borders on hypnotic)… I swear I could see [him] smiling on the page."—
SmartPlanet.com (CBS)
"A down-to-earth account of life on New Morning Farm… Crawford's account of the work on the farm is matter-of-fact and clear, and his portraits of his hardworking, middle-aged parents are sharp."—
Kirkus Reviews
"What a beautiful and eloquent memoir this is. It will make you hungry for sun-warm tomatoes, the first summer corn and freshly picked green beans with just a little salt and butter…Fans of prose both literary and mainstream will appreciate Crawford's gift for direct, lucid storytelling that is also imaginative and ripe with vivid imagery…Feast on this great read."—
York Daily Record
Advertisement