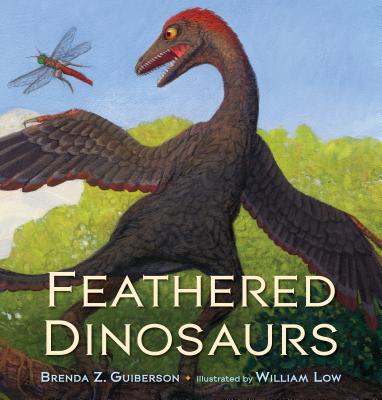 Feathered Dinosaurs (Hardcover)
Henry Holt and Co. (BYR), 9780805098280, 40pp.
Publication Date: March 1, 2016
* Individual store prices may vary.
Description
Millions of years ago, before there were red-breasted robins and busy blue jays . . . there were feathered dinosaurs. Scientists have found evidence that Anchiornis, Caudipteryx, Confuciusornis, and many more dinosaurs all had feathers. Discover these amazing ancient creatures--and the connection between feathered dinosaurs and modern-day birds!
About the Author
Brenda Z. Guiberson has written many books for children, including Cactus Hotel, Spoonbill Swamp, Moon Bear and Disasters. As a child, Brenda never thought she wanted to be a writer—her dreams tended more toward jungle explorer. She graduated from the University of Washington with degrees in English and Fine Art. She started thinking about writing for children when her son went to elementary school, and she volunteered in his class and in the school library. After taking exciting trips that involved a fifty-foot cactus, hungry alligators and sunset-colored spoonbills, she wanted to create books for children that would be like a field trip. Her books are full of well-researched detail, and Brenda sees this research as an adventure—one that allows her to be a jungle explorer at last. She lives in Seattle, Washington.

William Low is the author and illustrator of Chinatown and Old Penn Station, as well as a four-time Silver Medal winner at the Society of Illustrators.