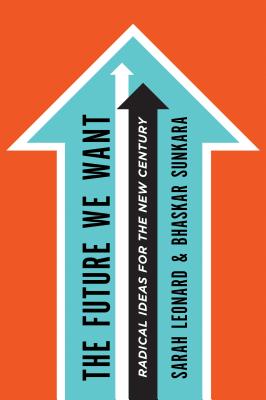 The Future We Want
Radical Ideas for the New Century
Paperback

* Individual store prices may vary.
Description
A stirring blueprint for American equality, from the "breakout stars" (The New York Times) of the young new left
Democrat, Republican -- the list of presidential candidates confirms that business is proceeding pretty much as usual. The Future We Want proposes something different. In a sharp, rousing collective manifesto, ten young cultural and political critics dismantle the usual liberal solutions to America's ills and propose a pragmatic alternative.
What would finance look like without Wall Street? Or the workplace with responsibility shared by the entire workforce? From a campaign to limit work hours, to a program for full employment, to proposals for a new feminism, The Future We Want has the courage to think of alternatives that are both utopian and possible.
Brilliantly clear and provocative, The Future We Want -- edited by Jacobin magazine founder Bhaskar Sunkara and the Nation's Sarah Leonard -- harnesses the energy and creativity of an angry generation and announces the arrival of a new political left that not only protests but plans.
Praise For The Future We Want: Radical Ideas for the New Century…
"Those who think that today's young adults are so mesmerized by social media that they cannot think broadly about the public good should think again. Here are a bevy of young radicals who offer powerful critiques of the state of our society today, and offer radical alternatives. They cover a wide range of issues, from education and policing to economic policy, but the common theme is thinking about how to make the United States a genuine democracy. At a time of frozen, unresponsive politics, these are voices that deserve a hearing."
—Eric Foner, author of Reconstruction
"There's an old joke that says it's easier to imagine the end of all life on earth than a modest change to capitalism. The Future We Want proves this joke doesn't apply to an emerging generation of leftist intellectuals who are ready to radically reimagine the political and economic status quo. Leonard and Sunkara have done a public service by compiling an inspiring program for a better world, one grounded in pragmatism but ultimately aimed at utopia."
—Astra Taylor, author of The People's Platform
Metropolitan Books, 9780805098297, 208pp.
Publication Date: February 2, 2016
About the Author
Sarah Leonard is a senior editor at the Nation, as well as editor of the online journal The New Inquiry and of Occupy!: Scenes from Occupied America. Leonard, who lives in New York, has written for n+1, Bookforum, and Dissent.

Bhaskar Sunkara is the founder of Jacobin, a political quarterly, and a contributor to In These Times. Sunkara and Jacobin have been featured on MSNBC and in the New York Times, Rolling Stone, The Chronicle of Higher Education, and Slate. He lives in New York.
or
Not Currently Available for Direct Purchase