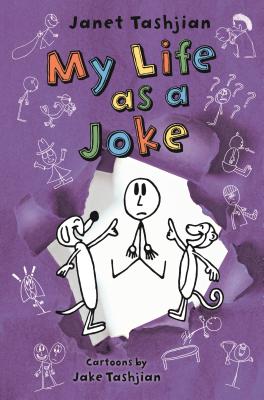 My Life as a Joke (Hardcover)
Henry Holt & Company, 9780805098501, 252pp.
Publication Date: April 1, 2014
Description
Derek Fallon discovers all the angst that comes with being twelve--he just wants to feel grown up, but life gets in the way with a series of mishaps that make him look like a baby. He passes out during a worm dissection in science class, falls flat on his face in gym class and gets a fat lip that causes him to lisp all day, and his plans for a monster-truck party turn into a bouncy house disaster. Why isn't being in middle school as great as Derek imagined? Thankfully, with a little help from his friends--and, ironically, a Toys for Tots fundraiser--things seem like they could start shaping up at last.
My Life as a Joke by Janet and Jake Tashjian is a Christy Ottaviano Book
About the Author
Janet Tashjian is the author of the popular My Life series including My Life as a Stuntboy, My Life as a Book, and My Life as a Cartoonist, illustrated by her son, Jake Tashjian; as well as The Gospel According to Larry and For What It's Worth. She lives with her family in Los Angeles, California.
Praise For My Life as a Joke…
My Life as a Book:
A 2011 Bank Street Best Children's Book of the Year"Give this to kids who think they don't like reading. It might change their minds."—Booklist, starred review"A kinder, gentler Wimpy Kid with all the fun and more plot." —Kirkus Reviews, starred review"Sure to engage fans of Jeff Kinney's "Diary of a Wimpy Kid" books (Abrams) as well as those looking for a spunky, contemporary boy with a mystery to solve."—School Library Journal  My Life as a Stuntboy:"Another fun, emotionally resonant read for the Wimpy Kid set and beyond."—Kirkus Reviews"A fast-moving plot and relatable protagonist make this stand-alone sequel a good choice for boys who, like Derek, would rather reach for a TV remote or game controller than a book."—School Library Journal"Fans of the first will be utterly delighted by this sequel and anxious to see what Jake will turn up as next."—BCCB  "This is a great package for kids, especially those like Derek who don't think they like to read."— Booklist My Life as a Cartoonist:"Cartoonist Derek grapples with a perplexing association between disability and bullying in this stand-alone sequel. . . . This entertaining read leaves some provoking questions unanswered—usefully."—Kirkus Reviews
Advertisement