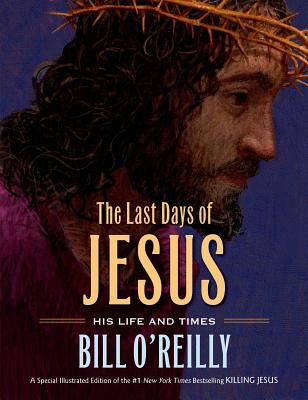 The Last Days of Jesus (Hardcover)
His Life and Times
Henry Holt & Company, 9780805098778, 320pp.
Publication Date: April 1, 2014
Description
Two thousand years ago, Jesus walked across Galilee; everywhere he traveled he gained followers. His contemporaries are familiar historical figures: Julius Caesar, Caesar Augustus, Herod the Great, Pontius Pilate. It was an era of oppression, when every man, woman, and child answered to the brutal rule of Rome. In this world, Jesus lived, and in this volatile political and historical context, Jesus died--and changed the world forever.
Adapted from Bill O'Reilly's bestselling historical thriller Killing Jesus, and richly illustrated, The Last Days of Jesus is a riveting, fact-based account of the life and times of Jesus.
About the Author
Bill O'Reilly's success in broadcasting and publishing is unmatched. The iconic anchor of The O'Reilly Factor led the program to the status of the highest rated cable news broadcast in the nation for sixteen consecutive years. His website BillOReilly.com is followed by millions all over the world.In addition, he has authored an astonishing 12 number one ranked non-fiction books including the historical "Killing" series. Mr. O'Reilly currently has 17 million books in print.Bill O'Reilly has been a broadcaster for 42 years. He has been awarded three Emmy's and a number of other journalism accolades. He was a national correspondent for CBS News and ABC News as well as a reporter-anchor for WCBS-TV in New York City among other high profile jobs.Mr. O'Reilly received two other Emmy nominations for the movies "Killing Kennedy" and "Killing Jesus."He holds a history degree from Marist College, a masters degree in Broadcast Journalism from Boston University, and another masters degree from Harvard's John F. Kennedy School of Government.Bill O'Reilly lives on Long Island where he was raised. His philanthropic enterprises have raised tens of millions for people in need and wounded American veterans.
Praise For The Last Days of Jesus: His Life and Times…
"This distillation of the best-selling Killing Jesus: A History (2013) retains the original's melodramatic tone and present-tense narration." - Kirkus Reviews
Praise for Kennedy's Last Days:
"A thoroughly documented, visually rich presentation." —Kirkus Reviews
Praise for Killing Kennedy:
"All the suspense and drama of a popular thriller." —Husna Haq, The Christian Science Monitor
"Immersively written . . . Mr. O'Reilly and Mr. Dugard succeed in investing a familiar national tragedy with fresh anguish . . . A powerful historical précis." —Janet Maslin, The New York Times
Praise for Lincoln's Last Days:
"This thrillerlike adaptation captures the excitement of the Union victory in the Civil War and the shock and horror that quickly followed as the country learned of Lincoln's death and sought revenge on his assassins. The popularity of O'Reilly's adult title will drive interest in this version, but it definitely stands alone and will find an audience among general readers and report writers." —School Library Journal
"Accessible to younger readers." —Booklist
Praise for Killing Lincoln:
"If Grisham wrote a novel about April 1865 . . . it might well read like Killing Lincoln." —Peter J. Boyer, Newsweek
"[Killing Lincoln] delivers a taut, action-packed narrative with cliff-hangers aplenty." —The Christian Science Monitor
"[Killing Lincoln] is nonfiction, albeit told in white-knuckled, John Grisham-like style." —The New York Post
Advertisement