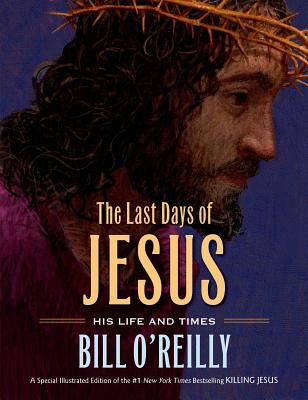 The Last Days of Jesus (Hardcover)
His Life and Times
Henry Holt and Co. (BYR), 9780805098778, 320pp.
Publication Date: April 1, 2014
* Individual store prices may vary.
Description
Two thousand years ago, Jesus walked across Galilee; everywhere he traveled he gained followers. His contemporaries are familiar historical figures: Julius Caesar, Caesar Augustus, Herod the Great, Pontius Pilate. It was an era of oppression, when every man, woman, and child answered to the brutal rule of Rome. In this world, Jesus lived, and in this volatile political and historical context, Jesus died—and changed the world forever.
Adapted from Bill O'Reilly's bestselling historical thriller Killing Jesus, and richly illustrated, The Last Days of Jesus is a riveting, fact-based account of the life and times of Jesus.
About the Author
Bill O'Reilly is a trailblazing TV journalist who has experienced unprecedented success on cable news and in writing thirteen national number-one bestselling nonfiction books. There are currently more than 17 million books in the Killing series in print. He lives in Long Island.

William Low is the author and illustrator of Chinatown and Old Penn Station, as well as a four-time Silver Medal winner at the Society of Illustrators.
Praise For The Last Days of Jesus: His Life and Times…
"A condensed version of O'Reilly's bestselling adult book Killing Jesus." —School Library Journal
"This distillation of the best-selling Killing Jesus: A History (2013) retains the original's melodramatic tone and present-tense narration." —Kirkus Reviews
"A thoroughly documented, visually rich presentation." —Kirkus Reviews on Kennedy's Last Days
"All the suspense and drama of a popular thriller." —Husna Haq, The Christian Science Monitor on Killing Kennedy
"Immersively written . . . Mr. O'Reilly and Mr. Dugard succeed in investing a familiar national tragedy with fresh anguish . . . A powerful historical précis." —Janet Maslin, The New York Times on Killing Kennedy
"This thrillerlike adaptation captures the excitement of the Union victory in the Civil War and the shock and horror that quickly followed as the country learned of Lincoln's death and sought revenge on his assassins. The popularity of O'Reilly's adult title will drive interest in this version, but it definitely stands alone and will find an audience among general readers and report writers." —School Library Journal on Lincoln's Last Days
"Accessible to younger readers." —Booklist on Lincoln's Last Days
"If Grisham wrote a novel about April 1865 . . . it might well read like Killing Lincoln." —Peter J. Boyer, Newsweek on Killing Lincoln
"[Killing Lincoln] delivers a taut, action-packed narrative with cliff-hangers aplenty." —The Christian Science Monitor on Killing Lincoln
"[Killing Lincoln] is nonfiction, albeit told in white-knuckled, John Grisham-like style." —The New York Post on Killing Lincoln