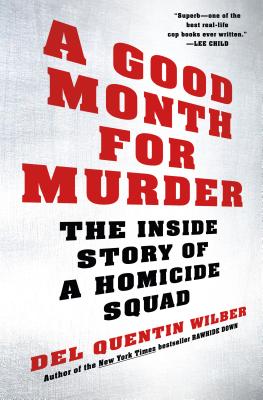 A Good Month for Murder
The Inside Story of a Homicide Squad
Hardcover

* Individual store prices may vary.
Other Editions of This Title:
Digital Audiobook (6/6/2016)
Paperback (7/3/2017)
CD-Audio (6/7/2016)
Description
Bestselling author Del Quentin Wilber tells the inside story of how a homicide squad---a dedicated, colorful team of detectives—does its almost impossible job

Twelve homicides, three police-involved shootings and the furious hunt for an especially brutal killer--February 2013 was a good month for murder in suburban Washington, D.C.

After gaining unparalleled access to the homicide unit in Prince George's County, which borders the nation's capital, Del Quentin Wilber begins shadowing the talented, often quirky detectives who get the call when a body falls. After a quiet couple of months, all hell breaks loose: suddenly every detective in the squad is scrambling to solve one shooting and stabbing after another. Meanwhile, the entire unit is obsessed with a stone-cold "red ball," a high-profile case involving a seventeen-year-old honor student attacked by a gunman who kicked down the door to her house and shot her in her bed.

Murder is the police investigator's ultimate crucible: to solve a killing, a detective must speak for the dead. More than any recent book, A Good Month for Murder shows what it takes to succeed when the stakes couldn't possibly be higher.
Praise For A Good Month for Murder: The Inside Story of a Homicide Squad…
"The book is briskly paced.... Wilber, a former Washington Post reporter, is painstaking in tracing how the detectives go about their fieldwork. The cat-and-mouse games they play with suspects in the interrogation room are fascinating."—The Washington Post

"Excellent.... Mr. Wilber has a keen reporter's eye and ear for detail and a deft pen that sometimes skewers with funny yet unstinting prose the very detectives who granted him entrée to their world…. Wilber gets high marks for placing readers smack inside the world of his characters?in the stuffy, fluorescent-lit homicide offices, the bloody murder scenes and the claustrophobic interview rooms as detectives cajole, intimidate and banter with witnesses."—Pittsburgh Post-Gazette

"Wilber is a former veteran Baltimore Sun and Washington Post reporter who spent one cold February in 2013 tailing…this group of hardened but dedicated detectives, bent on justice but beset by impossible odds. It's like David Simon's The Wire—urgent but cold-eyed and tragic?and it's all true."—Men's Fitness

"Wilber chronicles twelve homicides that occurred during February 2013 [and] employs his considerable skills to tell the stories of those investigating these violent acts.... Wilber—who was given extraordinary access to interrogation rooms, crime scenes, and family homes—vividly depicts the tension, pressure and occasional tedium involved in crime-solving, portraying the work as both vital and unending."—The National Book Review

"[A] propulsive account of a hard-charging homicide unit in a high-crime Washington, D.C., suburb…. [Wilber's] immersive approach allows him to capture the cops' inner monologues and their prickly exchanges with criminals and one another with effective clarity. Readable, appealing true crime with an undercurrent of unease at the violence creeping into so many postindustrial 'edge city' communities." —Kirkus Reviews

"A rare snapshot of homicide investigation in action, from crime scenes through families' homes, interrogation rooms, and squad rooms…. Wilber gives the kind of detail that can only be acquired through intensive interviewing and observation…. A fascinating report written in a relentless, real-life noir tone." —Booklist (starred review)

"Highly recommended…. This book may remind listeners of David Simon's television show Homicide in its quality, accessibility, and style; it could easily be included on lists of the best true crime books of the past 20 years." —Library Journal

"Superb—one of the best real-life cop books ever written."—Lee Child

"With this engrossing and compelling account of the reality of crime and policing, Del Quentin Wilber affirms his place as one of the nation's most accomplished writers of first-rate narrative nonfiction. Put away your mysteries and thrillers—this is the real thing, rendered with grit and with grace."?Jon Meacham, author of American Lion and Destiny and Power

"A Good Month for Murder is utterly absorbing. Wilber's clear-eyed, discerning book does justice to both the homicide detectives he shadowed and the victims they speak for. Highly recommended."—Sgt. Adam Plantinga, Edgar-nominated author of 400 Things Cops Know

"Del Quentin Wilber's A Good Month for Murder presents a great few hours of reading for anyone interested in peeling back the screen of myth and romance to get at the harsh and visceral reality of homicide investigation."—Stephen Hunter, author of The Third Bullet and Sniper's Honor

"A meticulously reported account of an intrepid reporter's embedded months with a homicide squad. Unfiltered and raw, A Good Month for Murder reads like a cross between Michael Connelly's fiction and David Simon's classic, Homicide."—Neal Thompson, author of A Curious Man and Driving with the Devil

"This is the real cop story?not a TV show, not fiction, not a political diatribe. A Good Month for Murder is a deeply reported, compelling, timely account of what it's like to be a homicide detective working in the shadows of the nation's capital."—David Maraniss, author of Once in a Great City: A Detroit Story

"We're practically deluged by television 'procedural' shows that purport to tell us about the lives of homicide detectives. But what's it like, in real life, to be one? Here, in this resourcefully reported and richly nuanced work, we see the everyday challenges, feel the mounting pressures and frustrations, and experience the occasional eureka moments—up close, on gritty streets, in neighborhoods gripped by fresh and terrible crimes that are all too real. Del Quentin Wilber has a rare talent for fly-on-the-wall reportage, and with A Good Month For Murder his skills are on full display."—Hampton Sides, author of Hellhound On His Trail and In the Kingdom of Ice
Henry Holt and Co., 9780805098815, 288pp.
Publication Date: June 7, 2016
About the Author
Del Quentin Wilber is the New York Times-bestselling author of Rawhide Down, an account of the attempted assassination of Ronald Reagan. An award-winning reporter who previously worked for The Baltimore Sun and The Washington Post, he now covers the justice department for the Los Angeles Times. He lives in Chevy Chase, Maryland.
or
Not Currently Available for Direct Purchase