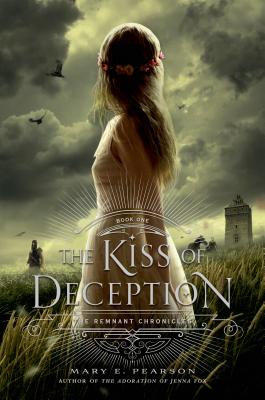 The Kiss of Deception
The Remnant Chronicles, Book One
Hardcover

* Individual store prices may vary.
Other Editions of This Title:
Digital Audiobook (10/6/2014)
Paperback (6/2/2015)
Description
In a society steeped in tradition, Princess Lia's life follows a preordained course. As First Daughter, she is expected to have the revered gift of sight—but she doesn't—and she knows her parents are perpetrating a sham when they arrange her marriage to secure an alliance with a neighboring kingdom—to a prince she has never met.

On the morning of her wedding, Lia flees to a distant village. She settles into a new life, hopeful when two mysterious and handsome strangers arrive—and unaware that one is the jilted prince and the other an assassin sent to kill her. Deception abounds, and Lia finds herself on the brink of unlocking perilous secrets—even as she finds herself falling in love.
The Kiss of Deception is the first book in Mary E. Pearson's Remnant Chronicles.
Praise For The Kiss of Deception: The Remnant Chronicles, Book One…
"In The Kiss of Deception, a new realm is masterfully created, featuring court intrigue, feuding nations, breathtaking landscapes, and the gift of sight. Fans of the Game of Thrones series will enjoy the magic and fantasy in this timeless dystopian world." —VOYA

"After her strong Jenna Fox series, Pearson adeptly switches gears here from science fiction to fantasy, but her ability to write a romance featuring complex characters and a strong plot remains constant." —The Horn Book

"The Kiss of Deception has it all--beautiful writing, heart-pounding suspense, a fiery princess, and an epic romance that'll make you swoon. This is definitely one of my favorite reads of the year!" —Alyson Noël, #1 New York Times–bestselling author of The Immortals

"The Kiss of Deception is a deeply satisfying, intricately plotted fantasy where no one--no one--is quite what they seem. Full of lush writing and rich, complex characters, readers will quickly become enmeshed in the intricate web of lies that have been woven into the very fabric of the kingdom itself. A thoroughly engrossing read--I couldn't put it down!" —Robin LaFevers, New York Times–bestselling author of Grave Mercy and Dark Triumph

"This is the kind of story I love--a heart-pounding tale of magic and murder, betrayal and romance set in a richly imagined fantasy landscape." —Cinda Williams Chima, New York Times–bestselling author of the Seven Realms and the Heir Chronicles

"*The first in a marvelous new fantasy series that is sure to find an audience with devotees of Suzanne Collins's "The Hunger Games" . . . Romance, adventure, mysticism--this book has it all and it just may be the next YA blockbuster." —School Library Journal, Starred Review

"*Pearson offers readers a wonderfully full-bodied story: harrowing, romantic, and full of myth and memory, fate and hope . . . this has the sweep of an epic tale." —Booklist, Starred Review

"*Peppered with excerpts from sacred texts and traditional songs, the novel has a formidable heroine at its core, who is as quick with a knife as she is to laugh or cry. Pearson maintains the mystery of Rafe and Kaden's identities, pulling readers through this masterfully crafted story." —Publishers Weekly, Starred Review

"Pearson's first book in her Remnant Chronicles is thrilling. Readers will be hooked from the first page to the last and will find themselves eagerly anticipating the next installment. Pearson pairs a rich and varied plot with a fiery and headstrong heroine." —Romantic Times

"Mystery, romance, betrayal, redemption: There's plenty to hook readers in to this installment of Lia's saga and make them impatient for the volumes to come." —Chicago Tribune

"Pearson's writing is beautiful, and her ability to twist a plot into knots keeps the reader wanting more." —BookPage

"This thick book is fantastical and interesting (with a bit of mystery thrown in!)....There's a lot of mystery that spices up the book. It's not all about the mystery, but it's on the peripheral always, which makes it that much more interesting." —USAToday

"Lia herself is a likeable heroine, and the selfishness in her act of leaving a kingdom in shambles for some future love is negated by her obvious naivete about political strategies and romantic relationships . . . Most intriguing are the two love interests, though, partly because of the way Pearson structures their narrating chapters." —BCCB

"Rich and exciting . . . a bold ending whets appetites for the next installment." —Kirkus Reviews
Henry Holt and Co. (BYR), 9780805099232, 496pp.
Publication Date: July 8, 2014
About the Author
Mary E. Pearson is the author of The New York Times-bestselling Remnant Chornicles and other bestselling, award-winning novels for teens. The Miles Between was named a Kirkus Best Book of the Year. The Adoration of Jenna Fox was listed as a Bank Street Best Children's Book of the Year, an IRA Young Adult Choice, NYPL Stuff for the Teen Age, and a School Library Journal Best Book of the Year. She is also the author of A Room on Lorelei Street, David v. God, and Scribbler of Dreams.

Pearson studied art at Long Beach State University, and worked as an artist before earning her teaching credentials at San Diego State University. She writes full-time from her home in Carlsbad, California, where she lives with her husband and two dogs.