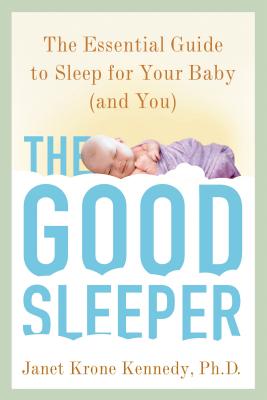 The Good Sleeper
The Essential Guide to Sleep for Your Baby--and You
Paperback

* Individual store prices may vary.
Description

A refreshingly straightforward method for training infants to become great sleepers for life, inspired by clinical psychologist Janet Kennedy's popular psychotherapy practice, NYC Sleep Doctor

Cry it out or co-sleep? Bassinet or swing? White noise machine or Bach? How many hours anyway? For something so important, there's too much conflicting information about how best to get your baby to sleep through the night and nap successfully during the day. This book is a straightforward, no-nonsense answer to one of the biggest challenges new parents face when they welcome a brand new baby home. This book is written for exhausted parents, giving them immediate access to the information they need. Reassuring and easy to understand, Dr. Kennedy addresses head-on the fears and misinformation about the long-term effects of crying and takes a bold stand on controversial issues such as co-sleeping and attachment parenting. With polarizing figures and techniques dominating the marketplace—and spawning misinformation across the internet—Dr. Kennedy's methods and practices create an extensively researched and parent-tested approach to sleep training that takes both babies' and parents' needs into account to deliver good nights and days of sleep, and no small dose of peace of mind.

The Good Sleeper is a practical, empowering—and even entertaining—guide to help parents understand infant sleep. This research-based book will teach parents the basics of sleep science, determine how and when to intervene, and provide tools to solve even the most seemingly impossible sleep problems.
Praise For The Good Sleeper: The Essential Guide to Sleep for Your Baby--and You…
"Dr. Kennedy has written a smart, readable book that will have parents feeling empowered about a time when most have felt powerless- at three in the morning, the baby's screaming, and they haven't slept in two days. The Good Sleeper is an instant classic that will be at the bedside table of every parent." —Ashley Merryman, coauthor of NurtureShock: New Thinking about Children

"The Good Sleeper gives new parents the thing they most covet--a good night's sleep. Though sleep advice abounds from well-meaning friends and relatives, it is often conflicting or confusing. Dr. Kennedy has a simple, straightforward approach that makes the most daunting sleep problem manageable, and delivers the information concisely so that even the most exhausted parent will be able to benefit from her wisdom." —Roshini Raj, MD, Assistant Professor of Medicine at NYU School of Medicine, and author of What the Yuck?! The Freaky and Fabulous Truth About Your Body

"Backed up by research and common sense, The Good Sleeper is a must-read for all new parents. From the moment you read Kennedy's book you feel as if you're in great hands. Her clear, no-nonsense approach gives parents the knowledge and courage to teach their babies this all-essential first task-- how to sleep." —Robin Berman, MD, Psychiatrist, associate professor at the David Geffen School of Medicine at UCLA, and author of Permission to Parent: How to Raise Your Child With Love & Limits
Holt Paperbacks, 9780805099430, 304pp.
Publication Date: January 20, 2015
About the Author

Janet Kennedy, Ph.D is a clinical psychologist who spent eight years at the Manhattan Veterans Affairs Medical Center where she developed the Sleep Disorders Treatment Program. She is the founder of the successful consultation and psychotherapy practice NYC Sleep Doctor, has been featured on CBS This Morning and has been quoted in Parents Magazine, NY Press, Redbook, and the Encyclopedia Britannica website. Dr. Kennedy lives in Brooklyn, NY with her husband and two children.
or
Not Currently Available for Direct Purchase