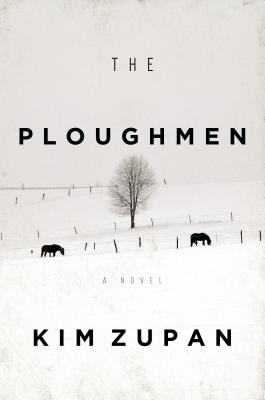 The Ploughmen (Hardcover)
A Novel
Henry Holt and Co., 9780805099515, 272pp.
Publication Date: September 30, 2014
Other Editions of This Title:
Digital Audiobook (9/29/2014)
Paperback (9/8/2015)
Compact Disc (9/30/2014)
Compact Disc (9/30/2014)
MP3 CD (9/30/2014)
* Individual store prices may vary.
Description
An NPR Best Book of 2014
A Barnes and Noble Discover Great New Writers selection
A "bleak and brilliant" (Minneapolis Star Tribune) debut novel ,"one of the finest evocations of life in Western America in recent memory, a book that stands alongside Richard Ford's Rock Springs, Marilynne Robinson's Housekeeping, James Welch's Fools Crow." (William Kittredge)
Steeped in a lonesome Montana landscape as unyielding and raw as it is beautiful, Kim Zupan's The Ploughmen is a new classic in the literature of the American West.
At the center of this searing, fever dream of a novel are two men—a killer awaiting trial, and a troubled young deputy—sitting across from each other in the dark, talking through the bars of a county jail cell: John Gload, so brutally adept at his craft that only now, at the age of 77, has he faced the prospect of long-term incarceration and Valentine Millimaki, low man in the Copper County sheriff's department, who draws the overnight shift after Gload's arrest. With a disintegrating marriage further collapsing under the strain of his night duty, Millimaki finds himself seeking counsel from a man whose troubled past shares something essential with his own. Their uneasy friendship takes a startling turn with a brazen act of violence that yokes together two haunted souls by the secrets they share, and by the rugged country that keeps them.
About the Author
Kim Zupan, a native Montanan, lives in Missoula and grew up in and around Great Falls, where much of The Ploughmen is set. For twenty-five years Zupan made a living as a carpenter while pursuing his writing. He has also worked as a smelterman, pro rodeo bareback rider, ranch hand, Alaska salmon fisherman and presently teaches carpentry at Missoula College. He holds an MFA from the University of Montana.
Praise For The Ploughmen: A Novel…
"Zupan is also a carpenter, and he writes with the precision of his trade. He does not shy away from themes of innocence or guilt. Neither does he exploit these themes in the service of melodrama. Riffing on the rhythms of Cormac McCarthy, he composes vivid scenes of tenderness and manipulation between the two men. …'The Ploughmen' is a dark and imaginative debut." —Alyson Hagy, The New York Times Book Review
"Mr. Zupan produces pleasurably lush and baroque prose, especially when describing his setting's awesome and unforgiving topography." —Wall Street Journal
"Passionately arresting... Even though Zupan's novel deals with grim topics, he plows the depths of grief and numbness with such a concentrated dedication that the prose is a character in itself. His sentences are unleashed in a furious splendor... bleak and brilliant--the best kind of book." —Minneapolis Star Tribune
"Stunning…A remarkable novel... It's almost hard to believe that it's a debut…. It's a portrait of the West as a sometimes desolate and cold place, full of possibility, maybe, but also full of danger from every corner. It's a modern West, caught between the romance of the frontier and the mundane, harsh realities of living in the present day United States. And it's absolutely beautiful, from its tragic opening scene to its tough, necessary end. Zupan is an unsparing writer, but also a generous, deeply compassionate one." —NPR
"Gripping… a strong debut for a talented wordsmith…. Zupan has that rare skill and we as readers are better off for it." —Montana Magazine
"The expansive, indifferent and lonely landscapes that populate the book are as vital as the two main characters and elevate Mr. Zupan's work from a story about an unlikely friendship to a solemn exploration of the human soul--and how it is formed by the space that surrounds it." —Pittsburg Post-Gazette
"It would be too simple to say The Ploughmen centers on the idea of good and evil; it is not so black and white as that. The story is perpetually gray, with pockets of light and dark, not just in its morality but in its scenery…. [Zupan] writes with a kind of straightforwardness reminiscent of Kerouac. This memorable debut is at times strikingly beautiful, while at others quite bleak, but it is always poignant." —Bookpage
"The Ploughmen is Kim Zupan's debut novel, and it's a true head-trip. With beautiful language and strange, fast-paced transitions, he creates an insomniac experience for the reader-- it's like walking through a dream--sometimes a nightmare.... The Ploughmen is a meticulously crafted novel. Zupan has written a strange, beautiful, and violent story. The loss he presents is truly felt. The relationships are well drawn and incredibly believable--in many ways these characters could be your neighbors." —Criminal Element
"An impressive debut, a magnificently dark novel that evocatively depicts the modern American West." —Largehearted Boy
"Nuanced...fascinating...What Zupan offers is a superb, retro prose style, channeling William Faulkner in long passages engorged with vocabulary, and meditations on what it means to be alive, if barely, in rural Montana circa 1980...a rich, morose meditation on death, law enforcement, and friendship." —Booklist
"[A] riveting debut….A fascinating first novel that examines the complexities of two men, opposites in every way, whose lives nevertheless intertwine. With such a strong debut, Zupan's literary future looks exceptionally promising." —Library Journal
"We know we are in the hands of a master storyteller from the very first pages of Kim Zupan's powerful, beautifully crafted debut novel The Ploughmen…. The searing, lyrical prose, relentless violence, and tenuous moments of reprieve are reminiscent of Cormac McCarthy and Flannery O'Connor…. The disturbing yet quietly redemptive finale to this gripping and psychologically nuanced tale leaves the reader satisfied. Bravo, Mr. Zupan. " —Montana Quarterly
"Zupan counterpoises the beauty of Montana's mountain ranges and vast wheat fields with its harsh loneliness that can nurture violence and depression. His story of Val and Gload, 'like two trains going different ways,' is an insightful glimpse into the characters of two men confronting life and death alone and up close. The Ploughmen leaves us with a lingering sense that few can live untouched by the vast indifference of Montana." —Shelf Awareness
"In a voice that evokes the great contemporary Western landscape, Kim Zupan's debut novel The Ploughmen weaves a gripping tale both personal and epic. This is a story of two men, a deputy and his prisoner, and the uncommon bond forged between them. A stunning work from the first pages to the last, this is a book that will not let down." —Claire Davis, author of Winter Range and Labors of the Heart
"Kim Zupan has captured the feel of Montana: He has made a fine beginning" —Larry McMurtry, Pulitzer Prize-winning author of Lonesome Dove
"The Ploughmen is simply splendid; lyrical, surprising, authoritative and starkly honest in its rendering of the human soul. The relationships between Mr. Zupan's complex and heartbreaking characters gripped me from the first page and have left me wondering still at the grace that affords us moments of generosity and compassion." —Mark Spragg, author of An Unfinished Life
"[A] startling beautiful debut novel from a talented craftsman...The tone recalls both Ace Atkins's western work (e.g., The Broken Places) and the languor of Ray Bradbury. VERDICT Spare and emotionally devastating, this cannot be recommended highly enough." —"Books for Dudes", Library Journal
"Kim Zupan's The Ploughmen is one of finest evocations of life in Western America in recent memory, a book that stands alongside Richard Ford's Rock Springs, Marilynne Robinson's Housekeeping, James Welch's Fools Crow…Zupan's prose is elegant and reminiscent of Cormac McCarthy at his best, and the action is terrifying and abrupt. And yet at heart this is a powerful and profoundly moving story about the heartbroken souls of women and men who are attempting to fashion significant lives in the grassy plains of Montana." —William Kittredge, author of Hole in the Sky
"The Ploughmen is part inspired fever-dream, part adventure story, a lyric parable of not just goodand evil but of the vast and beautiful and often lonely country in-between. Kim Zupan is a wonder." —Rick Bass, author of The Watch and The Wild Marsh
"The Ploughmen is as good a book as I've read in years. Kim Zupan's language is as rich as Cormac McCarthy's, and like Cormac's, it comes from ground-zero of the heart. I'm also reminded of James Lee Burke's sure-footed prose and delight in metaphor. Luminous…nothing short of brilliant…a firstnovel that leaves me impatient for the next." —Rick DeMarinis, author of The Year of the Zinc Penny and Borrowed Hearts: New and Selected Stories
or
Not Currently Available for Direct Purchase