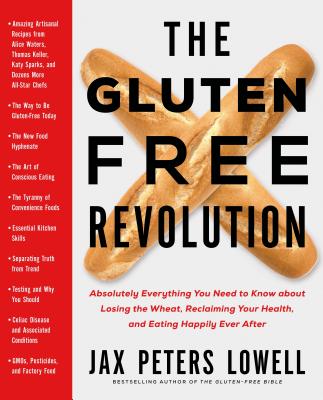 The Gluten-Free Revolution
Absolutely Everything You Need to Know about Losing the Wheat, Reclaiming Your Health, and Eating Happily Ever After
Paperback

* Individual store prices may vary.
Description

An expanded, revised, and exhaustively updated 20th anniversary edition of the book that fired the first shot—a comprehensive and entertaining guide to living gluten-free

Way ahead of its time, the original edition of this book, Against the Grain, was the first book of its kind: a funny, supportive, and absolutely essential handbook for gluten-free living. With two successful editions and countless devoted fans, this book has helped thousands of gluten-free readers follow their diets with creativity, resourcefulness, and, always, good humor. The Gluten-Free Revolution is fully revised and updated with the newest resources and information, and is packed with authoritative, practical advice for every aspect of living without gluten. With her signature wit and style, Lowell guides readers through the intricacies of shopping; understanding labels, from cosmetics to prescription drugs; strategies for eating out happily and preparing food safely at home; advice about combining gluten-free eating with any other diet, like gluten-free-paleo and gluten-free-dairy-free; negotiating complicated emotional and interpersonal reactions to your new diet; and includes fabulous gluten-free recipes from the best chefs in the world, including Thomas Keller, Rick Bayless, Alice Waters, Bobby Flay, and Nigella Lawson, among many others. The Gluten-Free Revolution remains the ultimate and indispensable resource for navigating your gluten-free life.
Praise For The Gluten-Free Revolution: Absolutely Everything You Need to Know about Losing the Wheat, Reclaiming Your Health, and Eating Happily Ever After…
One of the 10 Best Food Books of 2015! (Booklist)
"A terrifically entertaining read! This comprehensive and informative guide empowers both the newly and long-time diagnosed to successfully navigate the celiac and gluten intolerant landscape." —Marilyn Geller, CEO, Celiac Disease Foundation
"The Gluten-Free Revolution is a book to which attention must be paid. Jax Peters Lowell takes us on a delicious journey of health, life, love, activism and revolutionary thinking. The last…and best book on gluten-free you will ever need." —Christina Pirello, bestselling author and Emmy award-winning host of Christina Cooks
"Jax Peters Lowell has written a wise and funny encyclopedia, with facts, food, and instructions. Poet and pragmatist, she has created a rich and spicy (G-F) stew of what matters most for a good life with celiac disease." —Martin J. Blaser, MD, author of Missing Microbes, Director, Human Microbiome Program, New York University
"Jax Peters Lowell has done it again! An important and super informative book that covers all the bases. Beautifully written, an absolute joy to read." —Alicia Woodward, Editor-in-Chief, Living Without's Gluten-Free & More
"The Gluten Free Revolution is well worth waiting 20 years for! Jax Peters Lowell gives us an immensely readable book, a bountiful feast of facts and foods that both informs and celebrates living gluten free with style and panache." —Elaine Monarch, Founder, Celiac Disease Foundation
"A comprehensive guide filled with answers to every question a newly diagnosed patient could possibly have – and then even more! Lowell has penned a remarkable resource every clinician should recommend." —Ritu Verma, MD, Director, Children's Hospital of Philadelphia Celiac Center
"Such a lot of information of such good quality. A must for those who plan on going gluten-free!" —Peter HR Green, MD, Director, Celiac Disease Center at Columbia University, Phyllis & Ivan Seidenberg Professor of Medicine, Columbia University
"The Gluten-Free Revolution is smart, meticulously researched, packed with information and surprisingly funny. Lowell's knowledge is vast, and her ability to make clear complicated medical concepts uncanny. This is an important work, not only for those who live with gluten intolerance, but for all who cope with overlapping conditions." —Frederick B.Vivino, MD, Director,University of Pennsylvania, Sjögren's Syndrome Center
"Jax has given us a tremendous gift! With humor, down-to-earth comfort, inspiring stories and impressive research, she makes us laugh and rethink; gives new depth to our knowledge and helps us survive the emotional challenges and practicalities of the gluten-free lifestyle." —Janet Y. Rinehart, Chairman, Houston Celiac Support Group, Past President, Celiac Support Association
Holt Paperbacks, 9780805099539, 656pp.
Publication Date: February 3, 2015
About the Author

Jax Peters Lowell has been a diagnosed celiac-and gluten- free-since 1981. A lifestyle expert, advocate, and contributing editor to Living Without magazine, Lowell lives in Philadelphia with her husband and bread machine.
or
Not Currently Available for Direct Purchase