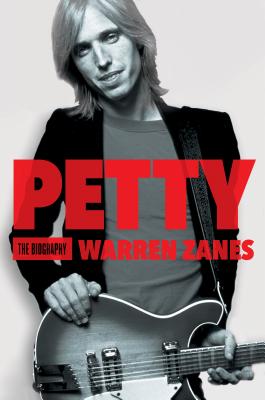 Petty
The Biography
Hardcover

* Individual store prices may vary.
Other Editions of This Title:
Paperback (10/25/2016)
MP3 CD (5/17/2016)
Description
The New York Times Bestseller

*One of Rolling Stone's 10 Best Music Books of 2015*

An exhilarating and intimate account of the life of music legend Tom Petty, by an accomplished writer and musician who toured with Petty.

No one other than Warren Zanes, rocker and writer and friend, could author a book about Tom Petty that is as honest and evocative of Petty's music and the remarkable rock and roll history he and his band helped to write.

Born in Gainesville, Florida, with more than a little hillbilly in his blood, Tom Petty was a Southern shit kicker, a kid without a whole lot of promise. Rock and roll made it otherwise. From meeting Elvis, to seeing the Beatles on Ed Sullivan, to producing Del Shannon, backing Bob Dylan, putting together a band with George Harrison, Dylan, Roy Orbison, and Jeff Lynne, making records with Johnny Cash, and sending well more than a dozen of his own celebrated recordings high onto the charts, Tom Petty's story has all the drama of a rock and roll epic. In his last years, Petty, known for his reclusive style, shared with Warren Zanes his insights and arguments, his regrets and lasting ambitions, and the details of his life on and off the stage.

This is a book for those who know and love the songs, from "American Girl" and "Refugee" to "Free Fallin'" and "Mary Jane's Last Dance," and for those who want to see the classic rock and roll era embodied in one man's remarkable story. Dark and mysterious, Petty managed to come back, again and again, showing us what the music can do and where it can take us.
Praise For Petty: The Biography…
"Petty and Zanes have decided to tell the unvarnished truth, and the result is not only the definitive account of Petty's life, but one of the best rock biographies in recent memory." —Rolling Stone

"Imagine a long ride on the tour bus with Tom and the Heartbreakers where everyone was feeling loose enough to tell all their stories. What a historic night that would be. This book is that." —Eddie Vedder

"This fascinating biography of Tom Petty was written by someone who deeply understands the rock n roll life and the creative personalities it takes to create this classic music. I wish Warren Zanes could write a biography about everyone I admire." —Judd Apatow

"Warren Zanes' writing is definitive and thrilling, filled with hidden corners and inspiring truths... as soaring and soulful as the great journey of Petty himself." —Cameron Crowe

"Tom Petty is a human-sized rock star, an ordinary guy from Florida who quietly amassed an indelible body of work, and created one of rock and roll's greatest and most durable bands along the way . In this deeply engaging and highly readable biography, Warren Zanes not only illuminates the enigmatic man behind the songs, but he captures the human drama of being in a rock band as well as anyone who's ever written on the subject." —Tom Perrotta

"This amazing book is a Tom Petty biography (and it's great on that account) but it's far more than that. It's an X-ray of the most fragile, most volatile, and most sublime social unit ever invented: the rock-and-roll band. The alliances, the distortions, the deep bruises and the absurd elations that can never be explained to an outsider. Sure, Petty is a book about a rock band but it's really a book about being human - how we meet and collaborate, break up and make up, learn to trust (or not) and, once in a lucky while, sing as loud as we can. It's a masterpiece." —Stephen Dubner

"Expertly researched and deeply felt, Petty is also the first peer-to-peer biography: the life of one musician through the eyes of a man who has prowled the same stages and chased the same dream. Warren Zanes tells his tale in a voice that is crisp and passionate, sympathetic, unsparing, and shot through with hard experience." —Peter Ames Carlin

"With insight and rigor, Warren Zanes digs into the brilliance and ambition that have driven Tom Petty's magnificent career. Zanes gets deep inside Petty's life and songs, but perceptively, he pays special attention to the fierce tenacity required to maintain the complex organism known as a rock & roll band." —Alan Light, author of The Holy or the Broken: Leonard Cohen, Jeff Buckley and the Unlikely Ascent of "Hallelujah"

"If you're interested in the structure of a band, in that world, this book is the Citizen Kane of rock and roll." —Andrew Loog Oldham, manager and producer of The Rolling Stones from 1963-1967

"Marvelous, kinetic, funny, and if you'll pardon me, heartbreaking...Zanes is never less than entertainingly artful and sometimes breathtakingly graceful...The author's most impressive feat may be the way he assiduously avoids the salaciousness and grime that often accompany these kinds of tales, and the candor he was able to elicit from his subject...Electrifying but never flashy and always in service of the song — Zanes tells the story with artful brevity and a keen sense of the necessary." —Boston Globe

"A thorough, well-written, and expansive...look at the life and career of one of America's most enduring and true post-'60s rock stars. More than any other source, this book digs deep... Petty is likely to stand as the definitive work." –Houston Press

"A biography of a reticent musician that will allow even his biggest fans to see him with fresh eyes and hear him with fresh ears.... Zanes brings a depth and empathy to the narrative that never veers toward sensationalism... Though it attests to the artist's singularity, this incisive, illuminating biography also serves as an elegy to one of the golden eras of the classic rock band-of the days when 'a band was everything, a shield and a shelter.'" —Kirkus (Starred Review)

"[A] balanced chronicle of Petty's career with the detached delivery of a seasoned journalist combined with the intimacy of a friend bold enough to dig deep beneath the surface of his own personal musical hero...required reading for fans. Zanes's working knowledge of band dynamics, in conjunction with his crisp and concise writing, undeniably qualify him to tell this story of one of rock's most reclusive superstars." —Publishers Weekly (Starred Review)

"Warren Zanes' exceptional rock-bio Petty is loaded with compelling characters. Petty is the star of this book, obviously. But the hustlers and disgruntled band members; hometown haters and kinfolk; wives and ex-wives; famous friends and fiercely loyal employees Zanes introduces us to all play a significant role in the story of the man responsible for some of the most enduring music of our time." -Salon

"Zanes peels back the cool-guy exterior to become the first person to delve into Petty's life story, making for a marvelous read…so rich and thorough that it doesn't leave much room for complaints or nitpicking …It's a great piece of writing by any measure, but as far as rock bios go, this is tops." –Consequence of Sound

"If you're into Petty, or the inner workings of the life of any major talent who managed to get to the top and influence the music of a generation, this book needs to be on your winter reading list." –American Songwriter

"For Petty fans who've wondered about the artist behind the music, this book functions like a door being thrown open on on the singer's musical and personal lives. Expect eager readers from rock fans." —Booklist

"An intimate and insightful portrait that can come only from a genuine insider." —Oakland Press

"Author Zanes empathetically captures his subject's intertwined resilience and frailty." —Austin Chronicle

"[A] candid, compelling portrait...Zanes crafts a strong, studiously detached narrative...It's intimate—interviews with Petty as well as friends and family form a huge portion of the book's substance—but Zanes keeps a careful editorial distance that helps modulate his obvious worship of the man and his music...Beautifully written, full of wisdom and reverence."—A.V. Club

"A rollicking, reminiscent ride down memory lane." -Parade

"Petty is not an authorized biography, though it is as definitive as you can get." —Bergen Record

"Petty: The Biography reads less like a traditional rock bio and more like a historically researched novel that chips away at brilliant and flawed characters... Good music bios exist, but the concise tone of Zanes' is unique... " -Houston Chronicle

"Zanes is a terrific writer and a thorough interviewer, and he manages to walk that fine line between a "warts and all" biography and a compassionate telling of the story of a man who dealt quietly with being in charge while handling a series of personal challenges...An entertaining book about a musician, producer and performer as well as a portrait of the person behind the fame." —New Hampshire Union-Leader

"Zanes elevates [Petty] from the usual rocker biography...A powerful, riveting read, even for casual fans." -Gainesville Sun
Henry Holt and Co., 9780805099683, 336pp.
Publication Date: November 10, 2015
About the Author
Warren Zanes holds a PhD in visual and cultural studies from the University of Rochester. He was a member of the Del Fuegos and continues to record music. His work has appeared in The Oxford American, and he has served as a V.P. at the Rock and Roll Hall of Fame and is currently the Executive Director of Steven Van Zandt's Rock and Roll Forever Foundation.