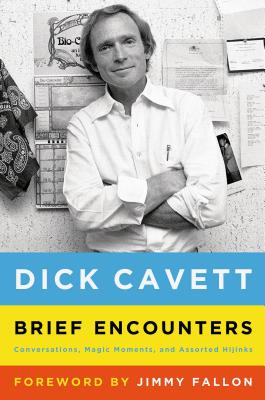 Brief Encounters (Hardcover)
Conversations, Magic Moments, and Assorted Hijinks
Henry Holt and Co., 9780805099775, 288pp.
Publication Date: October 28, 2014
Other Editions of This Title:
Digital Audiobook (10/27/2014)
Paperback (10/20/2015)
CD-Audio (10/28/2014)
* Individual store prices may vary.
Description

Dick Cavett is back, sharing his reflections and reminiscences about Hollywood legends, American cultural icons, and the absurdities of everyday life

In Brief Encounters, the legendary talk show host Dick Cavett introduces us to the fascinating characters who have crossed his path, from James Gandolfini and John Lennon to Mel Brooks and Nora Ephron, enhancing our appreciation of their talent, their personalities, and their place in the pantheon. We tag along as Cavett spends an afternoon with Stan Laurel at his modest apartment in Los Angeles, spars with Muhammad Ali at his training camp, and comes to know a young Steve Jobs—who woos him to be Apple's first celebrity pitchman. He also offers piquant commentary on contemporary politics, the indignities of travel, the nature of comedy writing, and the utter improbability of being alive at all.
On his talk show, Cavett welcomed the leading figures from film, music, theater, literature, comedy, and politics, and engaged them in conversation that made viewers feel that the discussion was taking place in their own living rooms. Jimmy Fallon, the host of The Tonight Show, has called him "a legend and an inspiration" and has written a foreword that makes clear the debt that today's talk show hosts owe to Dick Cavett.
To spend a few minutes, or an hour, or even a whole evening with Dick Cavett is an experience not to be missed, and now there's no reason to deny yourself. Enjoy the conversation!
About the Author

Dick Cavett was the host of The Dick Cavett Show on ABC and PBS, and he also hosted talk shows on the USA, HBO, and CNBC cable networks. He appears frequently on stage, screen, and new media, and he was nominated for his most recent Emmy Award in 2012. He is the author of Talk Show and the coauthor of Cavett and Eye on Cavett, and he writes an online opinion column for The New York Times. He lives in New York City and Montauk, New York.
Emmy Award and Grammy Award winner Jimmy Fallon did everything in his power to ensure that his daughter's first word would be "Dada!" Yes, he has many other projects on his plate, like hosting NBC's
The Tonight Show
. But he was determined that his daughter would say "Dada!" before any other word. He worked very hard on this. Jimmy Fallon lives with his wife, Nancy, and their daughters, Winnie Rose and Frances Cole, in New York City. Winnie's first word was "Mama!"
Praise For Brief Encounters: Conversations, Magic Moments, and Assorted Hijinks…
"A welcome sequel to Talk Show, Dick Cavett covers a lot of ground in a collection of erudite and witty pieces...Brief Encounters is very good and very funny, at times pointed, but always engaging." —The Chicago Tribune
"[Brief Encounters] looks back on Dick Cavett's time with some of the biggest names of the 20th century. A touching essay about the late James Gandolfini, a fond remembrance of an afternoon at Stan Laurel's small Los Angeles apartment, sparring with Muhammed Ali, and being talked into signing on as Apple's first celebrity pitchman by a young Steve Jobs are all here, as are Cavett's warm memories of John Lennon." —Esquire.com
"Brief Encounters includes numerous observations about contemporary culture and politics -- neither Democrats nor Republicans are spared … -- as well as moving recollections of and tributes to stars no longer with us, from Stan Laurel to James Gandolfini." —USA Today
"[Cavett's] book is at its best when summoning memories of long-gone entertainment figures such as Stan Laurel and Groucho Marx…Cavett never abandons his wit…With his pithy prose style and compact paragraphs, Cavett has a sure feel for the art of column-writing." —Columbus Dispatch
"Great, pithy stories and recollections... In his signature charming prose, Cavett introduces readers to the fascinating characters that have crossed his path." —Examiner.com (Named a Best Celebrity Book of the Year)
"The book is a delightful peek behind the curtain at celebrities, complex characters, and the nuances of everyday life--all told with his singular wit and style." —Publishers Weekly
"The very model of a quick-witted interviewer, Cavett … still works the crowd effectively…. [Cavett] remembers working as a gag writer for famed comedians and recalls the Broadway badinage and smart repartee that marked the well-regarded Dick Cavett Show." —Kirkus Reviews
"In the late 1960s to mid-1970s the Dick Cavett Show was a late-night TV destination. [Cavett] was known as a literate, erudite interviewer who loved wordplay, but who didn't take any guff from his guests… Most notable are his anecdotal stories about such people as Groucho Marx, Nora Ephron, and Muhammad Ali." —Library Journal
"The best bathroom reading ever written! Each story takes just the right amount of time." —Mel Brooks
or
Not Currently Available for Direct Purchase