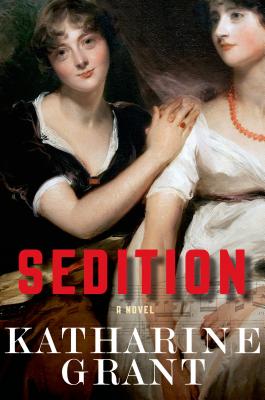 Sedition (Hardcover)
A Novel
Henry Holt and Co., 9780805099928, 320pp.
Publication Date: April 1, 2014
Other Editions of This Title:
Paperback (11/10/2015)
* Individual store prices may vary.
Description
"Extremely impressive . . . . A wonderful read from a born storyteller." —Chris Cleave, New York Times bestselling author of Little Bee
"A wicked sense of humor . . . . Subversive and thrilling . . . It will keep you up all night." —The New York Times Book Review
"Like Jane Austen on crack cocaine . . . . A triumph of wit and brio." —The Scotsman
An unforgettable historical tale of piano playing, passions, and female power
The setting of Sedition by Katharine Grant: London, 1794.
The problem: Four nouveau rich fathers with five marriageable daughters.
The plan: The young women will learn to play the piano, give a concert for young Englishmen who have titles but no fortunes, and will marry very well indeed.
The complications: The lascivious (and French) piano teacher; the piano maker's jealous (and musically gifted) daughter; the one of these marriageable daughters with a mating plan of her own.
While it might be a truth universally acknowledged that a man in possession of a title and no money must be in want of a fortune, what does a sexually awakened young woman want? In her wickedly alluring romp through the late-Georgian London, Italian piano making, and tightly-fitted Polonaise gowns, Katharine Grant has written a startling and provocative debut.
About the Author
Katharine Grant is (as K.M. Grant) a children's book author, best known in the UK for her prizewinning DeGranville Trilogy. Sedition is her debut novel for adults. She was brought up in Lancashire, England, amid the ghosts of her ancestors, one of whom was the last person in the UK to be hung, drawn, and quartered. She lives in Scotland with her husband and three children.
Praise For Sedition: A Novel…
"A tease of a novel. . . . I found myself irritated enough to throw the book at the wall several times, but then intrigued enough to read the whole thing twice. . . . [E]xtremely impressive. . . . [A] wonderful read from a born storyteller." —Chris Cleave, New York Times bestselling author of Little Bee
"Grant . . . is clearly having fun with her first adult novel. A tale of seduction, sex, love, death and music, Sedition pulsates with pain but also with a wicked sense of humor that sometimes arises from the smallest details. . . . The darkness of Sedition is its driving force. A subversive and thrilling gothic tale, it will keep you up all night. It's the sort of novel you say you'll read for only 10 more minutes because it's already way past your bedtime. Two hours later, your light is still on." —Andrea Wulf, The New York Times Book Review
"Sedition could easily have dissolved into semi-kinky melodrama, a chronicle of Belladroit's conquests. Thanks to author Katharine Grant's sly writing, it never does… A thumping debut filled with sex, manipulation and a dash of romance. Wickedly dark and provocative, Sedition is a bold reminder that the thirst for power and status remains unquenched over the ages." —BookPage Top 10 pick for April
"This is one of those precious novels. The kind that bookworms burrow inside to devour with relish from cover to cover. The kind you'll secrete behind all the other books on your shelves in case friends steal it and somehow "forget" to give it back.... Not a dull or superfluous page. . . . Grant at times writes like Jane Austen on crack cocaine or Dickens sating himself at an orgy – drawing freely on the literary posturing of past greats, but entirely, refreshingly modern, entirely herself…. She makes you gasp and laugh and re-read. . . Her style is a triumph of wit and brio." —The Scotsman (UK)
"A witty, dark and sophisticated tale set in 1790s London… sharp, unsentimental storytelling that evokes the era with zest and authenticity. [Grant's] London, like her characters, is both flawed and fascinating. The novel's epigrammatic voice—"London was never so lovely as when you were about to leave it"—is another of its delights, detached in tone but delivering what are often dark ironies with memorable brevity and cleverness." —Publisher's Weekly (Starred)
"Sedition … is as dark and deceitful as it is gloriously bawdy, the beautiful bastard child of Choderlos de Laclos's Les liaisons dangereuses and Sarah Waters's Fingersmith." —The Observer (UK)
"[A] fun, lascivious gambol through the lives of women and men with decidedly carnal appetites… intriguing… the plot and characters are handled with grace and precision. Suggest to fans of Sarah Dunant and Sarah Waters." —Booklist
"A fast paced, sexy, historical read about the intriguing tutor/student relationship. . . . Grant's girls are vividly described: funny, witty, melancholy, rowdy, elegant and kick-ass, each learning the skills to be the mistress of their own destiny." —Marie Claire (UK)
"The grooming of five young Englishwomen for the marriage market goes wildly off the rails in a debut that, although Austen-ish in outline, takes some surprisingly saucy turns. . . .Grant's atmospheric evocation of London, seething with crime and grime, includes unexpectedly libidinous developments…fresh and spirited… [a] cleverly seductive romp..." —Kirkus Reviews
"Grant has rambunctious fun… but she studs it also with high seriousness… The final set piece, the concert itself, plaits together comedy and tragedy with sly skill… there is phrase making here of high order, wise and funny arrangements of words that linger in the imagination." —Jonathan Barnes, author of The Somnambulist, Literary Review (UK)
"'Seduction' would be nearer the mark. . . . Packed full of colourful characters and with an unexpectedly poignant coda, this is an original, winningly-imagined tale of the ties that bind (and some very naughty pianoforte lessons)." —Daily Mail (UK)
"[Grant's] girls are wonderfully drawn. Spiteful, cliquey, and a curious tumble of innocence and hormones, they drive the plot in ferocious and unexpected directions . . . .She manages to be carnal without being graphic, detailed without being anatomical… Sedition is not just about sex, although it is good on female passion. It is about the power of music and cultural clashes: old blood against new money; new musical genius against conservative sensibilities. Grant captures a dizzying sense that this is a world being remade simultaneously by bankers and Bach…. The plot grows, like the music, to a staggering climax, and Grant happily subverts the cliches of the heaving bosoms and seductive Frenchmen. She writes as Alathea plays the piano - with wit, verve and not a little mischief." —The Times (London)
"[A] wicked, delicious romp through eighteenth century London, written with the telling wink of an author whose affection for Tom Jones and Tartuffe sparkles throughout. I stayed up far too late devouring this rollicking tale of sex, intrigue, marriage, revenge, and the sordid side of the pianoforte. Bach's wig must be curling in his grave." —Katherine Howe, New York Times bestselling author of The Physick Book of Deliverance Dane and The House of Velvet and Glass
"Katharine Grant has written a provocative story of seduction and romance, lust and violence. Sedition is a tale of 19th-century female insurrection, set to a tune of Bach piano inventions, con brio." —Kate Manning, author of My Notorious Life
"In its fairly irresistible combination of transgressive sex and a richly layered evocation of history,Sedition demands comparison with Sarah Waters' untouchably brilliant novels …. Her imagination is marvellously gothic and the Georgian London she conjures up brims with invention and detail… Grant also has a gift for sly comedy.... Her characterization, too, is superlative…. Quite unforgettable." —The Guardian (UK)
"[A] real page-turner: audacious, fast-paced and sexy. . . . Dickensian in its energy and breadth. Grant's larger-than life characters are fighting for survival in a world in which social values and morals are in a state of flux, heads are rolling across the sea in France.... The pianoforte at the centre of the narrative is a character in itself, and the music of Bach – ordered and disciplined – is a counterpoint to the emotional maelstrom which threatens to engulf the human characters in this compelling and twisted tale." —Sally O'Reilly, author of Dark Aemilia: A Novel of Shakespeare's Dark Lady
or
Not Currently Available for Direct Purchase