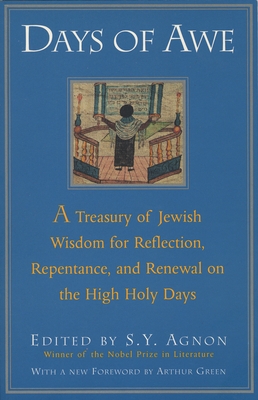 Days of Awe (Paperback)
A Treasury of Jewish Wisdom for Reflection, Repentance, and Renewal on the High Holy Days
Schocken, 9780805210484, 336pp.
Publication Date: August 22, 1995
* Individual store prices may vary.
Description
Compiled by S.Y. Agnon, one of the greatest Hebrew writers of the twentieth century and winner of the 1966 Nobel Prize in Literature, Days of Awe is the long-acknowledged classic companion to the High Holy Days prayerbook. Here in one volume are readings from the meditations from the Bible, the Talmud, the Midrash, and the Zohar, to deepen the spiritual experience of the holiest days of the Jewish year. More than three hundred texts. selected from the vast storehouse of Jewish literature from ancient to modern times, are arranged to follow the order of the synagogue service for the High Holy Days. "From the moment of its appearance," writes Judah Goldin in the Introduction, "[this] volume seemed as though it had always been here, as though it had always been the companion of the holiday prayerbook."
About the Author
SHMUEL YOSEF AGNON was a Nobel Prize laureate writer and was one of the central figures of modern Hebrew fiction. Agnon was born in Galicia, Austro-Hungarian Empire (today Ukraine). He later immigrated to the British Mandate of Palestine, and died in Jerusalem, Israel. His works deal with the conflict between the traditional Jewish life and language and the modern world. They also attempt to recapture the fading traditions of the European shtetl. In a wider context, he contributed to broadening the characteristic conception of the narrator's role in literature. Agnon shared the Nobel Prize with the poet Nelly Sachs in 1966.
Praise For Days of Awe: A Treasury of Jewish Wisdom for Reflection, Repentance, and Renewal on the High Holy Days…
"When you read Days of Awe, at home or in the synagogue, think of Agnon as an old Jew from a world now vanished who happens to sit down next to you. He begins to tell you a tale, a parable, or a custom . . . that will open your heart to the splendor and richness, alongside the terror and awe, with which Jews have crowned this season."
—from the Foreword by Arthur Green