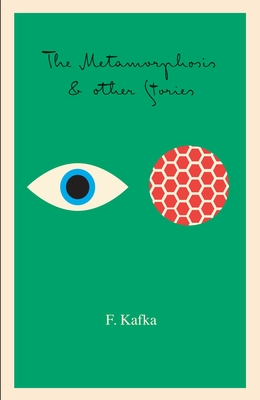 The Metamorphosis (Paperback)
And Other Stories (The Schocken Kafka Library)
Schocken, 9780805210576, 320pp.
Publication Date: November 14, 1995
Other Editions of This Title:
Digital Audiobook (4/18/2011)
Digital Audiobook (8/26/2016)
Paperback (10/18/2010)
Paperback (12/14/2018)
Paperback (12/22/2019)
Paperback (1/13/2020)
Paperback (9/5/2014)
Paperback (4/24/2016)
Paperback (2/17/2013)
Paperback (11/11/2019)
Paperback (5/16/2019)
Paperback, Spanish (11/7/1915)
Paperback, Large Print (12/15/2019)
* Individual store prices may vary.
Description
This collection brings together the stories that Kafka allowed to be published during his lifetime. To Max Brod, his literary executor, he wrote: "Of all my writings the only books that can stand are these."
About the Author
FRANZ KAFKA was born in 1883 in Prague, where he lived most of his life. During his lifetime, he published only a few short stories, including "The Metamorphosis," "The Judgment," and "The Stoker." He died in 1924, before completing any of his full-length novels. At the end of his life, Kafka asked his lifelong friend and literary executor Max Brod to burn all his unpublished work. Brod overrode those wishes.
Praise For The Metamorphosis: And Other Stories (The Schocken Kafka Library)…
"Kafka's survey of the insectile situation of young Jews in inner Bohemia can hardly be improved upon: 'With their posterior legs they were still glued to their father's Jewishness and with their wavering anterior legs they found no new ground.' There is a sense in which Kafka's Jewish question ('What have I in common with Jews?') has become everybody's question, Jewish alienation the template for all our doubts. What is Muslimness? What is femaleness? What is Polishness? These days we all find our anterior legs flailing before us. We're all insects, all Ungeziefer, now."
—Zadie Smith
 
"Kafka engaged in no technical experiments whatsoever; without in any way changing the German language, he stripped it of its involved constructions until it became clear and simple, like everyday speech purified of slang and negligence. The common experience of Kafka's readers is one of general and vague fascination, even in stories they fail to understand, a precise recollection of strange and seemingly absurd images and descriptions—until one day the hidden meaning reveals itself to them with the sudden evidence of a truth simple and incontestable."
—Hannah Arendt