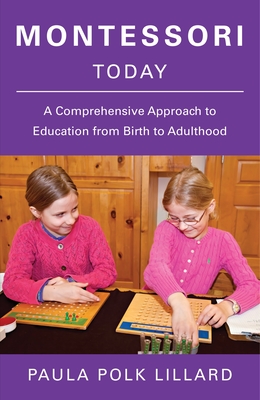 Montessori Today: A Comprehensive Approach to Education from Birth to Adulthood (Paperback)
A Comprehensive Approach to Education from Birth to Adulthood
Schocken Books Inc, 9780805210613, 240pp.
Publication Date: January 30, 1996
Description
Paula Lillard, director of a Montessori school ranging in age from 18 months to fifteen years, provides a clear and cogent introduction to the Montessori program for the elementary and later years. In detailed accounts, Lillard shows how children acquire the skills to answer their own questions, learn to manage freedom with responsibility, and maintain a high level of intellectual stimulation by using the Montessori method. This is an essential handbook for parents and teachers who have chosen the Montessori alternative for the older child.
About the Author
Paula Polk Lillard is the author of Montessori: A Modern Approach and Montessori in the Classroom. She is cofounder and director of the Forest Bluff School in Lake Bluff, Illinois.
Praise For Montessori Today: A Comprehensive Approach to Education from Birth to Adulthood…
"Paul Lillard is an excellent guide to Maria Montessori's key ideas and to the place of Montessori education in contemporary society."--Howard Gardner, author of Frames of Mind

"Children's schools shape their lives, intellects, and worldviews. This clear guide to Montessori education today will help parents to consider the Montessori alternative for their child."
--Jane M. Healy, author of Your Child's Growing Mind
Advertisement