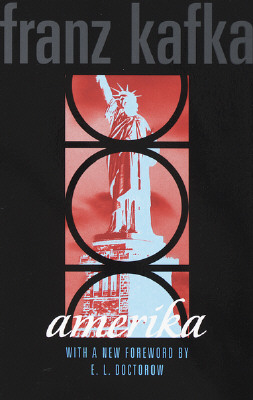 Amerika (Paperback)
Schocken Books Inc, 9780805210644, 336pp.
Publication Date: July 2, 1996
* Individual store prices may vary.
Description
Translated by Willa and Edwin Muir
Foreword by E. L. Doctorow
Afterword by Max Brod
Kafka's first and funniest novel, "Amerika" tells the story of the young immigrant Karl Rossmann who, after an embarrassing sexual misadventure, finds himself packed off to America by his parents. Expected to redeem himself in this magical land of opportunity, young Karl is swept up instead in a whirlwind of dizzying reversals, strange escapades, and picaresque adventures.
Although Kafka never visited America, images of its vast landscape, dangers, and opportunities inspired this saga of the golden land. Here is a startlingly modern, fantastic and visionary tale of America as a place no one has yet seen, in a historical period that can t be identified, writes E. L. Doctorow in his new foreword. Kafka made his novel from his own mind's mythic elements, Doctorow explains, and the research data that caught his eye were bent like rays in a field of gravity.
About the Author
Franz Kafka was born in 1883 in Prague, where he lived most of his life. During his lifetime, he published only a few short stories, including The Metamorphosis, The Judgment, and The Stoker. He died in 1924, before completing any of his full-length novels. At the end of his life, Kafka asked his lifelong friend and literary executor Max Brod to burn all his unpublished work. Brod overrode those wishes."
or
Not Currently Available for Direct Purchase