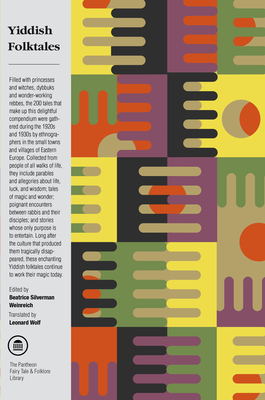 Yiddish Folktales (Paperback)
Schocken Books Inc, 9780805210903, 448pp.
Publication Date: September 23, 1997
Description
Filled with princesses and witches, dybbuks and wonder-working rebbes, the two hundred tales that make up this delightful compendium were gathered during the 1920s and 1930s by ethnographers in the small towns and villages of Eastern Europe. Collected from people of all walks of life, they include parables and allegories about life, luck, and wisdom; tales of magic and wonder; poignant encounters between rabbis and their disciples; and stories whose only purpose is to entertain. Long after the culture that produced them tragically disappeared, these enchanting Yiddish folktales continue to work their magic today. With black-and-white illustrations throughout
Part of the Pantheon Fairy Tale and Folklore Library
About the Author
Editor BEATRICE SILVERMAN WEINREICH (1928-2008) was for many years a research associate at the YIVO Institute for Jewish Research in New York and coeditor of the journal Yiidisher Folklor. She published many articles in academic journals on Yiddish culture and folklore. Translator LEONARD WOLF is the author of the novels The Glass Mountain and The False Messiah, and of Bluebeard: The Life and Crimes of Gilles de Rais. Among his translations from Yiddish are The Certificate by Isaac Bashevis Singer and The Family Mashber by Der Nister.
Praise For Yiddish Folktales…
"As host of the National Public Radio series Jewish Short Stories from Eastern Europe and Beyond, I had the opportunity to rediscover the joys of Yiddish literature. Many of the translations that we used were taken from Schocken's excellent Library of Yiddish Classics--a series that brings together a body of work that is very much alive and continues to dazzle us with its brilliance, wit, and humanity."
--Leonard Nimoy

"Filled with homey Eastern European Yiddish truths refracted through the colorful prism of fantasy and fancy, Yiddish Folktales evokes the vitality of a distant yet immediate realm, and thus re-creates it."
--The New York Times Book Review

"This gem of a collections open a breathtaking vista upon a vibrant world now lost to us."
--Barbara Kirshenblatt-Gimblett, New York University
Advertisement