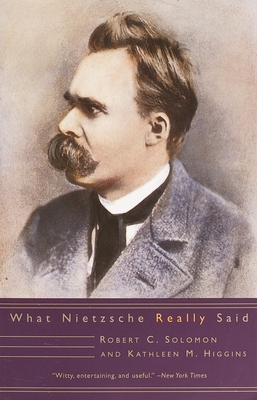 What Nietzsche Really Said (Paperback)
Schocken Books Inc, 9780805210941, 288pp.
Publication Date: January 30, 2001
Description
What Nietzsche Really Said gives us a lucid overview -- both informative and entertaining -- of perhaps the most widely read and least understood philosopher in history. Friedrich Nietzsche's aggressive independence, flamboyance, sarcasm, and celebration of strength have struck responsive chords in contemporary culture. More people than ever are reading and discussing his writings. But Nietzsche's ideas are often overshadowed by the myths and rumors that surround his sex life, his politics, and his sanity. In this lively and comprehensive analysis, Nietzsche scholars Robert C. Solomon and Kathleen M. Higgins get to the heart of Nietzsche's philosophy, from his ideas on "the will to power" to his attack on religion and morality and his infamous Ubermensch (superman). What Nietzsche Really Said offers both guidelines and insights for reading and understanding this controversial thinker. Written with sophistication and wit, this book provides an excellent summary of the life and work of one of history's most provocative philosophers.
About the Author
Robert C. Solomon is the Quincy Lee Centennial Professor of Philosophy and Distinguished Teaching Professor at the University of Texas at Austin. He is the author of, among many other books, From Hegel to Existentialism. Kathleen M. Higgins is a professor of philosophy at the University of Texas at Austin and the author of Nietzsche's Zarathustra. Together, Solomon and Higgins have written A Short History of Philosophy and Reading Nietzsche. They live in Austin.
Praise For What Nietzsche Really Said…
"Solomon and Higgins have put together a survival kit for those intending an expedition into Nietzsche territory, a refresher course for those who have been there, a map of the danger spots, and an encyclopedia of the main wonders. A valuable book."
-- Arthur C. Danto, Johnsonian Professor of Philosophy Emeritus, Columbia University


"Here is the thread of Ariadne that will lead you through the labryinth of Nietzsche's philosophy."
-- Sam Keen, author of Learning to Fly


"Like all aphoristic thinkers, Nietzsche seems often to contradict himself. Being not only a philosopher but also an artist, he is not easy to understand -- hence many misunderstandings and prejudices. This book recontructs the true Nietzsche, who often -- as a skeptic -- Nietzsche himself has deconstructed."
-- John-François Revel, coauthor of The Monk and the Philosopher
Advertisement