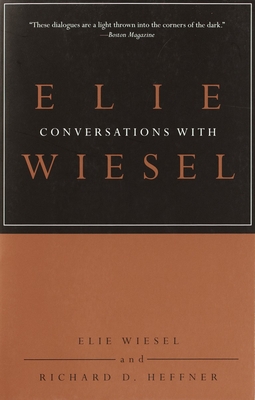 Conversations with Elie Wiesel (Paperback)
Schocken Books Inc, 9780805211412, 208pp.
Publication Date: February 4, 2003
Description
Conversations with Elie Wiesel
is a far-ranging dialogue with the Nobel Peace Prize-winner on the major issues of our time and on life's timeless questions.
In open and lively responses to the probing questions and provocative comments of Richard D. Heffner American historian, noted public television moderator/producer, and Rutgers University professor Elie Wiesel covers fascinating and often perilous political and spiritual ground, expounding on issues global and local, individual and universal, often drawing anecdotally on his own life experience.
We hear from Wiesel on subjects that include the moral responsibility of both individuals and governments; the role of the state in our lives; the anatomy of hate; the threat of technology; religion, politics, and tolerance; nationalism; capital punishment, compassion, and mercy; and the essential role of historical memory.
These conversations present a valuable and thought-provoking distillation of the thinking of one of the world's most important and respected figures a man who has become a moral beacon for our time.
From the Hardcover edition.
About the Author
ELIE WIESEL was awarded the Nobel Peace Prize in 1986. The author of more than fifty internationally acclaimed works of fiction and nonfiction, he was Andrew W. Mellon Professor in the Humanities and University Professor at Boston University for forty years. Wiesel died in 2016. RICHARD D. HEFFNER is University Professor of Communications and Public Policy at Rutgers University and the producer and moderator of the weekly public television series "The Open Mind." His books include A Documentary History of the United States. He lives in New York City.
Praise For Conversations with Elie Wiesel…
"Wiesel speaks with prophetic authority, philosophical wisdom and a storyteller's verve and vivacity...These lively, engaging talks offer candid glimpses into the life and work of a leading moral thinker."
--PUBLISHERS WEEKLY, Nov. 1, 2001
Advertisement