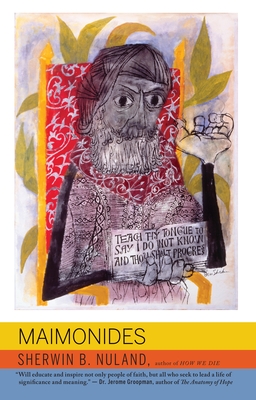 Maimonides (Paperback)
Schocken Books Inc, 9780805211504, 235pp.
Publication Date: August 26, 2008
Description
Sherwin B. Nuland--best-selling author of How We Die--focuses his surgeon's eye and writer's pen on this greatest of rabbis, most intriguing of Jewish philosophers, and most honored of Jewish doctors. Moses Maimonides was a Renaissance man before there was a Renaissance: a great physician, a dazzling Torah scholar, a daring philosopher. Eight hundred years after his death, his notions about God, faith, the afterlife, and the Messiah still stir debate; his life as a physician still inspires; and the enigmas of his character still fascinate. Nuland's portrait of Maimonides that makes his life, his times, and his thought accessible to the general reader as they have never been before.
About the Author
Sherwin B. Nuland, M.D., is the author of ten previous books, including How We Die: Reflections on Life's Final Chapter which won the National Book Award. He is a clinical professor of surgery at Yale University, where he also teaches bioethics and medical history. He lives with his family in Connecticut.
Praise For Maimonides…
"Will educate and inspire not only people of faith, but all who seek to lead a life of significance and meaning."
--Dr. Jerome Groopman, author of The Anatomy of Hope

"Nuland writes sympathetically, one Jewish doctor considering this most extraordinary of Jewish doctors . . . His book is a guide for those perplexed by Maimonides, as well as those ignorant of him. [It is] a deeply satisfying and humane introduction to the greatest of Jewish thinkers."
--The New York Times Book Review
Advertisement