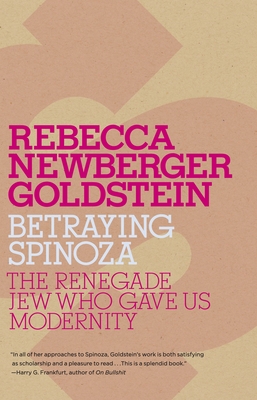 Betraying Spinoza (Paperback)
The Renegade Jew Who Gave Us Modernity (Jewish Encounters Series)
Schocken, 9780805211597, 320pp.
Publication Date: August 11, 2009
Other Editions of This Title:
Hardcover (5/30/2006)
* Individual store prices may vary.
Description
Part of the Jewish Encounter series

In 1656, Amsterdam's Jewish community excommunicated Baruch Spinoza, and, at the age of twenty–three, he became the most famous heretic in Judaism. He was already germinating a secularist challenge to religion that would be as radical as it was original. He went on to produce one of the most ambitious systems in the history of Western philosophy, so ahead of its time that scientists today, from string theorists to neurobiologists, count themselves among Spinoza's progeny.

In Betraying Spinoza, Rebecca Goldstein sets out to rediscover the flesh-and-blood man often hidden beneath the veneer of rigorous rationality, and to crack the mystery of the breach between the philosopher and his Jewish past. Goldstein argues that the trauma of the Inquisition' s persecution of its forced Jewish converts plays itself out in Spinoza's philosophy. The excommunicated Spinoza, no less than his excommunicators, was responding to Europe' s first experiment with racial anti-Semitism.

Here is a Spinoza both hauntingly emblematic and deeply human, both heretic and hero—a surprisingly contemporary figure ripe for our own uncertain age.
About the Author
REBECCA NEWBERGER GOLDSTEINreceived her doctorate in philosophy from Princeton University. Her award-winning books include the novels The Mind-Body Problem, Properties of Light, and 36 Arguments for the Existence of God: A Work of Fiction and nonfiction studies of Kurt Gödel and Baruch Spinoza. She has received a MacArthur Foundation Fellowship, has been designated a Humanist of the Year and a Freethought Heroine, and is a fellow of the American Academy of Arts and Sciences. She was awarded the National Humanities Medal in 2015. She lives in Massachusetts.
Praise For Betraying Spinoza: The Renegade Jew Who Gave Us Modernity (Jewish Encounters Series)…
"Beautifully crafted. What seem like separate issues—Spinoza's pioneering advocacy of complete freedom of thought in religious matters; the turmoil in the Jewish community; the fateful events in Amsterdam in the closing years of Spinoza's life; the philosophical developments of the seventeenth century; Spinoza's idea of a philosophical religion utterly purged of all anthropomorphism, even to the extent of denying that God is a 'person' in any sense—come together as if by themselves (the sure sign of a fine artist!) to answer my puzzle: how to understand Spinoza the human being, a man for whom reason itself was a kind of salvation."
—Hilary Putnam, New York Observer