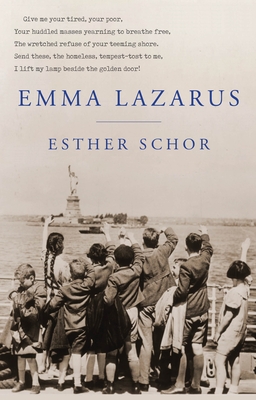 Emma Lazarus (Jewish Encounters Series)
Paperback

* Individual store prices may vary.
Other Editions of This Title:
Hardcover (9/5/2006)
Description
Winner of the National Jewish Book Award

Emma Lazarus's most famous poem gave a voice to the Statue of Liberty, but her remarkable story has remained a mystery until now. Drawing upon a cache of personal letters undiscovered until the 1980s, Esther Schor brings this vital woman to life in all her complexity—as a feminist, a Zionist, and a trailblazing Jewish-American writer. Schor argues persuasively for Lazarus's place in history as an activist and a prophet of the world we all inhabit today. As a stunning rebuke to fear, xenophobia, and isolationism, Lazarus's life and work are more relevant now than ever before.
Praise For Emma Lazarus (Jewish Encounters Series)…
"Emma Lazarus's 'passionate, ardent life' is laid out sumptuously in Esther Schor's evocative biography. It is unlikely that, for a general audience, it will be surpassed any time in the near future."
—Commentary
 
"A sympathetic and balanced life of Emma Lazarus."
—The New York Times Book Review
 
"How welcome Lazarus would be in the company of today's poets. How fine to have a writer of Schor's quality restore this courageous and important poet to her rightful place."
—The New York Sun

"Schor brings to life the complicated, passionate woman who left us our proudest national image. A work of great empathy an meticulous historical research."
–Kevin Baker, author of Paradise Alley
"In this luminous, enthralling biography, Schor recovers one of the outstanding women of nineteenth-century letters, who while inventing her life as an American Jewish writer discovered a larger poetic mission for the entire nation."
-Sean Wilentz, author of The Rise of American Democracy: Jefferson to Lincoln
"Schor, herself a poet of authentic distinction, has composed a very moving and highly useful biographical critique of Emma Lazarus, a permanent poet in American and in Jewish tradition."
–Harold Bloom, author of The Western Canon
"It is a rare book indeed that so skillfully melds biography, literary analysis, and cultural history. In describing Emma Lazarus and her circle, Schor tells the story of American Jewry in the nineteenth century, paints a portrait of literary New York in one of its heydays, explicates many beautiful and long-neglected poems, and instills in us a canny affection for a subject who is forceful and sometimes overbearing but also brilliant and compassionate. Schor's prose is as lyrical and rich in images as the poetry she describes in this intimate, often touching volume."
–Andrew Solomon, author of The Noonday Demon
Schocken, 9780805211665, 368pp.
Publication Date: April 25, 2017
About the Author
ESTHER SCHOR, a poet and professor of English at Princeton University, is the author of Bridge of Words: Esperanto and the Dream of a Universal Language, Strange Nursery: New and Selected Poems, My Last JDate, and Bearing the Dead: The British Culture of Mourning from the Enlightenment to Victoria. Her essays and reviews have appeared in The Times Literary Supplement, The New York Times Book Review, The New Republic, and The Forward.
or
Not Currently Available for Direct Purchase