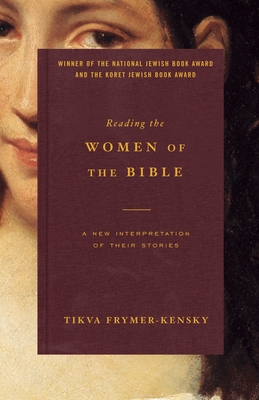 Reading the Women of the Bible: A New Interpretation of Their Stories (Paperback)
A New Interpretation of Their Stories
Schocken Books Inc, 9780805211825, 480pp.
Publication Date: June 1, 2004
Description
Reading the Women of the Bible takes up two of the most significant intellectual and religious issues of our day: the experiences of women in a patriarchal society and the relevance of the Bible to modern life.
About the Author
TIKVA FRYMER-KENSKY is a professor of Hebrew Bible at the Divinity School at the University of Chicago.
Praise For Reading the Women of the Bible: A New Interpretation of Their Stories…
"This book has much to say about and to women of every era and age, but its spirit, scope, and breadth go beyond any generic limits. Men—perhaps even more than women—can and should learn much from it, both about the Bible and the women in it."
—David Noel Freedman, editor in chief, The Anchor Bible
 
"Frymer-Kensky addresses both modern hypotheses and traditional beliefs, and acknowledges which arguments can be supported and which questions remain unanswered. [A] very approachable text that streamlines what could otherwise be a complicated discussion."
—Houston Chronicle
 
"You'll never see the women of the Bible in quite the same way after reading Tikva Frymer-Kensky's excellent new book. In her able hands, these women emerge from the ancient texts with new strength and vigor. Frymer-Kensky is a dazzling thinker who presents her ideas with unusual energy and clarity."
—Ari L. Goldman, author of Living a Year of Kaddish and The Search for God at Harvard
 
"A welcome book, engagingly written. It is a valuable contribution to the growing bibliography of feminist biblical interpretation."
—Dr. Phyllis Trible, University Professor, Wake Forest University Divinity School
 
"Frymer-Kensky advances our understanding of the gender issues in the Bible by proposing a fresh and suggestive taxonomy of four discourses concerning women. Her persuasive power rests upon her immense capacity to read texts carefully and discerningly. A most welcome and important read!"
—Dr. Walter Brueggeman, Columbia Theological Seminary
 
"Frymer-Kensky presents the women of the Hebrew Bible freshly and brilliantly, bringing to her study a profound mastery of the literatures and cultures of the lands surrounding the Bible. Here is biblical interpretation that eliminates much of the distance between the text and the reader: These stories illuminate the themes and dangers, hopes and fears, that are characteristic of human life anywhere and at any time. And the entire work is presented in a style and with a grace that delight the eye, the ear, and the heart."
—Dr. Walter Harrelson, Vanderbilt University
Advertisement