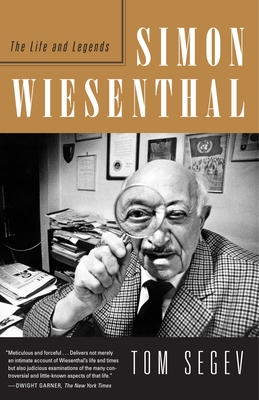 Simon Wiesenthal
The Life and Legends
Paperback

* Individual store prices may vary.
Other Editions of This Title:
Digital Audiobook (9/6/2010)
Hardcover (9/7/2010)
Paperback (9/1/2011)
Description
With 16 pages of black-and-white illustrations

Now in paperback, the first fully documented biography of the legendary Polish-born Nazi hunter—a revelatory account of a man whose life, though part invention, was wholly dedicated to ensuring both that the Nazis be held responsible for their crimes and that their destruction of European Jewry never be forgotten.

Within days of being liberated from the Mauthausen concentration camp, Simon Wiesenthal had assembled a list of nearly 150 Nazi war criminals, the first of dozens of such lists he would compile over a lifetime as a Nazi hunter. A hero in the eyes of many, Wiesenthal was also attacked for his unrelenting pursuit of justice for crimes committed in a past that many preferred to forget. With access to Wiesenthal's private papers and to American, East German, and Israeli government archives, Tom Segev sheds new light on Wiesenthal's most closely guarded secrets: his true role in the capture of Adolf Eichmann, his connection to Isreal's Mossad, his controversial investigative techniques, his unlikely friendships with Kurt Waldheim and Albert Speer, his rivalry with Elie Wiesel—making clear that the truth of Wiesenthal's existence was far more complex and compelling than the legends (often of his own making) that surrounded him.
Praise For Simon Wiesenthal: The Life and Legends…
"Mr. Segev, justly celebrated for his histories of formative moments of the state of Israel, is as careful a biographer as he is an historian. . . . Gripping yet sober, this meticulous portrait of a complicated man is unlikely to be bettered."
—The Economist 

"[A] meticulous yet forceful new biography . . . [Segev's] book delivers not merely an intimate account of Wiesenthal's life and times, but also judicious examinations of the many controversial and little-known aspects of that life. . . . It is a serious pleasure to imagine a new generation of readers discovering his life in this careful telling."
—The New York Times

"Segev sticks to the 'true story,' [which is] what makes all of his work so compelling. Telling the unvarnished truth ultimately honors the man he is writing about, and Wisenthal emerges from Segev's book as an even richer and more consequential character than the one he invented for himself."
—Los Angeles Times

"Segev is one of the world's great investigative reporters—in a class with bloodhounds like Seymour Hersh and the late David Halberstam. . . . The real achievement of this warts-and-all biography [is] that truth, justice, and memory are the province not of saints, but of flawed human beings."
—Susan Jacoby, The Washington Post

"Tom Segev has produced a biography that is a model of fascinating description and measured analysis."
—The Sunday Times (UK)

"Segev paints a vivid portrait of this human dynamo who made it his life's work to make people not only confront and remember the Nazi genocide but also to punish as many of its perpetrators as possible."
—San Francisco Chronicle

"A brilliant and gripping account of an extraordinary life. It draws upon extensive research to offer new insights into the complex personality as well as the notable achievements of Simon Wiesenthal."
—Sir Ian Kershaw, author of Hitler: A Biography
Schocken, 9780805212082, 512pp.
Publication Date: April 3, 2012
About the Author
Tom Segev is the award-winning author of seven works of nonfiction. A columnist for Haaretz, Israel's leading daily newspaper, he lives in Jerusalem.
or
Not Currently Available for Direct Purchase