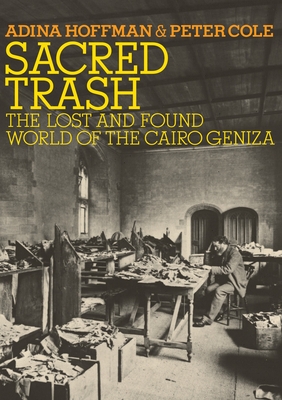 Sacred Trash (Paperback)
The Lost and Found World of the Cairo Geniza (Jewish Encounters Series)
Schocken, 9780805212235, 304pp.
Publication Date: June 21, 2016
Other Editions of This Title:
Hardcover (4/5/2011)
* Individual store prices may vary.
Description
NATIONAL JEWISH BOOK AWARD FINALIST

WINNER OF THE 2012 AMERICAN LIBRARY ASSOCIATION'S SOPHIE BRODY AWARD FOR OUTSTANDING ACHIEVEMENT IN JEWISH LITERATURE

Sacred Trash tells the remarkable story of the Cairo Geniza—a synagogue repository for worn-out texts that turned out to contain the most vital cache of Jewish manuscripts ever discovered.

This tale of buried communal treasure weaves together unforgettable portraits of Solomon Schechter and the other modern heroes responsible for the collection's rescue with explorations of the medieval documents themselves—letters and poems, wills and marriage contracts, Bibles, money orders, fiery dissenting religious tracts, fashion-conscious trousseaux lists, prescriptions, petitions, and mysterious magical charms. Presenting a pan­oramic view of almost a thousand years of vibrant Mediterranean Judaism, Adina Hoffman and Peter Cole bring contemporary readers into the heart of this little-known trove, whose contents have rightly been dubbed "the Living Sea Scrolls." Part biography, part meditation on the supreme value the Jewish people has long placed in the written word, Sacred Trash is above all a gripping tale of adventure and redemption. 

(With black-and-white illustrations throughout.) 

About the Author
ADINA HOFFMAN is the author of several books, including House of Windows: Portraits from a Jerusalem Neighborhood and Till We Have Built Jerusalem: Architects of a New City. She was named one of the inaugural (2013) winners of the Windham Campbell Literature Prize.

PETER COLE's most recent book of poems is The Invention of Influence. His award-winning translations include The Poetry of Kabbalah: Mystical Verse from the Jewish Tradition. He was named a MacArthur Fellow in 2007.


Praise For Sacred Trash: The Lost and Found World of the Cairo Geniza (Jewish Encounters Series)…
WINNER OF THE 2012 AMERICAN LIBRARY ASSOCIATION'S SOPHIE BRODY AWARD FOR OUTSTANDING ACHIEVEMENT IN JEWISH LITERATURE

"Beautifully written, learned and lucid, Sacred Trash is a treasure that should not be hidden . . . Exquisitely realized."
—San Francisco Chronicle
 
"A literary jewel whose pages turn like those of a well-paced thriller, but with all the chiseled elegance and flashes of linguistic surprise that we associate with poetry . . . Sacred Trash has made history beautiful and exciting."
—The Nation
 
"Hoffman and Cole unfold this saga with dramatic flair, peppering their narrative with the Geniza's own distinct voices, from the ancient and medieval to the modern and contemporary. Skillfully they embed the drama contained within the old texts with the contemporary dramas of the people handling the texts . . . It is a testament to [them] that they have fleshed out these ghosts, and patiently constructed a vivid, human saga every bit as extraordinary as a miracle."
—Haaretz (Israel)

"Both lively and elevating . . . An extended act of celebration of Cairo's historical Jewish community, their documents, and their documents' 20th-century students . . . wonderfully revived by Hoffman and Cole."
—Anthony Julius, The New York Times Book Review
 
"A multi-layered work that provokes admiration and excites the imagination on many levels."
—Moment
 
"Hoffman and Cole's vivid portrayal of the discovery of the ancient Cairo Geniza . . . is equal parts treasure hunt for the sacred and historical, and Herculean rescue of important texts . . . Sacred Trash is a wonderfully accessible and exciting account of 'numerous heroes, medieval and modern' and their discoveries of artifacts that have transformed our understanding of the interplay between history and religion."
—The Boston Globe
 
"The real behind-the-scenes story of the Cairo Geniza and the Western scholars who retrieved and studied it is . . . also a very human story, as Adina Hoffman and Peter Cole show in their charming and unobtrusively erudite new book."
—The Jewish Review of Books

"A wonderfully passionate and lively account of a civilization we could not have imagined existed and of the men and women whose enthusiasm and dedication brought it to light."
—Gabriel Josipovici, The Wall Street Journal

"Absorbing  . . . Hoffman and Cole are adroit in their exegesis . . . [Sacred Trash is] an accessible, neatly narrated story of hallowed detritus and the resurrection of nearly 1,000 years of culture and learning."
—Kirkus Reviews

"What a delight to have the story of the Cairo Geniza, its romantic recovery and spectacular contents, told here by two such brilliant wordsmiths as Adina Hoffman and Peter Cole. This book takes readers to the very navel of the medieval world, east and west, Arab and Jew, shattering many preconceptions along the way."
—Janet Soskice, author of Sisters of Sinai

"Hoffman and Cole spin an extraordinary tale of intellectual adventure and lasting scholarly accomplishment. The men and women who brought the Cairo Geniza to light are presented here in painstaking detail, their quirks and their brilliance exposed in equal measure. Carefully researched and beautifully written."
—James Kugel, author of How to Read the Bible

"Sacred Trash is a jewel of a book: a lively and deeply informed account of the Cairo Geniza, a magnificent Egyptian treasure-house of Jewish religion, literature, and history that was forgotten for centuries, and of the extraordinary crew of scholars and impresarios who saved the documents, fitted the scraps back together, and made them speak and sing."
—Anthony Grafton, Princeton University
 
One hundred and twenty years ago, time travel was all at once realized: With the discovery of the Cairo Geniza, medieval Jewish life in all its sacred and mundane efflorescence came tumbling out in thousands of manuscript fragments, each one a distinct and living voice of an ancestral civilization. No longer can we speak of the seven wonders of the world—in this astounding and acutely relevant tale, Adina Hoffman and Peter Cole have uncovered a remarkable eighth; and in its connection to our own humanity, it surpasses all the rest."
—Cynthia Ozick

"Sacred Trash is a small masterpiece. The romance of Hebrew scholarship has never been so vividly conveyed. This book is extraordinary in characterization, thought, and prose style. It will teach common readers, Jewish and gentile, how much spiritual tradition owes to the greatest scholars. This teaching comes through delight."
—Harold Bloom
or
Not Currently Available for Direct Purchase