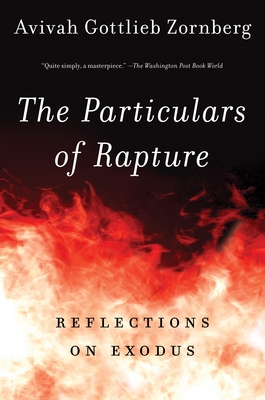 The Particulars of Rapture: Reflections on Exodus (Paperback)
Reflections on Exodus
Schocken Books Inc, 9780805212372, 582pp.
Publication Date: February 1, 2011
* Individual store prices may vary.
or
Not Currently Available for Direct Purchase
Description
In her commentary on the book of Exodus--the stories of slavery and liberation, the burning bush, the revelation at Sinai, the golden calf, the shattering of the tablets, the building and consecration of the tabernacle--Avivah Gottlieb Zornberg weaves a magnificent tapestry of classical biblical, talmudic, and midrashic interpretations; literary allusions; and insights from the worlds of philosophy and psychology into a narrative that gives us fascinating new perspectives on the biblical themes of exodus and redemption.
About the Author
AVIVAH GOTTLIEB ZORNBERG is the author of The Begginning of Desire: Reflections on Genesis (and winner of the National Jewish Book Award), The Particulars of Rapture: Reflections on Exodus, and The Murmuring Deep: Reflections on the Biblical Unconscious. She lectures widely in Israel, the United States, Canada, and the United Kingdom. She lives in Jerusalem.
Praise For The Particulars of Rapture: Reflections on Exodus…
"I know of no other book that presents the enormous subtleties and complexities of rabbinic biblical interpretation with such skill, intelligence, literary flair, and sheer elegance of style. Quite simply, a masterpiece."
—The Washington Post Book World
 
"What is exciting about Zornberg's work is not solely her use of varied sources, but her objective in their use . . . So great is her love of, reverence for, and belief in Torah, it is contagious."
—The Catholic Worker
 
"All students of the Bible will be grateful for the opportunity to study with a teacher of such dazzling intelligence."
—Kirkus Reviews
 
"Zornberg is one of Jerusalem's most exciting teachers of Torah, not only because of the subtlety of her thinking but also because of the beauty of her language and the sophistication of her presentation . . . Engaging and brilliant."
—Tikkun

Advertisement