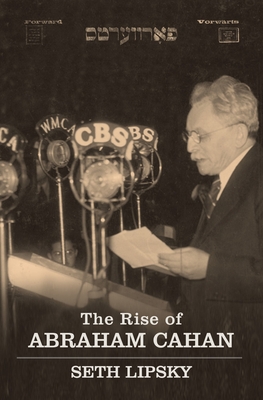 The Rise of Abraham Cahan (Jewish Encounters Series)
Hardcover

* Individual store prices may vary.
Other Editions of This Title:
Digital Audiobook (10/14/2013)
MP3 CD (10/15/2013)
Compact Disc (10/15/2013)
Description
Part of the Jewish Encounters series

The first general-interest biography of the legendary editor of the Jewish Daily Forward, the newspaper of Yiddish-speaking immigrants that inspired, educated, and entertained millions of readers; helped redefine journalism during its golden age; and transformed American culture.
 
Already a noted journalist writing for both English-language and Yiddish newspapers, Abraham Cahan founded the Yiddish daily in New York City in 1897. Over the next fifty years he turned it into a national newspaper that changed American politics and earned him the adulation of millions of Jewish immigrants and the friendship of the greatest newspapermen of his day, from Lincoln Steffens to H. L. Mencken. Cahan did more than cover the news. He led revolutionary reforms—spreading social democracy, organizing labor unions, battling communism, and assimilating immigrant Jews into American society, most notably via his groundbreaking advice column, A Bintel Brief. Cahan was also a celebrated novelist whose works are read and studied to this day as brilliant examples of fiction that turned the immigrant narrative into an art form.
 
Acclaimed journalist Seth Lipsky gives us the fascinating story of a man of profound contradictions: an avowed socialist who wrote fiction with transcendent sympathy for a wealthy manufacturer, an internationalist who turned against the anti-Zionism of the left, an assimilationist whose final battle was against religious apostasy. Lipsky's Cahan is a prism through which to understand the paradoxes and transformations of the American Jewish experience. A towering newspaperman in the manner of Horace Greeley and Joseph Pulitzer, Abraham Cahan revolutionized our idea of what newspapers could accomplish.

(With 16 pages of black-and-white illustrations.)
Praise For The Rise of Abraham Cahan (Jewish Encounters Series)…
"There is cause for celebration that Seth Lipsky has produced the rich biography Abraham Cahan deserves. It's hard to imagine a better match of author and subject matter."
—Jewish Review of Books

"In The Rise of Abraham Cahan Lipsky has produced a vivid biography of a great journalist and socialist reformer."
—Sam Roberts, "Bookshelf," The New York Times
 
"At a time when too many biographers chronicle their subjects' lives in excessive detail . . . it's a pleasure to read Seth Lipsky's brisk, cogent book. It provides a welcome opportunity for a new generation to discover this titanic figure in twentieth-century journalism. . . . Lipsky, himself a longtime newspaperman, is at his best recreating the vibrant panache with which Cahan and the Forward spoke to and for the immigrants flooding into America during the decades around the turn of the twentieth century."
—The Daily Beast

"Lipsky carefully charts Cahan's influence [in] establishing the Forward as a vital source of breaking international news and providing Jewish immigrants with 'a sympathetic, seasoned voice, an enlightened cousin who had been in America just that much longer and could serve as a guide to the country's strange ways.'"
—The New York Times Book Review

"Not only a biography but also a vivid snapshot of a particularly robust period in the history of American journalism."
—The New York Observer
 
"All readers interested in the fate of Eastern European Jewish life in 20th-century America owe a significant debt to Lipsky for his intelligent and nuanced portrait of Abraham Cahan. . . . Powerful."
—Moment
 
"Lipsky does justice to Cahan's forcefully articulated, and frequently shifting, views. . . . Engaging."
—Forward
 
"A fluent intellectual and political biography."
—Commentary

"An indispensible book: a wonderfully intelligent reckoning with a wonderfully intelligent man.  Lipsky, a great newspaperman himself, brings Cahan vividly alive, not only as a witness to the spectacularly rich, dramatic, and consequential history of the first half of the twentieth century but also as a defining actor in that history.  Lipsky's portrait of the mighty Yiddish editor—at once admiring and critical—is lit by the fiery political and cultural debates that blazed in the pages he published, as the Jewish experience was reshaped by and did so much to reshape the modern world."
—Philip Gourevitch, author of We Wish to Inform You That Tomorrow We Will Be Killed with Our Families
 
"An extraordinary book about an extraordinary man.  Cahan is a pivotal figure in both Jewish history and the history of American journalism, and Lipsky has done a superlative job of capturing his magnetism, his complexity, and his contradictions. Reading this book made me wish I could transport myself back in time, to the pressrooms and tenements and thunderous political rallies of the Lower East Side a hundred years ago.  Lipsky has a Doctorow-like ability to bring to life the tumult, joy, and tragedy of life in the big city.  He is also the best person alive to write the definite biography of Cahan because he is widely understood to be Cahan's worthiest successor."
—Jeffrey Goldberg, author of Prisoners: A Story of Friendship and Terror
 
"Lipsky on Cahan—this is the book we have been waiting for!  It took the boldest newspaperman of our time to nail the story of the boldest newspaperman of his time—the legendary Yiddish editor and English writer who successfully brokered the shidduch between Jews and America.  Cahan's readiness to dig out the truth behind ideological and political facades may be Lipsky's bracing model for today's media and for what we, their audience, deserve."
—Ruth Wisse, Martin Peretz Professor of Yiddish Literature and professor of comparative literature, Harvard University
 
"Don't believe that there was a time not long ago when a socialist daily newspaper in New York City—published in Yiddish!—commanded the attention not only of millions of Jewish immigrants but also of presidents and foreign leaders? Read this magical book. It will transport you back to some of the most tumultuous decades the world has ever known, as seen through the life of a fearless newspaperman whose paper didn't simply cover events; it changed the course of them."
—Jonathan Mahler, author Ladies and Gentlemen, the Bronx Is Burning
 
"A riveting account of Cahan's life and times. Cahan was as complex as he was courageous—Jewish immigrant, social democrat, labor organizer, anti-communist, our earliest neoconservative. Seth Lipsky is another fearless and brilliant newsman, and no one could have told Cahan's story better. This is a book to savor and remember."
—Peter Kann, Pulitzer Prize–winning reporter and former publisher of The Wall Street Journal
 
"Cahan was at the forefront of the postwar battle against communist subversion of the labor movement and powerfully helped to save Europe from the tyrannies of Stalinism, though he had arrived in America as a revolutionary socialist on the run from the Tsarist secret police. Lipsky has given his story pulsating life."
—Sir Harold Evans, editor at large, Reuters, and author of The American Century
Schocken, 9780805242102, 240pp.
Publication Date: October 15, 2013
About the Author
SETH LIPSKY is the founding editor of the Forward and of The New York Sun. He is a former foreign editor of The Wall Street Journal and served as a member of its editorial board. He served as a combat reporter in Vietnam for Pacific Stars and Stripes and is the author, most recently, of The Citizen's Constitution: An Annotated Guide. He lives in New York City.