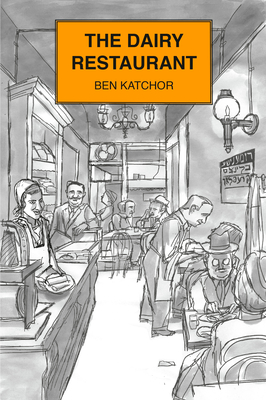 The Dairy Restaurant (Jewish Encounters Series)
Hardcover

* Individual store prices may vary.
Description
Ben Katchor retells the history of where we choose to eat—a history that starts with the first man who was allowed to enter a walled garden and encouraged by the garden's owner to enjoy its fruits. He examines the biblical milk-and-meat taboo, the first vegetarian practices, and the invention of the restaurant. Through text and drawings, Katchor illuminates the historical confluence of events and ideas that led to the development of a "milekhdike (dairy) personality" and the proliferation of dairy restaurants in America, and he recollects his own experiences in many of these iconic restaurants just before they disappeared.

PART OF THE JEWISH ENCOUNTERS SERIES
Praise For The Dairy Restaurant (Jewish Encounters Series)…
"Delectable . . . Obsessive, melancholy, and hungry-making . . . This dense cultural and culinary history is reason enough to come to The Dairy Restaurant. But Katchor, who made his name in the 1990s with his weekly comic strip Julius Knipl, Real Estate Photographer, and has won a MacArthur fellowship, has a sharp mind and a sly sense of humor. His words and his charcoal-palette drawings have a combinatory intelligence . . . There is a moving memoirish aspect to The Dairy Restaurant. A perambulator, Katchor has always been expert at capturing the texture and sociology of vanishing aspects of city life."
—The New York Times

"If you're facing an extended period of self-isolation, it's a perfect read. Along with its physical heft, The Dairy Restaurant is philosophical and funny, authoritative and questioning, deeply Jewish and almost gleefully iconoclastic."
—Forward

"Ben Katchor sees into the life of everything he touches. The Dairy Restaurant is surely his capolavoro, an endless fund of news, digressions, wit, lore.  He is a professor of the wayward fact, the lost particular, the hidden detail. Nothing fails to interest him. I want to sit next to nobody but him on my next international flight."
—Alexander Theroux, author of Darconville's Cat

"Ben Katchor has captured the spirit of old Jewish New York in his graphic novels such as Julius Knipl, Real Estate Photographer and The Jew of New York. The Dairy Restaurant isn't a typical graphic novel, though there is art. Instead it's a fascinating hybrid format, part history/philosophy/rumination, part graphic imagery . . . As in all of Katchor's books, The Dairy Restaurant lovingly chronicles and restores a vanishing cultural fixture for us. This time, though, he's added a thick lawyer of scholarship and though-provoking musings. He has served up a very satisfying dish here."
—New York Journal of Books

"A studiously constructed compendium of narrative history . . . Whoever truly captures the dairy restaurant, captures an entire lost world. That's what Katchor has tried to do, and no one else could have done it."
—Tablet

"Colorful anecdotes, trivia, and food lore . . . An informative, nostalgic evocation of a special urban dining experience."
—Kirkus Reviews

"The Dairy Restaurant also has the quality of an illuminated Haggadah. Because Katchor is a wonderful cartoonist, his book can be looked at as well as read. In that sense it is a chronicle of Katchor's distinctively blocky yet delicate characters, drawn from the Hebrew Bible as well as history . . . A trove of fun facts . . . Like much of Katchor's work, The Dairy Restaurant is haunted by a sense of the vanished and ephemeral."
—Book Forum

"Both narrowly targeted and searchingly broad . . . Rewarding . . . This graphic history shows again Katchor's gimlet eye for curious connections and obsessive attention to detail."
—Publisher's Weekly

Schocken, 9780805242195, 496pp.
Publication Date: March 10, 2020
About the Author
BEN KATCHOR is the author of, among other books, Julius Knipl, Real Estate Photographer; The Cardboard Valise; and The Jew of New York. He was the first cartoonist to receive a MacArthur Fellowship. He teaches at Parsons/The New School in New York City.