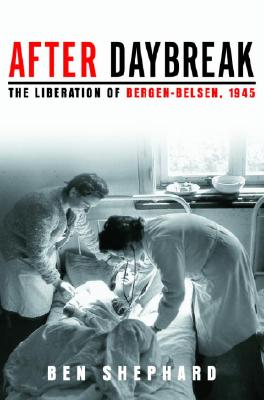 After Daybreak
The Liberation of Bergen-Belsen, 1945
Hardcover

* Individual store prices may vary.
Description
I find it hard even now to get into focus all these horrors, my mind is really quite incapable of taking in everything I saw because it was all so completely foreign to everything I had previously believed or thought possible. British Major Ben Barnett's words echoed the sentiments shared by medical students, Allied soldiers, members of the clergy, ambulance drivers, and relief workers who found themselves utterly unprepared to comprehend, much less tend to, the indescribable trauma of those who survived at the Bergen-Belsen concentration camp.
The liberation of Bergen-Belsen by the British in April 1945 was a defining point in history: the moment the world finally became inescapably aware of the Holocaust. But what happened after Belsen was liberated is still a matter of dispute. Was it an epic of medical heroism or the culmination of thirteen years of indifference to the fate of Europe's Jews? This startling investigation by acclaimed documentary filmmaker and historian Ben Shephard draws on an extraordinary range of materials contemporary diaries, military documents, and survivors testimonies to reconstruct six weeks at Belsen beginning on April 15, 1945, and reveals what actually caused the post-liberation deaths of nearly 14,000 concentration camp inmates who might otherwise have lived. Why did it take almost two weeks to organize a proper medical response? Why were the medical teams sent to Belsen so poorly equipped? Why, when specialists did arrive, did they get so much of the medicine plain wrong?
For the first time, Shephard explores the humanitarian and medical issues surrounding
the liberation of the camp and provides a detailed, illuminating account that is far more complex than had been previously revealed. This gripping book confronts the terrifying aftermath of war with questions that still haunt us today.
Schocken Books Inc, 9780805242324, 274pp.
Publication Date: November 15, 2005
About the Author
Ben Shephard was born in England in 1948 and grew up in South Africa. After studying history at Oxford, he spent two decades making documentaries, including the Emmy Award-winning series The World at War. His first book, "A War of Nerves: Soldiers and Psychiatrists in the Twentieth Century," was published in 2001. He lives in London.
or
Not Currently Available for Direct Purchase