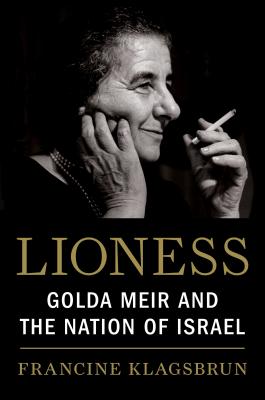 Lioness
Golda Meir and the Nation of Israel
Hardcover

* Individual store prices may vary.
Other Editions of This Title:
Digital Audiobook (10/29/2018)
Paperback (4/2/2019)
Description
The definitive biography of the iron-willed leader, chain-smoking political operative, and tea-and-cake-serving grandmother who became the fourth prime minister of Israel
   
Golda Meir was a world figure unlike any other. Born in tsarist Russia in 1898, she immigrated to America in 1906 and grew up in Milwaukee, where from her earliest years she displayed the political consciousness and organizational skills that would eventually catapult her into the inner circles of Israel's founding generation. Moving to mandatory Palestine in 1921 with her husband, the passionate socialist joined a kibbutz but soon left and was hired at a public works office by the man who would become the great love of her life. A series of public service jobs brought her to the attention of David Ben-Gurion, and her political career took off. Fund-raising in America in 1948, secretly meeting in Amman with King Abdullah right before Israel's declaration of independence, mobbed by thousands of Jews in a Moscow synagogue in 1948 as Israel's first representative to the USSR, serving as minister of labor and foreign minister in the 1950s and 1960s, Golda brought fiery oratory, plainspoken appeals, and shrewd deal-making to the cause to which she had dedicated her life—the welfare and security of the State of Israel and its inhabitants.
     As prime minister, Golda negotiated arms agreements with Richard Nixon and Henry Kissinger and had dozens of clandestine meetings with Jordan's King Hussein in the unsuccessful pursuit of a land-for-peace agreement with Israel's neighbors. But her time in office ended in tragedy, when Israel was caught off guard by Egypt and Syria's surprise attack on Yom Kippur in 1973. Analyzing newly available documents from Israeli government archives, Francine Klagsbrun looks into whether Golda could have prevented that war and whether in its darkest days she contemplated using nuclear force. Resigning in the war's aftermath, she spent her final years keeping a hand in national affairs and bemusedly enjoying international acclaim. Klagsbrun's superbly researched and masterly recounted story of Israel's founding mother gives us a Golda for the ages.
Praise For Lioness: Golda Meir and the Nation of Israel…
Winner of the 2017 National Jewish Book Award/Everett Family Foundation Book of the Year

"A thorough and absorbing examination of the woman and her role in Zionism and Israel.  Lioness wrests Meir from the shadow of the Yom Kippur War and presents her life and career as a lens to examine Israel's challenges—borders, settlements, occupation, terror, and the social and ethnic divide between Jews of European origin and those of Middle Eastern origin."
—Ethan Bronner, The New York Times Book Review
 
"Scrupulously researched. . . . A major achievement."
—Susan Jacoby, The Washington Post
 
"Engrossing [and] magisterial. . . . One finishes Klagsbrun's monumental volume—which is both a biography of Golda and a biography of Israel in her time—with a deepened sense that modern Israel, its prime ministers, and its survival is a story of biblical proportions."
—Commentary
 
"The most comprehensive, best-researched, and carefully nuanced study of Israel's fourth prime minister published to date. It forces even the most skeptical and opinionated to reassess the Golda legacy and reexamine her impact on Israel's trajectory. . . . Fascinating."
—Lilith
 
 "Magisterial. . . . The individual who emerges from the 800 pages of Lioness is not only more nuanced than history has given her credit for being, but also more compassionate, realistic, and capable of compromise than the image of the blunt-edged battle-ax that has passed down to us."
—David Green, Haaretz

"A majestic and very important account of the extraordinary life of the American-raised woman who became a charismatic and powerful prime minister of modern Israel. I thought I knew her life story, but Klagsbrun's compelling story of Golda's triumphs and trials, her irresistible personality, gave me a fresh appreciation of this historic woman."
—Tom Brokaw, author of The Greatest Generation
 
"Masterful [and] compelling. . . . Klagsbrun captures Golda's unusual blend of toughness, warmth, intelligence, plainspokenness, and passion, along with her remarkable achievements."
—Sandee Brawarsky, The Jewish Week

"A masterwork melding character and history, Klagsbrun's majestic study of Golda Meir chronicles marriage as poignant tragedy, visionary socialism as dominant yet fragile, party politics as life-or-death exigency, and daily contingencies as cliffhangers. Part biblically reminiscent drama, part novel-like interiority, part American-inspired pioneering, Golda Meir's story, from childhood pogroms to Milwaukee schoolteacher to prime minister of the beleaguered reborn state of Israel, has no parallel in the annals of nations."
—Cynthia Ozick

"Golda Meir—immigrant, Zionist, feminist, and wartime prime minister of Israel—claimed far more than one woman's share of history. In Lioness, Francine Klagsbrun superbly captures Golda's courage and unrelenting commitment to the founding and survival of a Jewish state."
—John A. Farrell, author of Richard Nixon: The Life
 
"A masterful biography—it's scholarly and gorgeously researched, but most of all it's the vivid story of a tough, complicated, remarkable woman who led Israel during a crucial period in its history. A powerful read."
—Patricia Bosworth, author of Anything Your Little Heart Desires: An American Family Story

"Klagsbrun's prodigious biography goes far beyond previous hagiographies to place Golda's personal life against the backdrop of the emergence of Israel on the world stage. She lays out Golda's monumental achievements but does not shy away from her failings, [in this] defining testament to Golda's much-admired legacy."
—Hadassah
Schocken, 9780805242379, 848pp.
Publication Date: October 17, 2017
About the Author
FRANCINE KLAGSBRUN is the author of more than a dozen books, including The Fourth Commandment: Remember the Sabbath Day and Married People: Staying Together in the Age of Divorce. Lioness received the 2017 National Jewish Book Award/Everett Family Foundation Book of the Year. Klagsbrun was also the editor of the best-selling Free to Be . . . You and Me and is a regular columnist for The Jewish Week, a contributing editor to Lilith, and on the editorial board of Hadassah magazine. Her writing has also appeared in The New York Times, The Boston Globe, Newsweek, and Ms. Magazine. She lives in New York City.
or
Not Currently Available for Direct Purchase