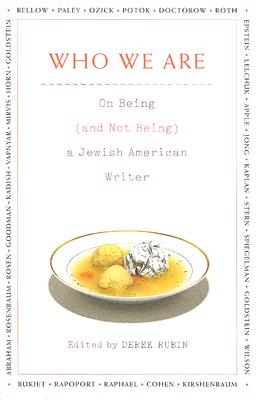 Who We Are: On Being (and Not Being) a Jewish American Writer (Hardcover)
On Being (and Not Being) a Jewish American Writer
Schocken Books Inc, 9780805242393, 345pp.
Publication Date: May 10, 2005
* Individual store prices may vary.
or
Not Currently Available for Direct Purchase
Description
This unprecedented collection brings together the major Jewish American writers of the past fifty years as they examine issues of identity and how they've made their work respond.

E.L. Doctorow questions the very notion of the Jewish American writer, insisting that all great writing is secular and universal. Allegra Goodman embraces the categorization, arguing that it immediately binds her to her readers. Dara Horn, among the youngest of these writers, describes the tendency of Jewish writers to focus on anti-Semitism and advocates a more creative and positive way of telling the Jewish story. Thane Rosenbaum explains that as a child of Holocaust survivors, he was driven to write in an attempt to reimagine the tragic endings in Jewish history.

Here are the stories of how these writers became who they are: Saul Bellow on his adolescence in Chicago, Grace Paley on her early love of Romantic poetry, Chaim Potok on being transformed by the work of Evelyn Waugh. Here, too, are Philip Roth, Cynthia Ozick, Erica Jong, Jonathon Rosen, Tova Mirvis, Pearl Abraham, Alan Lelchuk, Rebecca Goldstein, Nessa Rapoport, and many more.

Spanning three generations of Jewish writing in America, these essays — by turns nostalgic, comic, moving, and deeply provocative- constitute an invaluable investigation into the thinking and the work of some of America's most important writers.
About the Author
Derek Rubin teaches in the American Studies program at Utrecht University in the Netherlands. He has lectured widely in the United States, and as a Fulbright Scholar taught Jewish American literature at the State University of New York at New Paltz. Born in South Africa and raised in Israel, he has lived in the Netherlands since 1976.
Advertisement