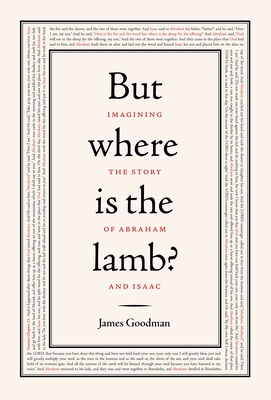 But Where Is the Lamb? (Hardcover)
Imagining the Story of Abraham and Isaac
Schocken, 9780805242539, 320pp.
Publication Date: September 10, 2013
Other Editions of This Title:
Digital Audiobook (9/30/2013)
* Individual store prices may vary.
Description
"I didn't think he'd do it. I really didn't think he would. I thought he'd say, whoa, hold on, wait a minute. We made a deal, remember, the land, the blessing, the nation, the descendants as numerous as the sands on the shore and the stars in the sky."
 
So begins James Goodman's original and urgent encounter with one of the most compelling and resonant stories ever told—God's command to Abraham to sacrifice his son Isaac.
 
A mere nineteen lines in the book of Genesis, it rests at the heart of the history, literature, theology, and sacred rituals of Judaism, Christianity, and Islam. For more than two millennia, people throughout the world have grappled with the troubling questions about sacrifice, authority, obedience, and faith to which the story gives rise. Writing from the vantage of "a reader, a son, a Jew, a father, a skeptic, a historian, a lover of stories, and a writer," Goodman gives us an enthralling narrative history that moves from its biblical origins to its place in the cultures and faiths of our time. He introduces us to the commentary of Second Temple sages, rabbis and priests of the late antiquity, and early Islamic exegetes (some of whom imagined that Ishmael was the nearly sacrificed son). He examines Syriac hymns (in which Sarah stars), Hebrew chronicles of the First Crusade (in which Isaac often dies), and medieval English mystery plays. He looks at the art of Europe's golden age, the philosophy of Kant and Kierkegaard, and the panoply of twentieth-century interpretation, sacred and profane, including the work of Bob Dylan, Elie Wiesel, and A. B. Yehoshua. In illuminating how so many others have understood this story, Goodman tells a gripping and provocative story of his own.
About the Author
James Goodman is a professor at Rutgers University, where he teaches history and creative writing. He is the author of two previous books, including Stories of Scottsboro, which was a finalist for the Pulitzer Prize. He lives in New York.
Praise For But Where Is the Lamb?: Imagining the Story of Abraham and Isaac…
"This book makes you feel like a guest at a truly eclectic symposium on the meaning of the biblical story of the Binding of Isaac, featuring Jews, Muslims, and Christians; medieval and moderns; artists and novelists. It is amazing to see how 19 sentences of the biblical account have given birth to so many different interpretations, and one leaves this book with the sense that the discussion is not nearly over yet." —Jewish Voice, A Selection of the Year's Best Jewish Books

"Obviously fascinated by the story, Goodman demonstrates great prudence in not offering his explanation but in asserting that the story has many meanings. This refreshing restraint along with the author's writing skills make his contribution an important addition to the libraries of commentaries about Abraham and Isaac that vainly strive to explain what is ultimately unfathomable." —Publishers Weekly
 
"A fresh and exciting take on the different ways in which the Binding of Isaac has been understood down through the centuries, and also covers how we should understand it today. He writes as one who is both a son and a father, both a Jew and a person in search of meaning, and, above all, as a storyteller who is fascinated by this ancient tale, and who lets his imagination run free over what it meant and what it means….It is enough to say that this book is a must-read." —Rabbi Jack Riemer, Jewish News Service

"Interesting. . . . A fast-moving account of a wide-ranging and deeply penetrating religious topic, and Goodman closes with an important reminder on how the subject of sacrifice for religious obedience is relevant to the contemporary issue of religious extremism. A well-researched and stirring account of how various communities, scholars and artists interpret the willingness to sacrifice life for God." —Kirkus

"But where is the lamb? is a fascinating study that uses a single biblical tale as a lock-pick to turn all sorts of tumblers in the human mind and heart. I found it to be a quick read, which would be surprising except that a few years ago I read Goodman's Scottsboro Stories and was thoroughly impressed with the elegant fluidity and crisp lucidity of his style as well as his gift for distilling mountains of historical documents into a few pages of cogent exposition." —Vince Cyyz, ArtFuse

"Who knew that nineteen lines of Scripture could reverberate through the centuries with so many interpretations?  James Goodman has written a fascinating book offering worlds of opinion on one of the toughest stories in the Bible—and best of all, he pulls no punches in offering his own conflicting opinions. Thoughtful, readable, historical and current." —Rick Hamlin, author of 10 Prayers You Can't Live Without  

"Genesis 22 rivets: a terrible story of authority, faith, and reason. Moving effortlessly from Biblical time to our own, James Goodman offers an intense yet sparkling chronicle of intellectual, artistic, theological, and spiritual struggle." —Sean Wilentz, Professor of History at Princeton University, author of The Rise of American Democracy and Bob Dylan in America
or
Not Currently Available for Direct Purchase