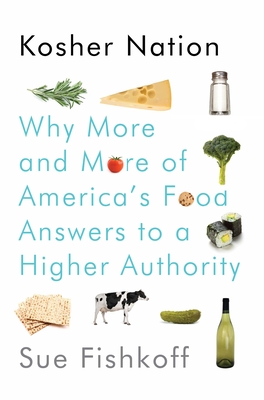 Kosher Nation (Hardcover)
Why More and More of America's Food Answers to a Higher Authority
Schocken, 9780805242652, 384pp.
Publication Date: October 12, 2010
Other Editions of This Title:
Digital Audiobook (12/23/2010)
* Individual store prices may vary.
Description
Kosher? That means the rabbi blessed it, right? Not exactly. In this captivating account of a Bible-based practice that has grown into a multibillions-dollar industry, journalist Sue Fishkoff travels throughout America and to Shanghai, China, to find out who eats kosher food, who produces it, who is responsible for its certification, and how this fascinating world continues to evolve. She explains why 86 percent of the 11.2 million Americans who regularly buy kosher food are not observant Jews—they are Muslims, Seventh-day Adventists, vegetarians, people with food allergies, and consumers who pay top dollar for food they believe "answers to a higher authority."
 
Fishkoff interviews food manufacturers, rabbinic supervisors, and ritual slaughterers; meets with eco-kosher adherents who go beyond traditional requirements to produce organic chicken and pasture-raised beef; sips boutique kosher wine in Napa Valley; talks to shoppers at an upscale kosher supermarket in Brooklyn; and marches with unemployed workers at the nation's largest kosher meatpacking plant. She talks to Reform Jews who are rediscovering the spiritual benefits of kashrut, and to Conservative and Orthodox Jews who are demanding that kosher food production adhere to ethical and environmental values. And she chronicles the corruption, price-fixing, and strong arm tactics of early-twentieth-century kosher meat production, against which contemporary kashrut standards pale by comparison.
 
A revelatory look at the current state of kosher in America, this book will appeal to anyone interested in food, religion, Jewish identity, or big business.
About the Author
Sue Fishkoff is the author of The Rebbe's Army and Kosher Nation. She is a national correspondent for the JTA news agency and lives in Oakland, California.
Praise For Kosher Nation: Why More and More of America's Food Answers to a Higher Authority…
"The breadth of Fishkoff's research is remarkable: no crumb, no bug is too minute for discussion. At the same time, she broaches larger questions about religious identity and acculturation, about marketing, commercialization, and globalization. As Kosher Nation ably demonstrates, what and how we eat remains a highly effective means of telling the story of who we are. . . . Expertly chronicled."
—Commentary

"Fishkoff has made full use of her journalistic toolkit to deliver a fascinating look at a seemingly niche industry. Following the investigative DNA of Eric Schlosser and Michael Pollan, Fishkoff shines a light on a national food trend that needed investigation."
—The Huffington Post

"A refreshingly straightforward and well-researched piece of journalism. . . . Kosher Nation will likely find a home in college classrooms, book groups, and any place where discussing and exploring the subject at greater length is encouraged. . . . As the wrinkles of Jewish history unfold, readers will surely look to Kosher Nation for insight on how the foods Jews eat (and don't eat) shape the Jewish community and, remarkably, the world."
—The Forward
 
"Fishkoff deliciously serves up the kashrut industry in Kosher Nation. [She is] entertaining and sympathetic throughout."
—The Wilson Quarterly

"Informative and richly researched. . . . Sensitive to the ways in which kashrut is at once a hoary ritual practice and a modern-day business, a spiritual pursuit and an earth-bound enterprise, Fishkoff has us see the many internal contradictions that keep the system spinning . . . documenting them instead of erasing them, and as a result they emerge with full force, to endow her narrative with bite and backbone. . . . A lively portrait of what is means to keep kosher in the twenty-first century . . . a fascinating tale of how the instruments of modernity often enlarge rather than diminish the parameters of religious experience."
—Jenna Weissman Joselit, The New Republic

"Fishkoff delves into the ins and outs of why the kosher industry continues to grow at an astounding rate despite the small number of observant Jews who actually require kosher-certified food. . . . [A]n impressive arsenal of firsthand stories and inside information keeps the narrative moving. . . . Kosher Nation will engage readers with both the religious and professional facets of this complex and misunderstood standard as she explains why so many people prefer kosher cuisine despite its higher costs."
—Publishers Weekly

"Kosher food has a definite spiritual meaning, but Fishkoff examines all aspects of the industry, from certifying agencies to kosher butchers to the effects of globalization, presenting general trends through anecdotes about individuals involved.  This makes the book more relatable. . . . Fishkoff accessibly presents information about current trends and their historical precedents. . . . She shows how definitions of kosher change in response to intra-Jewish developments, as well as to trends in America at large, such as industrial farming, the ascendance of big-box stores and ethical concerns like sustainable agriculture, animal welfare, and working conditions.  She is careful to define all terms that might be unfamiliar to readers without a Jewish background, and she provides a helpful glossary at the end of the book.  Thorough and approachable."
—Kirkus Reviews

"A revealing behind-the-scenes exploration of the kosher food industry and the people who work in it. Comprehensive, absorbing, and sometimes disturbing, Kosher Nation explains what 'kosher supervision' means and how it affects every American who purchases food."
—Jonathan D. Sarna, Joseph H. & Belle R. Braun Professor of American Jewish History, Brandeis University, and author of American Judaism: A History

"Like the eyes of the dedicated mashgichim Fishkoff profiles, Kosher Nation leaves no corner of this once-mysterious world in the dark. Comforting as kugel yet daring as kosher bacon bits, this book should be glued to the back of the Talmud as mandatory reading."
—David Sax, author of Save the Deli: In Search of Perfect Pastrami, Crusty Rye, and the Heart of Jewish Delicatessen
or
Not Currently Available for Direct Purchase