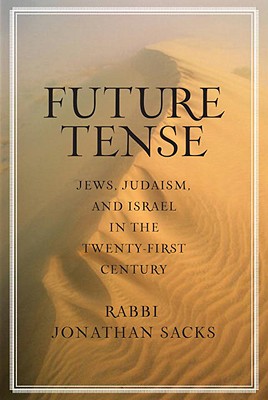 Future Tense (Hardcover)
Jews, Judiasm, and Israel in the Twenty-First Century
Schocken Books Inc, 9780805242690, 292pp.
Publication Date: April 20, 2010
* Individual store prices may vary.
Description
One of the most admired religious thinkers of our time issues a call for world Jewry to reject the self-fulfilling image of a people alone in the world, surrounded by enemies and to reclaim Judaism's original sense of purpose: as a partner with God and with those of other faiths in the never-ending struggle for freedom and social justice for all.
We are in danger, says Rabbi Jonathan Sacks, of forgetting what Judaism's place is within the global project of humankind. During the last two thousand years, Jews have lived through persecutions that would have spelled the end of most nations, but they did not see anti-Semitism written into the fabric of the universe. They knew they existed for a purpose, and it was not for themselves alone. Rabbi Sacks believes that the Jewish people have lost their way, that they need to recommit themselves to the task of creating a just world in which the divine presence can dwell among us.
Without compromising one iota of Jewish faith, Rabbi Sacks declares, Jews must stand alongside their friends Christian, Muslim, Hindu, Sikh, Buddhist, and secular humanist in defense of freedom against the enemies of freedom, in affirmation of life against those who desecrate life. And they should do this not to win friends or the admiration of others but because it is what a people of God is supposed to do.
Rabbi Sacks's powerful message of tikkun olam using Judaism as a blueprint for repairing an imperfect world will resonate with people of all faiths.
About the Author
Rabbi Jonathan Sacks has been Chief Rabbi of the United Hebrew Congregations of Great Britain and the Commonwealth since 1991 and has received honorary degrees from universities around the world. He is the award-winning author of more than twenty books, writes frequently for The Times (London) and other periodicals, and is heard regularly on the bbc. Lord Sacks was made a Life Peer and took his seat in the House of Lords in October 2009. He lives in London.
Praise For Future Tense: Jews, Judiasm, and Israel in the Twenty-First Century…
"Rabbis aren't usually rock stars, but British Chief Rabbi Jonathan Sacks isn't your average rabbi. A one-of-a-kind spiritual leader, Rabbi Sacks consistently attracts overflow crowds all around the Jewish world. His new book, Future Tense, is a must-read."
—The Jewish Week
 
"Future Tense demonstrates once again Rabbi Sacks's ability to construct a compelling forward-looking vision of Judaism from classical texts . . . that inspires many on both sides of the Atlantic."
—The Forward
"Rabbi Sacks is one of the most engaged and engaging thinkers and commentators of our time . . . His writings are always thought-provoking and often profound . . . This latest volume is no exception. It is not a book that answers every question that is poses. But it asks all the right questions and answers many of them."
—The Times (London)
 
"Rabbi Sacks argues for a Judaism that engages with the world, that emphasizes the radical Jewish belief in human freedom. It's sorely needed."
—The Guardian
or
Not Currently Available for Direct Purchase