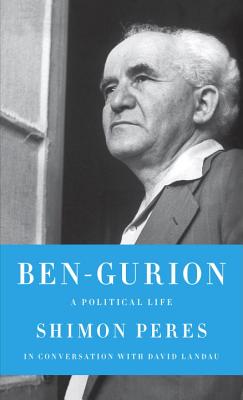 Ben-Gurion
A Political Life (Jewish Encounters Series)
Hardcover

* Individual store prices may vary.
Other Editions of This Title:
Digital Audiobook (10/24/2011)
MP3 CD (10/25/2011)
Compact Disc (10/25/2011)
Description
Part of the Jewish Encounter series

Israel's current president gives us a dramatic and revelatory biography of Israel's founding father and first prime minister.
 
Shimon Peres was in his early twenties when he first met David Ben-Gurion. Although the state that Ben-Gurion would lead through war and peace had not yet declared its precarious independence, the "Old Man," as he was called even then, was already a mythic figure. Peres, who came of age in the cabinets of Ben-Gurion, is uniquely placed to evoke this figure of stirring contradictions—a prophetic visionary and a canny pragmatist who early grasped the necessity of compromise for national survival. Ben-Gurion supported the 1947 United Nations Partition Plan for Palestine, though it meant surrendering a two-thousand-year-old dream of Jewish settlement in the entire land of Israel. He granted the Orthodox their first exemptions from military service despite his own deep secular commitments, and he reached out to Germany in the aftermath of the Holocaust, knowing that Israel would need as many strong alliances as possible within the European community.
 
A protégé of Ben-Gurion and himself a legendary figure on the international political stage, Shimon Peres brings to his account of Ben-Gurion's life and towering achievements the profound insight of a statesman who shares Ben-Gurion's dream of a modern, democratic Jewish nation-state that lives in peace and security alongside its Arab neighbors. In Ben-Gurion, Peres sees a neglected model of leadership that Israel and the world desperately need in the twenty-first century.
Praise For Ben-Gurion: A Political Life (Jewish Encounters Series)…
"In revisiting the career of his mentor, Shimon Peres presents a uniquely human portrait of David Ben-Gurion—a master strategist with a long view of history and an abiding vision for Israel's future. Peres brings his nation's founding father to life with the energy, candor, and wisdom he's become known for in his six decades of public service."
—William Jefferson Clinton

"Shimon Peres is a man of awesome accomplishment (a Nobel Peace Prize-winner, by the way), but his most important accomplishment is how he has come to personify the ethic that David Ben-Gurion represents. His book is well worth your time. It was mine."
—Richard Cohen, The Washington Post

"An urbane account of Israel's first and longest-serving prime minister by someone who, though nearly 40 years younger, worked closely with him for two decades.  It is admiring of Ben-Gurion . . . but it never lapses into hero worship or loses its grip on the historical realities amid which its story is set. Peres's personal reminiscences of Ben-Gurion and his entourage are delightful."
—The Wall Street Journal

"Invaluable . . . Even readers tired of ideological food fights about Israel—of liberals calling conservatives who defend the country fascists, and of conservatives calling liberals who criticize it anti-Semites—will find something to like in this unusual primer on the birth of a nation and its most important midwife."
 —Justin Moyer, The Washington Post

"Shimon Peres, the president (and former prime minister) of Israel, provides an intriguing and intimate political biography of David Ben-Gurion, Israel's first prime minister and Peres's erstwhile mentor.  Readers will enjoy Peres's analysis of his relationship with Ben-Gurion and will find his humility appealing.  And his emotional admissions elevate this book above a standard biography."
—Publishers Weekly
Schocken, 9780805242829, 240pp.
Publication Date: October 25, 2011
About the Author
Shimon Peres was president of the State of Israel from 2007 to 2014. In 1947, at David Ben-Gurion's request, he was recruited by the Haganah, and he was appointed head of naval services in 1948. Over a long and distinguished political career, he held numerous cabinet-level positions, including foreign minister and defense minister, and served two terms as prime minister. One of the architects of the Oslo Accords, he was awarded the Nobel Peace Prize in 1994. Mr. Peres died in 2016.
 
David Landau was editor in chief of the Israeli newspaper Haaretz from 2004 to 2008. Before joining Haaretz in 1997, Landau was the diplomatic correspondent and managing editor of The Jerusalem Post. He is the author of Piety and Power: The World of Jewish Fundamentalism and worked with Shimon Peres on his memoir, Battling for Peace. Mr. Landau died in 2015.
Book Videos
or
Not Currently Available for Direct Purchase