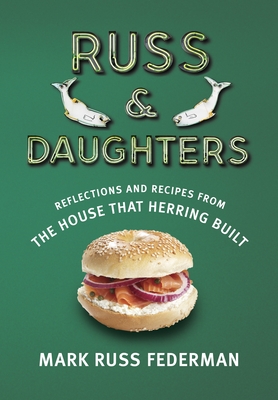 Russ & Daughters
Reflections and Recipes from the House That Herring Built
Hardcover

* Individual store prices may vary.
Description
The former owner/proprietor of the beloved appetizing store on Manhattan's Lower East Side tells the delightful, mouthwatering story of an immigrant family's journey from a pushcart in 1907 to "New York's most hallowed shrine to the miracle of caviar, smoked salmon, ethereal herring, and silken chopped liver" (The New York Times Magazine).
 
When Joel Russ started peddling herring from a barrel shortly after his arrival in America from Poland, he could not have imagined that he was giving birth to a gastronomic legend. Here is the story of this "Louvre of lox" (The Sunday Times, London): its humble beginnings, the struggle to keep it going during the Great Depression, the food rationing of World War II, the passing of the torch to the next generation as the flight from the Lower East Side was beginning, the heartbreaking years of neighborhood blight, and the almost miraculous renaissance of an area from which hundreds of other family-owned stores had fled.
 
Filled with delightful anecdotes about how a ferociously hardworking family turned a passion for selling perfectly smoked and pickled fish into an institution with a devoted national clientele, Mark Russ Federman's reminiscences combine a heartwarming and triumphant immigrant saga with a panoramic history of twentieth-century New York, a meditation on the creation and selling of gourmet food by a family that has mastered this art, and an enchanting behind-the-scenes look at four generations of people who are just a little bit crazy on the subject of fish.

Color photographs © Matthew Hranek
Praise For Russ & Daughters: Reflections and Recipes from the House That Herring Built…
"If you've ever lived in New York or have any affection for a bagel and lox, you'll appreciate this look at one of New York's most iconic food stores. Federman's history of his family and his store will give you a crazy feeling of nostalgia, even if you weren't yet born during the times he describes."
—Huffington Post, Best Food Books of 2013

"The only thing better than this forshpayz of memories, photographs, and recipes would be a trip to East Houston Street to 'the house that herring built.' "
—Dawn Drzal, The New York Times Book Review

"Federman's voice pops from the page. . . . Russ & Daughters is a good story well told, packed with zinging Yiddishisms and better-than-average jokes that bubble up organically. You soak in it, like brine, until you're pleasantly pickled."
—Dwight Garner, The New York Times
 
"For centuries on end philosophers have tried and failed to define the good life. Federman's life as revealed here can hardly be reduced to a set of impersonal abstractions, but if philosophers are willing to settle for a case in point rather than a developed theory, let them read his marvelous book."
—Jason Epstein, The Wall Street Journal
 
"With crisp and evocative details worthy of a Malamud short story, Federman conveys an avuncular ardor for the feisty characters on both sides of the Russ & Daughters counter. . . . He has turned over a bounty of fish tales, immigrant lore, family photos, and recipes, assembling them into a memoir as abundant in charm as the Russ inventory is in gastronomic seductions."
—Jan Stuart, The Boston Globe
 
"Much like its author, the Russ & Daughters book is blunt and breezy. Along with family history and Russ & Daughters lore, Federman shares recipes from the haute (lox chowder) to the humble (classic egg cream). There's also a glossary of fish that's as much social history as culinary reference—who knew sturgeon once figured in a federal bribery investigation?"
—Michael Kaminer, New York Daily News
 
"A charming tale of  a Jewish immigrant family whose business grew from humble pushcart origins to the internationally known powerhouse it is today. [The book] bottles Federman's talent as a master schmoozer and offers a nibble at the Russ & Daughters experience for those who can't make it to New York's Lower East Side on a regular basis."
—Gothamist
 
"Federman is an engaging narrator, and his consideration of his grandfather's rise in the world of herring is both honest and charming. . . . He traced his family history by visiting rabbis and aged aunts, talking with longtime customers, and calling on his memory of a childhood spent in the shop. Now that his daughter and nephew run the store, Federman has enough distance to talk about his years behind the counter and write this thoughtful history of both a family and a neighborhood."
—The Brooklyn Rail

"When I was a child, my father and I would often stop at Russ & Daughters on Sundays, on our way to Brooklyn to visit cousins.  It was there, in that friendly, wonderful store, that I learned the difference between nova and lox, poppy seed and plain, cream cheese and farmer cheese, sable and sturgeon.  And now I am continuing the family tradition.  Jude, my two-year-old granddaughter, just visited the store and started learning about the many types of herring, which she loves.  I will start reading this book to her just as soon as she can enjoy a bagel with Baltic salmon and cream cheese."
—Martha Stewart

"The grandson of the founder of J. Russ Cut Rate Appetizing (the name changed to Russ & Daughters in 1935) tells a remarkable story of family foresight and resiliency, and gives fascinating details of early life among the teeming streets of New York's Lower East Side in the first decades of the century. . . . Including precious pictures and recipes, this work offers a savory wealth of social history, told humorously and endearingly."
—Kirkus Reviews

"The best thing in the world is to go to Russ & Daughters. The next-best thing in the world is to read Russ & Daughters."
—Oliver Sacks

"Forget the Empire State Building, the Statue of Liberty . . . New York City's  greatest living institution is very likely Russ & Daughters: a temple of uniquely New York deliciousness, Zen-like perfection, and a repository of generations of wisdom and experience.  Mark Russ Federman's book is a story not just about the food that made New York great, but a deeply felt personal history. When visiting a new city for the first time, I've always asked the question: 'What do they do here better than anywhere else?' When visiting New York City for the first time, the answer is always 'Russ & Daughters.' "
—Anthony Bourdain
Schocken, 9780805242942, 224pp.
Publication Date: March 5, 2013
About the Author
Mark Russ Federman, grandson of founder Joel Russ, took over the running of Russ & Daughters from his parents in 1978 and turned it over to the fourth generation, his daughter, Niki, and nephew Josh, in 2009. He has appeared individually and on panels at the Smithsonian Institution, the Museum of the City of New York, the New York Public Library, and the conference of the Association of Food Journalists, among other venues. Mark and Russ & Daughters were most recently featured on the PBS documentary The Sturgeon Queens; on Lidia Bastianich's PBS series Lidia Celebrates America; and on Anthony Bourdain's No Reservations.
or
Not Currently Available for Direct Purchase