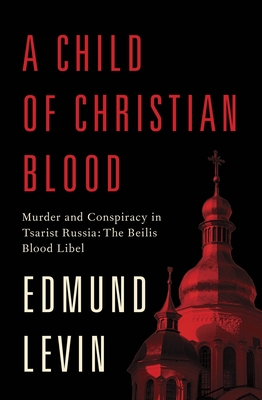 A Child of Christian Blood
Murder and Conspiracy in Tsarist Russia: The Beilis Blood Libel
Hardcover

* Individual store prices may vary.
Description
A Jewish factory worker is falsely accused of ritually murdering a Christian boy in Russia in 1911, and his trial becomes an international cause célèbre.
 
On March 20, 1911, thirteen-year-old Andrei Yushchinsky was found stabbed to death in a cave on the outskirts of Kiev. Four months later, Russian police arrested Mendel Beilis, a thirty-seven-year-old father of five who worked as a clerk in a brick factory nearby, and charged him not only with Andrei's murder but also with the Jewish ritual murder of a Christian child. Despite the fact that there was no evidence linking him to the crime, that he had a solid alibi, and that his main accuser was a professional criminal who was herself under suspicion for the murder, Beilis was imprisoned for more than two years before being brought to trial. As a handful of Russian officials and journalists diligently searched for the real killer, the rabid anti-Semites known as the Black Hundreds whipped into a frenzy men and women throughout the Russian Empire who firmly believed that this was only the latest example of centuries of Jewish ritual murder of Christian children—the age-old blood libel.
 
With the full backing of Tsar Nicholas II's teetering government, the prosecution called an array of "expert witnesses"—pathologists, a theologian, a psychological profiler—whose laughably incompetent testimony horrified liberal Russians and brought to Beilis's side an array of international supporters who included Thomas Mann, H. G. Wells, Anatole France, Arthur Conan Doyle, the archbishop of Canterbury, and Jane Addams. The jury's split verdict allowed both sides to claim victory: they agreed with the prosecution's description of the wounds on the boy's body—a description that was worded to imply a ritual murder—but they determined that Beilis was not the murderer. After the fall of the Romanovs in 1917, a renewed effort to find Andrei's killer was not successful; in recent years his grave has become a pilgrimage site for those convinced that the boy was murdered by a Jew so that his blood could be used in making Passover matzo. Visitors today will find it covered with flowers.

(With 24 pages of black-and-white illustrations.)
Praise For A Child of Christian Blood: Murder and Conspiracy in Tsarist Russia: The Beilis Blood Libel…
"Levin's subtle, multilevel book hits the mark everywhere the author aims. The huge surviving dossier allows him to craft a detailed true-crime story . . . .  [This is] a compelling recreation of an extraordinary clash of medieval and modern."
—Maclean's
 
"Every once in a while a writer encounters a story so compelling that even when rigorously researched and historically accurate, it can be shaped to captivate the reader. Levin has accomplished this with A Child of Christian Blood . . . a must-read, particularly for anyone with an interest in criminal law, legal history, and infamous criminal trials."
—Virginia Law Weekly

"Deeply researched and carefully argued, [this ] is the most thorough, reliable, and readable book on the subject to date." —The Wall Street Journal

"Thorough, lucid, and on all counts admirable . . . A Child of Christian Blood was researched almost entirely from primary sources by Levin, [and] he has done a superb job . . . This may well be the definitive book on its subject, and it is to be hoped that it finds a wide readership." —Jonathan Yardley, The Washington Post
 
"Levin's main task is to keep up with the intrigue and present it in such a way that the reader never loses sight of the overall impact. He does so splendidly. . . . A Child of Christian Blood is a thorough and necessary account of the Andrei Yushchinsky murder." —Forward
 
"Meticulous and utterly absorbing . . . Thrilling and suspenseful . . . A panorama of Russian life, full of villains and a few heroes, reminiscent of Dostoyevsky's The Brothers Karamazov." —Moment
 
"History buffs and scholars alike will find this detailed examination of the case worth reading." —Library Journal

"A Child of Christian Blood is at once a shocking murder mystery and a fine work of social history. It is a strange and dark tale, and Levin brings it vividly to life." —Steve Oney, author of And the Dead Shall Rise: The Murder of Mary Phagan and the Lynching of Leo Frank
 
"Levin's detailed description of the trial and the events leading up to it will likely leave contemporary readers as stunned and horrified as many observers were at the time. This is a fascinating and disturbing depiction of the blood libel and 'a cautionary reminder of the power and persistence of a murderous lie,' one that, Levin notes, persists even to the twenty-first century." —Booklist

"Good Morning America writer/producer Levin makes a century-old murder case come to life in a suspenseful true-crime thriller that had broad implications at the time. . . . [His] stellar re-creation of the personalities and events places them into the context of Russia during the last years of the tsar, and makes good use of records unavailable before the fall of the Soviet Union." —Publishers Weekly
 
"This page-turning history/true-crime story surrounding the myth of blood libel . . . is a perfect fit for the talents of Emmy Award–winning Good Morning America writer and producer Levin. His easy narrative style makes the book read like a novel [and he] tells the story clearly, without provocative bias, while pointing out how the entire world demonstrated their incredulity at the absurdity of the entire episode." —Kirkus Reviews

"A simply outstanding, totally gripping book, elegantly narrated, deeply researched, and impossible to put down. It is a rare delight both as a brilliant history and a suspenseful whodunit that also refreshes a neglected though infamous story of terrible injustice that we should all know about: the Beilis blood libel—the Tsarist Russian version of the Dreyfus case." —Simon Sebag Montefiore, author of Young Stalin and Jerusalem: The Biography
 
"Long before O. J. Simpson and Amanda Knox, Mendel Beilis was the most famous defendant of his time—the last Jew ever to be tried for blood libel. Edmund Levin's A Child of Christian Blood brings the bizarre episode to life with passion and precision. It's a fascinating and cautionary tale, beautifully told." —George Stephanopoulos
Schocken, 9780805242997, 400pp.
Publication Date: February 25, 2014
About the Author
Edmund Levin is a Writers Guild and Emmy award–winning writer/producer for Good Morning America. His writing has appeared in The New York Times, The Washington Post, The Wall Street Journal, The New Republic, The Atlantic, and Slate, among other publications, and was included in The Best of Slate: A 10th Anniversary Anthology.
or
Not Currently Available for Direct Purchase