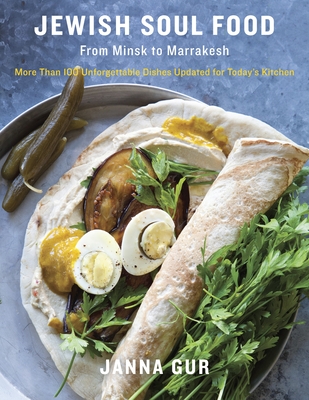 Jewish Soul Food
From Minsk to Marrakesh, More Than 100 Unforgettable Dishes Updated for Today's Kitchen: A Cookbook
Hardcover

* Individual store prices may vary.
Description
The author of the acclaimed The Book of New Israeli Food returns with a cookbook devoted to the culinary masterpieces of Jewish grandmothers from Minsk to Marrakesh: recipes that have traveled across continents and cultural borders and are now brought to life for a new generation.
 
For more than two thousand years, Jews all over the world developed cuisines that were suited to their needs (kashruth, holidays, Shabbat) but that also reflected the influences of their neighbors and that carried memories from their past wanderings. These cuisines may now be on the verge of extinction, however, because almost none of the Jewish communities in which they developed and thrived still exist. But they continue to be viable in Israel, where there are still cooks from the immigrant generations who know and love these dishes. Israel has become a living laboratory for this beloved and endangered Jewish food.
 
The more than one hundred original, wide-ranging recipes in Jewish Soul Food—from Kubaneh, a surprising Yemenite version of a brioche, to Ushpa-lau, a hearty Bukharan pilaf—were chosen not by an editor or a chef but, rather, by what Janna Gur calls "natural selection." These are the dishes that, though rooted in their original Diaspora provenance, have been embraced by Israelis and have become part of the country's culinary landscape. The premise of Jewish Soul Food is that the only way to preserve traditional cuisine for future generations is to cook it, and Janna Gur gives us recipes that continue to charm with their practicality, relevance, and deliciousness. Here are the best of the best: recipes from a fascinatingly diverse food culture that will give you a chance to enrich your own cooking repertoire and to preserve a valuable element of the Jewish heritage and of its collective soul.

(With full-color photographs throughout.)
Praise For Jewish Soul Food: From Minsk to Marrakesh, More Than 100 Unforgettable Dishes Updated for Today's Kitchen: A Cookbook…
Praise for Jewish Soul Food
 
"No one is more qualified to write about both Ashkenazi and Sephardic Jewish cooking than Gur, for she has lived with both cuisines and loves them equally. Here she has collected the most mouthwatering examples of each. I want to cook and taste every recipe—this book makes me very hungry." —David Tanis, author of A Platter of Figs and Other Recipes and One Good Dish
 
"This is my kind of food—bold, flavorful, and comforting, and with memories of home. I can't wait to cook from this book."—Einat Admony, author of Balaboosta
 
"Janna Gur's gorgeous new book is both prequel and sequel to Yotam Ottolenghi and Sami Tamimi's Jerusalem. The title alone makes me swoon. There is much to learn here. I have never seen, eaten, or made many of these dishes: her Sabich is gorgeous, as is the Hamin Macaroni, Mafroum, Feta-Stuffed Pepper 'Cutlets,' and tantalizing Fluden for dessert. In a world cluttered with cookbooks, this is a standout, a poignant narrative of authenticity cast in a contemporary light."—Rozanne Gold, author of the 1-2-3 cookbook series and of Radically Simple: Brilliant Flavors with Breathtaking Ease
 
"Gur, who opened our palates to the vibrant melting pot of modern Israel, now dazzles us with its multicultural culinary mosaic: the glittering food treasures of its immigrants from one hundred different countries, returned home from the Diaspora. Many writers talk about preserving ethnic food traditions, but Gur gives us the very best reason: every recipe in this focused, elegantly curated collection is irresistible." —Jayne Cohen, author of Jewish Holiday Cooking: A Food Lover's Treasury of Classics and Improvisations
Schocken, 9780805243086, 240pp.
Publication Date: October 28, 2014
About the Author
JANNA GUR was born and raised in the former Soviet Union and immigrated to Israel in 1974. She is the founder and chief editor of the leading Israeli food and wine magazine. She lives in Tel Aviv.
or
Not Currently Available for Direct Purchase