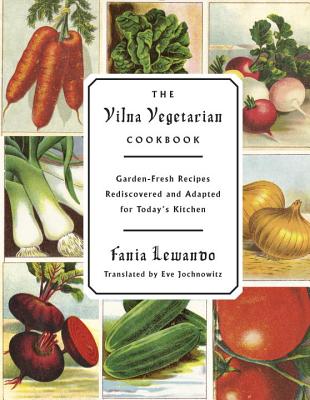 The Vilna Vegetarian Cookbook
Garden-Fresh Recipes Rediscovered and Adapted for Today's Kitchen
Hardcover

* Individual store prices may vary.
Description
Beautifully translated for a new generation of devotees of delicious and healthy eating:  a groundbreaking, mouthwatering vegetarian cookbook originally published in Yiddish in pre–World War II Vilna and miraculously rediscovered more than half a century later. 

In 1938, Fania Lewando, the proprietor of a popular vegetarian restaurant in Vilna, Lithuania, published a Yiddish vegetarian cookbook unlike any that had come before. Its 400 recipes ranged from traditional Jewish dishes (kugel, blintzes, fruit compote, borscht) to vegetarian versions of Jewish holiday staples (cholent, kishke, schnitzel) to appetizers, soups, main courses, and desserts that introduced vegetables and fruits that had not traditionally been part of the repertoire of the Jewish homemaker (Chickpea Cutlets, Jerusalem Artichoke Soup; Leek Frittata; Apple Charlotte with Whole Wheat Breadcrumbs). Also included were impassioned essays by Lewando and by a physician about the benefits of vegetarianism. Accompanying the recipes were lush full-color drawings of vegetables and fruit that had originally appeared on bilingual (Yiddish and English) seed packets. Lewando's cookbook was sold throughout Europe. 

Lewando and her husband died during World War II, and it was assumed that all but a few family-owned and archival copies of her cookbook vanished along with most of European Jewry. But in 1995 a couple attending an antiquarian book fair in England came upon a copy of Lewando's cookbook. Recognizing its historical value, they purchased it and donated it to the YIVO Institute for Jewish Research in New York City, the premier repository for books and artifacts relating to prewar European Jewry. Enchanted by the book's contents and by its backstory, YIVO commissioned a translation of the book that will make Lewando's charming, delicious, and practical recipes available to an audience beyond the wildest dreams of the visionary woman who created them.

With a foreword by Joan Nathan. Full-color illustrations throughout.
Translated from the Yiddish by Eve Jochnowitz.
Praise For The Vilna Vegetarian Cookbook: Garden-Fresh Recipes Rediscovered and Adapted for Today's Kitchen…
An NPR Best Book of 2015

"Lewando's goal was to make vegetarian food celebratory; the recipes were to be cooked regardless of whether meat was available—radical thinking for the time. The result is an astonishing range of dishes that make our modern day 'farm-to-table' assertions seem silly. Its 400 recipes span the hyper-seasonal to hyper-economical, a mixture of making due and relishing every inch of the produce. These recipes are unique, thrifty, and curious in all the right ways, ready for modern hands to make good use of them." —Tastebook.com
 
"Restaurant owner, cookbook author, and culinary instructor—all the while remaining a vegetarian—Lewando is the picture of today's involved and dedicated foodie. . . . Flipping through the book is informative, education, and amusing. Cooking from it would be the greatest honor to Lewando's work." —Jerusalem Post Magazine
 
"This book gives a second life to the work of a woman who could be considered the Mollie Katzen of her time." —Forward

"Like a Yiddish Alice Waters, Fania Lewando ran a popular dining destination, taught cooking techniques, and published a cookbook that advocates for the health and ethical advantages of a meatless diet. The recipes are at once modern and historic; some are vegetarian variations of traditional dishes, others seem decades ahead of their time. Lewando's instructions remind me of Mark Bittman's straightforward, improvisational method." —New York Observer
 
"Lewando's book has historical value, of course, evoking a time between the World Wars when Vilna was called the 'Jerusalem of Lithuania' for its thriving Jewish community and culture. But this English-language edition is also meant to be used by modern home cooks. It evokes a bygone era with appealing recipes." —Chicago Tribune
 
"This old-school Jewish vegetarian cookbook is totally on trend. It is a fascinating, rather forward-thinking approach to cooking vegetables. Lewando's legacy lives on as she elevates roots, fruit, and leafy greens from lowly ingredients of hardship and mourning to refreshing, innovative building blocks to more nutritional cooking. It's all so whimsical and modern. [The recipes] read like the vegetable main courses that are gracing many a restaurant menu today." —Tasting Table
 
"Gives the reader a sense of the life that was, the life  that was lost, and the life we should all live. . . . Fascinating. . . . Beautifully translated by Eve Jochnowitz." —Jewlicious
 
"Lewando's approach to cookery was innovative and pioneering, and is quite suited to our day." —Haaretz
 
"A milchig Bible for a new generation. . . . The book is lively, and in reading it one comes to learn about not just the dishes but also about Lewando herself. The guestbook offers a glimpse into Vilna's vibrant, cosmopolitan cultural life—and how Lewando's restaurant was at the center of it." —Tablet
 
"Lewando's time was short, but she was ahead of it. . . . The book's scope evokes Deborah Madison's Vegetarian Cooking for Everyone [and] heralds the earnest vegetarianism of The Moosewood Cookbook." —The Jewish Week
 
"Lewando's recipes could tempt even the heartiest of meat eaters to taste and, perhaps, to convert to a partial vegetarian diet. Excerpts from a treatise on why fruits and vegetables are so important, as well as the translator's preface, underscore the health benefits of vegetables decades ahead of today's movements. Compliments from celebrities such as Marc Chagall tell us of a talent lost way too soon." —Booklist

"I was very moved by The Vilna Vegetarian Cookbook, both by the simplicity and goodness of its recipes and the warm, generous heart of Fania Lewando, who opened her vegetarian restaurant in Lithuania just prior to World War II. What a courageous woman, such truly lovely dishes, and what a gift to have this book brought back to life." —Deborah Madison, author of The New Vegetarian Cooking for Everyone and Vegetable Literacy
Schocken, 9780805243277, 272pp.
Publication Date: May 26, 2015
About the Author
FANIA LEWANDO (c. 1887–1941?) was the proprietor of a popular vegetarian restaurant in pre–World War II Vilna, Lithuania. She was also a noted nutrition advocate and founded a "dietary school" that taught Jewish women healthy cooking techniques. Fleeing the Nazi invasion of Vilna in the fall of 1941, she and her husband were captured by Soviet soldiers and died sometime thereafter.
or
Not Currently Available for Direct Purchase