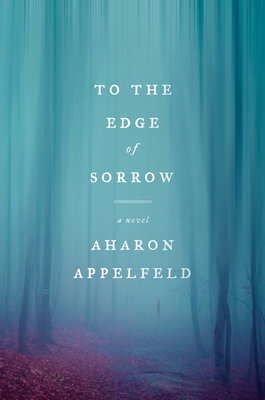 To the Edge of Sorrow
A Novel
Hardcover

* Individual store prices may vary.
Other Editions of This Title:
Digital Audiobook (1/13/2020)
Library Binding, Large Print (2/24/2021)
Description
From "fiction's foremost chronicler of the Holocaust" (Philip Roth), here is a haunting novel about an unforgettable group of Jewish partisans fighting the Nazis during World War II.

Battling numbing cold, ever-present hunger, and German soldiers determined to hunt them down, four dozen resistance fighters—escapees from a nearby ghetto—hide in a Ukrainian forest, determined to survive the war, sabotage the German war effort, and rescue as many Jews as they can from the trains taking them to concentration camps. Their leader is relentless in his efforts to turn his ragtag band of men and boys into a disciplined force that accomplishes its goals without losing its moral compass. And so when they're not raiding peasants' homes for food and supplies, or training with the weapons taken from the soldiers they have ambushed and killed, the partisans read books of faith and philosophy that they have rescued from abandoned Jewish homes, and they draw strength from the women, the elderly, and the remarkably resilient orphaned children they are protecting. When they hear about the advances being made by the Soviet Army, the partisans prepare for what they know will be a furious attack on their compound by the retreating Germans. In the heartbreaking aftermath, the survivors emerge from the forest to bury their dead, care for their wounded, and grimly confront a world that is surprised by their existence—and profoundly unwelcoming.

Narrated by seventeen-year-old Edmund—a member of the group who maintains his own inner resolve with memories of his parents and their life before the war—this powerful story of Jews who fought back is suffused with the riveting detail that Aharon Appelfeld was uniquely able to bring to his award-winning novels.
Praise For To the Edge of Sorrow: A Novel…
"Like Thomas Mann, Aharon Appelfeld surveys all the great quandaries of the twentieth century, only in their Jewish versions . . . His novels are not about waiting for what will happen next but about immersion in a timeless present, a bubble world that is all the more enthralling because you know it is about to pop."
—Adam Kirsch, The New Yorker

"Surviving the horrors of the Holocaust, Appelfeld suggests with characteristic terseness, entails more than simply the fight to keep breathing . . . The partisans make it their goal not only to preserve their past, but also to secure their future by rescuing as many Jews as possible. Their struggle is a moving one."
—Jordana Horn, The New York Times Book Review
 
"Appelfeld constructs his characters with a sensitive grace and humanistic depth; they are luminous concoctions, awhirl with mysteries and passions, at once sentimental and tragic . . . To the Edge of Sorrow is ultimately a work of neat, almost hermetic resonances."
—Tablet Magazine

"To the Edge of Sorrow, in Stuart Schoffman's lively and masterful translation, is certainly among Aharon Appelfeld's top three novels . . . Discuss it, dear reader, among the many selves you will discover in yourself as you read this important work."
—Hadassah

 
"In sharp yet affectless language, Aharon Appelfeld, one of Israel's most honored novelists, has created a created a group of brave, loyal, generous, and intellectually disputatious Jewish partisans."
—New York Journal of Books

"In this spirited novel set in Ukraine near the end of World War II, Appelfeld describes the daily hardships and travails of a band of Jewish resistance fighters in near-reportorial detail. A powerful tale of lives lived amid the duress and horrors of war that is unflinching in its authenticity."
—Publishers Weekly

"To the Edge of Sorrow is immediately recognizable as Appelfeld's, through its spare, eerily understated approach, which records atrocities from a grim remove. Unlike many of the brilliantly allusive author's other novels, this one makes explicit reference to the Holocaust, but there's still a dreamlike quality at work . . . The story moves toward its climax with the usual disquieting force. Another haunting and heartbreaking tale of the Holocaust from one who survived it."
—Kirkus Reviews (starred)
Schocken, 9780805243420, 304pp.
Publication Date: January 14, 2020
About the Author
AHARON APPELFELD is the author of more than forty works of fiction and nonfiction, including The Iron Tracks, Until the Dawn's Light (both winners of the National Jewish Book Award), The Story of a Life (winner of the Prix Médicis Étranger), and Badenheim 1939. Other honors he has received include the Giovanni Boccaccio Literary Prize, the Nelly Sachs Prize, the Israel Prize, the Bialik Prize, and the MLA Commonwealth Award. Blooms of Darkness won the Independent Foreign Fiction Prize in 2012 and was short-listed for the Man Booker International Prize in 2013. Born in Czernowitz, Bukovina (now part of Ukraine), in 1932, Appelefeld died in Israel in 2018.