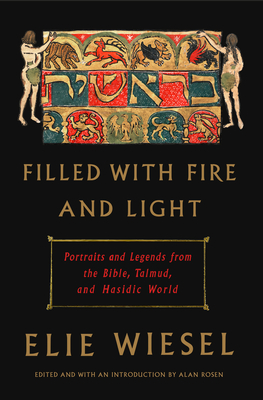 Filled with Fire and Light
Portraits and Legends from the Bible, Talmud, and Hasidic World
Hardcover

* Individual store prices may vary.
Other Editions of This Title:
Digital Audiobook (11/1/2021)
Description
Here are magnificent insights into the lives of biblical prophets and kings, talmudic sages, and Hasidic rabbis from the internationally acclaimed writer, Nobel laureate, and one of the world's most honored and beloved teachers.

"This posthumous collection encourages a path toward purpose and transcendence." —The New York Times Book Review

From a multitude of sources, Elie Wiesel culls facts, legends, and anecdotes to give us fascinating portraits of notable figures throughout Jewish history. Here is the prophet Elisha, wonder-worker and adviser to kings, whose compassion for those in need is matched only by his fiery temper. Here is the renowned scholar Rabbi Yohanan ben Zakkai, whose ingenuity in escaping from a besieged Jerusalem on the eve of its destruction by Roman legions in 70 CE laid the foundation for the rab­binic teachings and commentaries that revolutionized the practice and study of Judaism and have sustained the Jewish people for two thousand years of ongoing exile. And here is Rabbi Shneur Zalman of Liadi, founder of Chabad Hasidism, languishing in a Czarist prison in 1798, the victim of a false accusation, engaging in theological discussions with his jailers that would form the basis for Chabad's legendary method of engagement with the world at large.
 
In recounting the life stories of these and other spiritual seekers, in delving into the struggles of human beings trying to create meaningful lives touched with sparks of the divine, Wiesel challenges and inspires us all to fill our own lives with commitment and sanctity.
Praise For Filled with Fire and Light: Portraits and Legends from the Bible, Talmud, and Hasidic World…
"This posthumous collection encourages a path toward purpose and transcendence."
—The New York Times Book Review

"I was fascinated by these simply told tales of intelligence, perseverance, and miracles. Wiesel's writing is a conversation with the reader, leavened with a sense of humor. In Filled with Fire and Light, he could even find something positive to say about the devil. He saw light where others saw only darkness."
—Forward

"Wiesel displays his rhetorical gifts in this collection of essays, which includes a look at the unusual friendship between an ancient rabbinic scholar and a reformed criminal. They achieve his goal of studying the stories 'in the context of our need to create, through learning, a community' and in a way that can inspire joy and ethical behavior. Wiesel astounds with these timeless lessons drawn from ancient texts."
—Publishers Weekly
 
"A posthumous collection by Nobel laureate Wiesel probes the sources of Jewish wisdom. Empathetic inquiries into the challenges of faith celebrate the lives and struggles of spiritual leaders appearing in the Bible and the Talmud, and in Hasidic lore."
—Kirkus Reviews
Schocken, 9780805243536, 240pp.
Publication Date: November 2, 2021
About the Author
The author of more than fifty works of fiction and nonfiction, ELIE WIESEL was awarded the United States Congressional Gold Medal, the Presidential Medal of Freedom, the French Legion of Honor's Grand Cross, an honorary knighthood of the British Empire, and the Nobel Peace Prize, among many other honors. He was the Andrew W. Mellon Professor in the Humanities at Boston University for almost forty years. He passed away in 2016.
 
ALAN ROSEN has authored or edited fourteen books, including five dedicated to the teachings of Elie Wiesel.