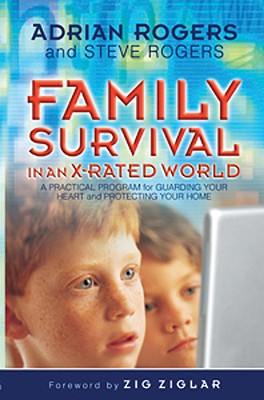 Family Survival in an X-rated World (Paperback)
Guarding Your Heart and Protecting Your Home
B&H Books, 9780805426939, 192pp.
Publication Date: October 15, 2005
* Individual store prices may vary.
Description
There is no doubt that there is a war for the morality of this culture being waged and the battle ground is the homes across this nation. No where is this more acutely felt than in the breakdown of the American family. Immorality of all shapes and sizes is available, affordable and is available anonymously to every household with a TV or computer. Every family needs an action plan to protect the heart of every member.Every father, mother, brother, and sister needs to make a faith covenant to keep their hearts and lives pure. Respected and beloved Bible teacher Adrian Rogers will equip you to protect not only your home but also your heart and the hearts of your loved ones from the tidal wave of decadence descending upon our neighborhoods today.
About the Author
Adrian Rogers (1931-2005) was one of America's most respected Bible teachers, communicating to millions through his Love Worth Finding radio and television ministry that continues today. He was also senior pastor of the 27,000-member Bellevue Baptist Church near Memphis, Tennessee, and a popular author whose books include What Every Christian Ought to Know and The Incredible Power of Kingdom Authority.
Steve Rogers is president of the Adrian Rogers Pastor Training Institute.


Zig Ziglar is a talented author and speaker who, since 1970, has traveled over five million miles delivering his message of hope and enthusiasm. He has written twenty-three celebrated books on personal growth, leadership, sales, faith, family, and success.
or
Not Currently Available for Direct Purchase