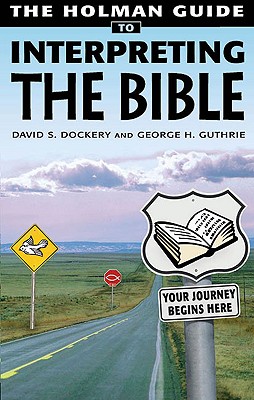 Holman Guide to Interpreting the Bible (Paperback)
How do you handle a sharper than sharp two-edged Sword? Very Carefully
Holman Reference, 9780805428582, 104pp.
Publication Date: May 3, 2004
* Individual store prices may vary.
Description
David Dockery and George Guthrie set forth the basics of interpreting, applying, and communicating the Word of God in teaching and preaching. The heart of the book is a mentoring session with Dockery and Guthrie. It's as if they are at the table with you showing you the steps to interpretation, applying it to Philippians 2:5-11. They have summarized the steps to interpretation in a chart that will be useful every time you prepare a lesson or sermon. And, you will find helpful workbook features for hands on experience
About the Author
David S. Dockery has been the president of Trinity International University in Deerfield, Illinois since 2014. Before coming to Trinity, Dockery served as president of Union University in Jackson, Tennessee for more than 18 years. He has also served as chairman of the board of the Council for Christian Colleges and Universities. Dockery has authored or edited thirty books including Renewing Minds, Shaping a Christian Worldview, and Christian Leadership Essentials. 
George H. Guthrie, author of Read the Bible for Life, is the Benjamin W. Perry Professor of Bible at Union University in Jackson, Tennessee. He helped establish and is now a Senior Fellow at Union's Ryan Center for Biblical Studies, which is committed to promoting sound Bible reading, study, and interpretation at the grassroots level of the church. Guthrie has also participated in developing or revising several popular Bible translations including the HCSB, English Standard Version, and New Living Translation.
or
Not Currently Available for Direct Purchase